MacBooks are unquestionably excellent laptops but difficult to recommend because of their price. A few promotions make them more accessible and this MacBook Air 2022 with its M2 chip has also already benefited from it. But this promotion is special since this MacBook has never reached such a low price on Amazon, going from 1499 euros to 1299 euros.
The MacBook Air 2022 stands out with the performance of its M2 chip, its autonomy and its design as attractive as it is refined, but at 1500 €, it is complicated to recover financially from this purchase. Especially since these products are not promoted every day, except today when this MacBook Air reached an all-time low price on Amazon. Right now, you can get your hands on this excellent laptop with a €200 discount.
The Apple MacBook Air 2022 M2 in brief
The excellent performance of the M2 chip
Competitive autonomy
A screen and a design still as well cared for
Instead of 1499 euros usually, the MacBook Air 2022 M2 (256 GB) is now available on sale at 1299 euros at Amazon.
If the offer mentioned in this article is subsequently no longer available, please take a look below to find other promotions for the Apple MacBook Air 2022 M2. The table updates automatically.
Where to buy

Apple MacBook Air 2022 M2 at the best price?
A light-as-air MacBook
While we were used to a clean and cold design until then, the MacBook Air 2022 marks a break with a few changes. Nothing revolutionary, but we thought the MacBooks were so intangible on this criterion that it deserved to be reported. The MacBook Air 2022 this time sports lessened edges around the screen, a new notch on the front and a new speaker system hidden under the hinge. The chassis connectivity is however still as sparse with a MagSafe connector, a 3.5 mm jack port and two USB-C Thunderbolt 3 ports.
The 13.6-inch screen does not change, once again we find Liquid Retina technology which offers excellent resolution and a definition of 2560 x 1664 pixels. The MacBook Air 2022 is however below its competitors in this field, in particular because of a color temperature that is a little too cold as well as a correct brightness and contrast ratio, but nothing more. It is also a pity that the screen is sensitive to reflections from the sun, especially at this price…
Excellent performance, without however revolutionizing
Who says new generation of MacBook says new chip, the Apple M2 enters the scene and promises more efficiency with its 8-core CPU and its GPU that can have up to 10 cores. We also change RAM with the switch to LPDDR5. The chip is assisted by 8 GB of RAM and 256 GB of storage space. While the performance remains exceptional and higher than the M1 chip, it does not impress as much as before. In addition, the 256 GB SSD would be slower than the other models in the range, even if it is not felt in use.
Let's finish on the autonomy which remains decidedly the big advantage of MacBooks. This one has a 52.6 Wh battery capable of impressive battery life. You will easily last a day of use and maybe even two if your use is moderate. Finally, we estimated that fast charging can max out at 72W, recharging two-thirds of the battery in the space of an hour.
To learn even more, read our full review of the Apple MacBook Air 2022 M2.
7 /10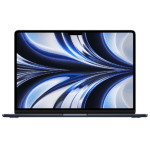 For further
In order to compare the Apple MacBook Air 2022 M2 with other products in the same category, we invite you now to consult our guide on the best Macs and MacBooks of the moment.
---
Do you use Google News (News in France)? You can follow your favorite media. Follow Frandroid on Google News (and Numerama).