Would you like to work more collaboratively and efficiently with your team? Can you imagine having a space where you can organize everything you need for your project, from files and links to data and components of other applications? If the answer is yes, then you're interested in learning about Microsoft Loop, the new flexible canvas app that integrates with Microsoft 365.
Microsoft Loop, a clone of Notion in a collaborative version
Microsoft Loop is a tool designed for the hybrid world, where teamwork is done remotely or in different places. With Loop, you can co-create content with your peers, taking advantage of each other's ideas and adding a touch of personality.
If we look closely, we find an interface very similar to the one found in Notion. In fact, the base is the same. We have a set of pages and workspaces that we can link to create our own knowledge base.
The main difference is based on collaboration, while maintaining all the teamwork and security features of Microsoft 365. Instead of maintaining an individual workspace, our entire team can work here. In addition, we will be able to reuse the components in Outlook or Microsoft Teams.
Loop is made up of three main elements: workspaces, pages, and components. Workspaces are spaces where you can bring together all the important elements of your project, such as files, links, and data from other applications.
Components, the key to integration with Microsoft 365
Pages are flexible canvases where you can create content with text, images, tables, and other elements.
Components are wearable parts that can be moved between Microsoft 365 pages and apps, like Teams or Outlook. Components stay in sync with each other and are always up to date.
For example, we can create a table as a component of Microsoft Loop and share it with our colleagues in a Microsoft Teams chat or in an email from Outlook.
Besides, we can link different OneDrive or SharePoint files that are related to our project. Thus, we will have access to all the information stored in Microsoft 365 from a single work center.
Copilot, artificial intelligence is integrated into the Microsoft Loop
Of course, Copilot had to be present in the Microsoft Loop. Microsoft 365 artificial intelligence based on GPT-4 will help us create different components for our pages and workspaces.
With natural language, we will be able to ask you to generate content, in the same way that we do with Bing. In addition, colleagues will be able to participate in the conversation with Copilot, trying to adapt the content to the needs of the team.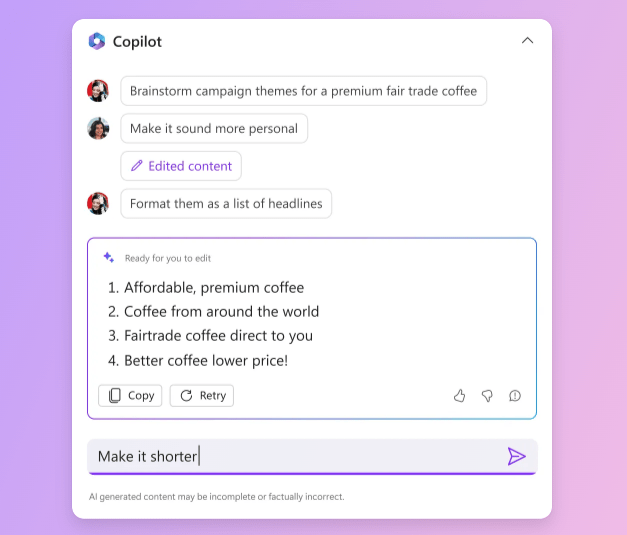 Microsoft Loop, available now
Microsoft Loop is available in preview starting November 2021 for select customers. Now, we can test it from loop.microsoft.com without waiting in the form of a public preview. Applications for iOS and Android are expected to be available in the coming days.
Microsoft Loop is an innovative application that promises to revolutionize the way you work collaboratively. Do you dare to try it? Tell us about your experience and how you can use it in the comments.