As we recently reviewed in our article focused on 3D technology in televisions, 10 or 11 years ago manufacturers did not talk about anything else when it came to convincing the user to buy a television. And it is that after the fever of 3D movies in cinemas, the companies wanted to bring that feeling of immersion into the homeand during the first years of the 2010s, multiple brands embraced this technology in their televisions without much success, falling into the deepest oblivion.
Among these manufacturers was Sony, a company that launched several 3D models on the market. In addition, the firm also wanted to please its PlayStation users. That is why it launched a specific 3D panel to play with its systems. We are talking about the PlayStation 3D Display, a 24-inch monitor with a special feature: had 3D technology and SimulView, a system that allowed each player to see their own point of view in full screen while wearing the glasses. Under these lines we tell you more about this interesting product.
A panel designed to play PS3 titles in 3D
PlayStation 3D Display arrived in Europe in April 2012, and among the accessories included in the box we found two 3D glasses, two games compatible with this technology (Killzone 3 and Gran Turismo 5), an HDMI cable and, of course, the cable of feeding.
Sony's intention was for PlayStation players to have a specific device optimized for PlayStation 3 games and previous generation consoles. In addition, given the 3D fever that existed at the time, including this technology on the panel was something that Sony believed would attract more audiences.
Among the specifications of this screen we find a 24-inch LCD panel (Edge LED) and 1080p resolution, and with a contrast ratio of 5000:1. It also included two HDMI ports, 1 component input and a stereo sound system with total power of 11 W.
This monitor (I say monitor because it does not include a native way of capturing television signals), also offered MotionFlow 240Hz technology, allowing gamers to obtain a more fluid image thanks to frame interpolation. Today this technology is usually included in panels that do not reach a high refresh rate natively. In addition, the glasses that this monitor included were of the active type, with a battery of approximately 30 hours.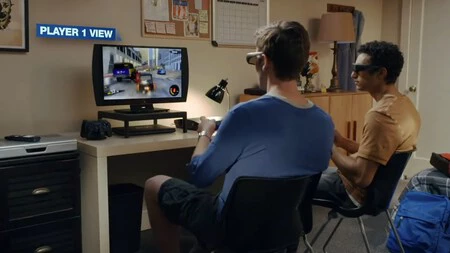 Sony offered this whole package to a price of 499 euros. For the time, as a 3D monitor it was an excellent price. However, for that price it was possible to find much more capable and larger televisions, a fact that partly contributed to its failure. However, let's not anticipate events yet.
Perhaps its most interesting feature: SimulView
With this monitor, players could take advantage of the 3D function of some PlayStation 3 games, although Sony also took advantage of this technology to launch a very special feature with this monitor: SimulView. It is a technology that allowed two players to enjoy split screen modes in games but in full screen. To do this, both players had to equip themselves with 3D glasses, and when SimulView was activated, the system offered half of the screen to each player and, using stereoscopic technology, added the other remaining half, allowing each player to see a 2D image at full screen of your game from the glasses.
Although the technology was innovative, it had a notable drawback. And it is that the field of vision of both players was drastically reduced, impacting the gaming experience. In addition, this technology was not compatible with all games and at launch only Gran Turismo 5, Killzone 3, Super Stardust HD and MotorStorm: Apocalypse offered this technology.
An unattractive proposition for the user
The monitor performed quite well in general. It offered a more than acceptable response time for gamers, being significantly lower than HDTVs on the market at the time. Besides, it was a product that could also be used as a PC monitor. Today it would seem much inferior to us in productivity, since displaying text on this screen was not the best we could do.
Despite insisting on 3D technology in various ways, both users and Sony saw this 3D Display as a failure. The price did not help, and the technologies included were not compatible with a wide range of games, so the user ended up paying more for a product that was going to be used for most of the time as a conventional monitor.