The Withings formula is to offer connected watches that are both useful, but also with style. The ScanWatch model is now available at a price of 199 euros against 279 euros usually.
The Withings brand, which specializes in connected health objects, also manufactures watches including the ScanWatch, which offers many health features including continuous analysis of the user's vital parameters to detect heart or breath problems, for example. . It is on sale today with an interesting price drop.
What the Withings ScanWatch offers
A neat, dressier design
Complete monitoring of your health
Impressive autonomy
Generally offered at 279 euros, the Withings ScanWatch connected watch is currently available on sale at 199 euros on Amazon, which still saves you 80 euros.
---

If, subsequently, the offer mentioned in this article is no longer available, please take a look below to find other offers for the Withings ScanWatch. The table updates automatically.
A connected watch that blends in with the decor
The particularity of Withings watches lies in the fact that it does not look like other classic connected watches. On the contrary, it makes the assumed choice not to give itself too much of a gadget air in order to be able to remain in the sobriety and elegance which make the charm of classic watches. Its premium brushed aluminum design and these different choices of leather straps or sports model are there to remind us.
It features a 1.3 centimeter diameter PMOLED screen with a scratch-resistant sapphire crystal. Its autonomy is also one of its great assets since, depending on the use, this watch can last up to 1 full month without being recharged. The watch comes in two case sizes, 38mm and 42mm. The digital crown placed on the watch will allow you to scroll through the different menus to navigate the interface, but also to be able to press it like a button.
A watch made for health
This watch stands out in particular from the rest for its capabilities in terms of health, being the first watch capable of detecting atrial fibrillation, it can identify a heart that beats slowly or on the contrary too fast in just 30 seconds thanks to its sensor that can make ECG (electrocardiograms). Just put your finger on the side of the watch and the scan is done automatically. It also measures the level of oxygen in the blood as well as respiration. At night it will be able, if you wear it, to detect if you suffer from sleep apnea and will also provide you with a follow-up of the different phases of your sleep (light, deep, paradoxical).
This watch also offers complete monitoring for athletes: number of steps, calories, number of floors climbed, distance covered. This watch will tell you everything and once linked to the Health Mate app you will get a lot of useful advice and a complete follow-up of your activity. Its training mode includes more than 30 different sports and can be paired with GPS.
To find out even more, do not hesitate to read our complete test on the Withings ScanWatch.
8 /10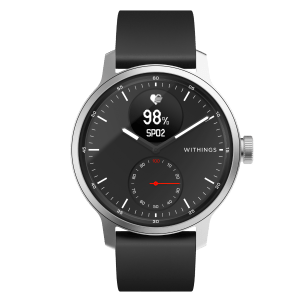 To not miss anything of the French Days 2022
The French Days officially started on Wednesday May 4, 2022 in France and will end next Monday. As of now, several merchants have already drawn their best offers. Here are the promotions that are worth your money.
To make sure you don't miss out on any great deals from this event, here are a few reflexes to adopt right now so you don't miss any of the offers we recommend:
Follow us on our twitter account @FrandroidPromos only dedicated to good deals (remember to activate the bell to receive notifications in real time)
Download our Frandroid application (available on iOS and Android) to activate notifications from the "Bons Plans" category and thus receive new articles related to the French Days in real time
Subscribe to our Good Deals newsletter to be sure to receive the offers in preview (no more than one email per day, unsubscribe in 1 click, no distribution to third parties):
---
To follow us, we invite you to download our Android and iOS application. You can read our articles, files, and watch our latest YouTube videos.