When it comes to achieving a comfortable temperature at home to spend the winter basically we can either heat the air in the rooms where are we going to be, or heat only one area close to our body.
The first option is the usual one if we want to heat the entire house and we turn on some classic heating system, such as radiators, stoves, underfloor heating, etc. With the second we achieved a remarkable energy saving causing our thermal sensation to increase but keeping the rest of the house cold.
It is an option that is most appropriate at bedtime, when we can get keep the bed warm spending very little money, or also for when we are in the living room covered with a blanket and we do not want to turn on the heating. That options, gadgets and devices can we use to achieve this?
thermal electric blankets
As we have already seen in depth in this article, electric thermal blankets or electric pads They are devices that have a resistance inside them capable of generating a controlled amount of heat to keep us comfortable.
Its operation is very simple. Enough with plug them into the mains from home, turn them on from the integrated control that they usually incorporate and they already begin to give a dry heat that we can regulate with different power levels.
In general, in the market we find models that offer various levels of heat output, related to the levels of electrical power they consume. Thus, we can find blankets that reach temperatures of between 30 and 70 degrees Celsius with consumption of between 50 and 150 watts in the case of the largest
They also often include a power limiter either because the marked temperature is reached or because we have exceeded the time of use recommended by the manufacturer, a figure that usually varies between 30 and 90 minutes, depending on the model. This is essential if we are thinking of leaving it on in bed or on the sofa and we want to prevent possible overheating problems.
Electric Heating Pad Automatic Shutdown, Electric Mat with 6 Temperature Levels, 60x30cm Washable Lumbar Electric Blanket with Fast Heating for Back Cervical Neck
Compact heat accumulators
Another option to keep the bed warm are compact heat accumulators, small devices that offer temperatures between 40 and 60 degrees for several hours.
They are devices that store thermal energy and they are usually made of a material that allows heat retention, such as ceramic or stone, excited in turn by an electrical resistance.
Among its advantages is its high efficiency, since it is enough to 3 or 4 minutes of connection to electricity with powers of 400-500, with which the total final cost is usually around 25-30 watts and will give us heat for two to three hours.
Among its drawbacks we find that do not have a thermostat or a temperature regulator, so that all the heat is released without us being able to control the way in which it is released. For this reason, it is ideal to surround them with a small blanket (despite the fact that the accumulator includes a cover) to prevent the metal surface from bothering us.
ARDES – AR071A Sole Mio Electric Heater 550W with Indicator Light, Ardes Electric Heater Warms Feet Hands Rechargeable and Portable, Plush Warmer Cover
Seed or gel thermal bags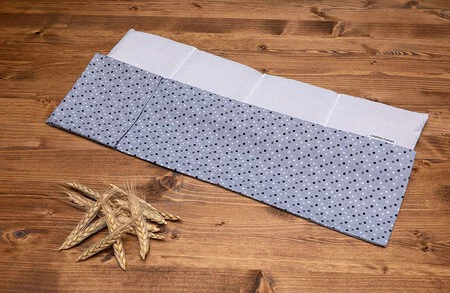 Another option that has become fashionable in recent years are compact thermal bags which inside are filled with assorted seeds or directly by a thermal conductive gel.
Its operation is very simple, since it is enough to put them in the microwave at medium power for two to three minutes and the seeds or gel will collect the energy, storing it as heat that will be gradually released.
The effect usually lasts between half an hour and two or three hours, depending on the size and the material with which they are made. In addition, in the case of gel bags, they can usually also be used to apply cold if we put them in the fridge or freezer for the summer.
Cervical thermal bag of wheat seeds with washable cover 50x16cm (Grey polka dots)
Grandma's remedy: the hot water bottle
And if we want an even more classic remedy, we can opt for the socorrida hot water bottle of a lifetime, with its different colors and formats, which continues to be a most useful alternative to keep warm under the bed covers.
Its operation is very basic. You just have to heat water on the gas hob, in the vitro, in the microwave or take it directly from the tap if we have the boiler or thermos on more than 60 degrees and refill the water bag carefully.
Once this is done, it will provide us with heat for a period that can be around two or three hoursespecially if we have it covered with the blanket.
2L Hot Water Bottle, Dawdix Hot Water Bottles with Soft Plush Cover, Hot Water Bottle, Hot Water Bag, Best Gift (Grey)
Cover image | Zohre Nemati
Note: Some of the links in this article are affiliated and may benefit Xataka Home