Retrogaming is a part of the world of video games that fascinates many players. Nostalgia or rediscovery of great classics, we all have a good reason to treat ourselves or offer a trip back in time with a retrogaming console…
Retrogaming is a video game movement that has been going on for two decades now. The term refers to video games released during the first four to five generations of game consoles, so from the early 1970s to the mid-1990s. However, everyone will have their own definition of retrogaming. For some, the focus will be on the fifth generation of consoles that introduced 3D (Nintendo 64, PS1, Saturn), released around 1995. For others, 3D is still too modern to be retro.
Manufacturers have therefore understood that they have everything to gain by surfing the wave of retrogaming rather than letting players have fun on their side on the emulator. Nintendo, PlayStation and Sega have thus released "mini" versions of their former flagship consoles, directly integrating the most famous games. You can find the emblematic titles of 8 and 16-bit retrogaming consoles. And if you're also interested in current game consoles, take a look at our guide to the latest generation consoles.
To enjoy a beautiful Proust madeleine and rediscover the pleasure of playing the games of your childhood, or to share this with your own offspring, you have come to the right place…
Physical retrogaming consoles
There are two possibilities: buy one of the consoles reissued in a modern style, in a mini version, or buy the original console, used. Be aware that mini versions, however, can also be difficult, if not impossible, to find new. Overall, count at least 150 euros for a used retro-mini purchased online.
In any case, you can go to physical second-hand shops (such as Easycash, Cashexpress, etc.), but also consult online classified ads (Le Bon Coin), and of course, buy second-hand online at e-commerce sites such as Fnac, Amazon or Rakuten. You will then find a jumble of NES and Super NES, Mega Drives, Game Boy, Nintendo 64, PS1… in more or less good condition. Be careful when buying.
If you fall for an original console, do not forget that these old machines were connected to the television with an RCA socket. However, these ports are no longer necessarily present on our recent TVs. So consider buying an RCA to HDMI adapter.
For the retro-mini consoles that follow, the HDMI cable is the standard and it is systematically provided in the box.
Nintendo Classic Mini: the 8-bit retrogaming console
The Nintendo Classic Mini is the very first version of a vintage console reissued in a small format. It was marketed from 2017, and, like almost all mini consoles that will follow, it is no longer sold new in the usual circuits, but only second-hand.
The NES Classic Mini faithfully reproduces its illustrious ancestor (the NES, therefore) released in 1987 in France, and includes 30 games. No cartridge here, the games are directly installed. You will find your favorite 8-bit titles: Super Mario Bros 1, 2 and 3, Dr. Mario, Kirby's Adventure, Castlevania, Metroid, Mega Man 2, Kid Icarus, The Legend of Zelda…
Note that the console comes with a single controller (with a cable that is still too short…).
Super Nintendo Classic Mini: the star retrogaming console
In 2017, Nintendo produced a revamped version of the Super NES, the Super Nintendo Classic Mini. It is aptly named since it fits in the palm of the hand. It includes 21 games, including the greatest classics: Super Mario World, Secret of Mana, Starfox, Donkey Kong Country, Zelda: A link to the Past…
It will be difficult for you to find the new SNES Classic Mini, because it is no longer produced. On the other hand, you can turn to the occasion. For example, you will come across many second-hand offers on Rakuten, around 150 euros – even if it was originally marketed at 79 euros. Also remember to consult the sites of announcements between individuals.
Nintendo Game & Watch: the small portable console
Game & Watch are small portable consoles released during the 80s and containing a single game. Nintendo has reissued two versions of these consoles: one dedicated to Mario games and one to Zelda. The Mario version, which we were able to test when it was released in 2020, includes Super Mario Bros., Super Mario Bros: The Lost Levels And Ball in Mario version.
The Zelda version also offers three games, namely The Legend of Zelda, The Legend of Zelda II And The Adventure of Link, Link's Awakening. In these new versions, the screen is this time in color…

PlayStation Classic: Sony's retrogaming console
The PlayStation Classic, is a miniature version of the PlayStation, first of the name. The latter, the very first Sony console, was marketed in 1995 in France. The Mini version, meanwhile, is offered by Sony from 2018, the firm thus following in the footsteps of its best enemy Nintendo. It includes 20 games, including Final Fantasy VII, Metal Gear Solid, GTA, Resident Evil, Rayman, Tekken 3…
Sega Mega Drive Mini: switch to Sega
Sega has also succumbed to the retro-mini fashion. The original Mega Drive ("Genesis" in North America) was released in 1990 in our country. It has long tried to overtake the SNES in the 16-bit market… without success.
The Mega Drive Mini integrates no less than 60 games, including Ecco the Dolphin, Sonic, Virtual Fighter 2, Thunderforce IV… Like the SNES Mini, it comes with two controllers. It is unfortunately a victim of its own success and sells for a very high price on the second-hand market. Otherwise, it is possible to play some of these retrogaming games on the PS4 Sega title Mega Drive Classics.
After the first version released in 2019, Sega returns with the Mega Drive Mini 2, released in 2022.
Neo-Geo Mini: the thrill of the arcade

The Neo-Geo was a home console adapted from arcade machines, very popular in Japan. Released in 1991, it mainly offered fighting games and was not cheap.
SNK, historical maker of the Neo-Geo, has released an amazing version of this console, reproducing an arcade maid in a mini and cute version. You will therefore have a nice little 3.5-inch screen, a joystick and buttons. It is also possible to buy controllers to plug into one of the USB-C ports. Note that one of them will need to be reserved for powering the console. A mini-HDMI port and a headphone jack are also integrated.
Good surprise, this is one of the rare reissues of vintage consoles that you can find new, for less than 100 euros.
Game Boy: the pocket retrogaming console
If you're into retro handhelds, you could definitely go for an original Game Boy (yes, we know, we're supposed to say A Game Boy…). The Game Boy, everyone knows it, and it still remains today one of the best-selling consoles in the world, with nearly 120 million units.
Some versions are very rare, especially the special editions created in partnership with brands. If you find a specific model, you can make the happiness of a geek of the first hour.
The basic Game Boy sell for at least 70 euros second-hand, online and in stores. To find Game Boy, Game Boy Pocket and Game Boy Color, take a look at BackMarket. For games, it is possible to find second-hand titles in certain shops.
And Atari?
Finally, Atari 2600 fans can turn to the very recent Atari Flashback 8 Gold, 50th Anniversary Edition, and enjoy the 130 games included.
Other media: Raspberry Pi, console subscriptions, etc.
The Online subscription on Nintendo Switch: a vast catalog of Nintendo and Sega retro games
If you have a Nintendo Switch or a Switch Lite, then there is a very simple way to play the iconic games of the Kyoto firm.
Via the Nintendo Switch Online subscription, you have access to a selection of games from NES, Super NES, Nintendo 64 and Mega Drive.
However, to have access to games from 64, Game Boy Advance and Mega Drive, you will have to opt for the most expensive option, via the subscription containing the " Additional pack". The latter is offered at 39.99 euros per year instead of the 19.99 euros per year of the classic subscription.
With Nintendo Switch Online, you have access to over 100 games on the NES and Super NES alone, including:
Dr.Mario
Kid Icarus
Mario Bros.
Metroid
The three Super Mario Bros.
The Legend of Zelda
donkey kong country
Earthbound
F-ZERO
Kirby Super Star
pilot wings
starfox
Super Mario World
Super Metroid
The Legend of Zelda: A Link to the Past… and many others.

Not sure which Switch model to choose? We help you decide here.
Emulation and the Raspberry Pi
Of course, you can also install emulators on your computer or smartphone, such as Snes9x, ePSXe, Project64, RetroArch… It is perfectly legal to use the vast majority of emulators.On the other hand, flashing a ROM of a game, even if you own the physical version, is illegal..
Do you own a Raspberry Pi or want to buy one? This microcomputer is able to run all retro games without worry.
Produced by the foundation of the same name, this microcomputer works with an ARM chip and comes in the form of a small motherboard. The user must then install a micro SD card, to store the operating system, most often add a box, as well as a power supply.
Unfortunately, the Raspberry Pi suffered the full brunt of the Covid crisis and the shortage of semiconductors. Therefore, it is very difficult to find one at its normal price (between 15 and 40 euros, depending on the model). Nevertheless, the foundation has announced that stocks will be back in 2023. If you want to get the Raspberry Pi 4 model or the Raspberry Pi Zero, for example, then we advise you to wait. In the meantime, you can turn to the occasion.
8 /10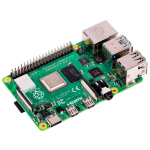 ---
Want to join a community of enthusiasts? Our Discord welcomes you, it's a place of mutual aid and passion around tech.