The price of the new iPhone 14s is on the rise this year. Fortunately, Bouygues Telecom has an offer that allows you to significantly lower the bill, whether you pay cash or in installments, and with or without a plan.
The iPhone 14 has just hit our shelves, and it won't take long to find it on sale. Bouygues Telecom allows you to get it at 611.90 euros, with no additional monthly payment, with a Sensation 170 GB package. And this is not the only way to acquire it at a good price from the operator.
Thanks to a refund offer of 80 euros, the naked iPhone 14 (without a package therefore) goes below the 1000 euro mark to reach 979 euros.
4 ways to buy the iPhone 14 at a good price from Bouygues Telecom
Faced with the rising prices of the new generation of iPhone in France, Bouygues Telecom offers several ways to get the new Apple smartphone at a good price. All (except one) are accessible when the iPhone 14 comes with the carrier's Sensation 170GB plan with a 24-month commitment.
The iPhone 14 at the cash price of 611.90 euros
It's very simple, Bouygues Telecom allows you to get the iPhone 14 at the purchase price of 611.90 euros after a refund offer of 80 euros. And this, without any additional monthly payment to pay. An extremely rare discount for an Apple smartphone that has just been released.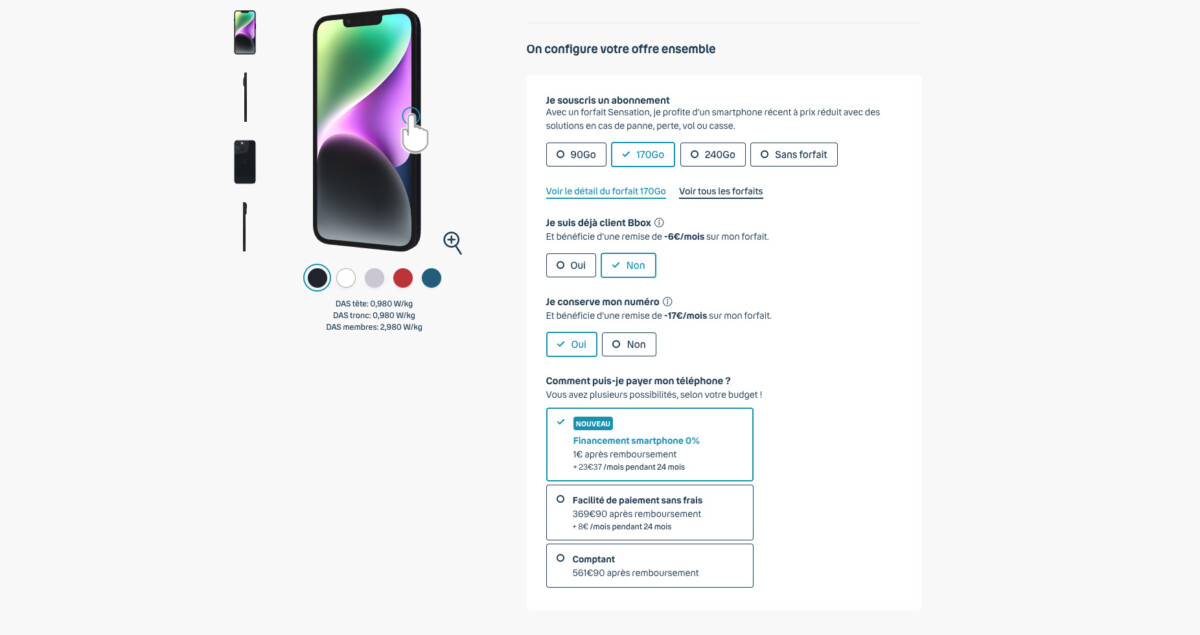 The iPhone 14 at 25.45 euros per month for two years
If you prefer to spread the payment for your iPhone 14 over a long period, Bouygues Telecom now offers a 0% payment option. With this novelty, the iPhone 14 costs you 25.45 euros per month for two years. When ordering, only 1 euro is claimed.
The iPhone 14 at 419.90 euros (+ €8/month for 24 months)
With this offer, Bouygues Telecom offers a compromise between cash payment and free financing. When ordering, the iPhone 14 is displayed at the price of 419.90 euros after an ODR of 80 euros. A price to which must then be added a monthly payment of 8 euros per month for two years.
The naked iPhone 14 at 979 euros
Finally, if you only want the iPhone 14 and no mobile plan, Bouygues Telecom still offers you the opportunity to take advantage of a discount of 80 euros thanks to an ODR. The price of the new Apple smartphone then goes to 979 euros, against 1,019 euros at Apple.
Bouygues Telecom's Sensation 170 GB mobile plan
All these financing offers (except the last one) are accessible when you subscribe to the Sensation 170 GB plan with an iPhone 14. This is one of the operator's most generous plans, which is also 5G compatible. . Each month, it offers:
170 GB of mobile internet in France;
including 80 GB from Europe, the French overseas departments and Switzerland;
unlimited calls and texts in mainland France and from the EU, overseas departments and Switzerland to these countries;
unlimited calls to landlines in 120 countries.
A very complete offer therefore, which is particularly suitable for those who are used to traveling on the continent. The Sensation 170 GB package is displayed at a price of 31.99 euros per month the first year, then 48.99 euros with a two-year commitment. Bbox subscribers have the chance to benefit from a monthly discount of 5 euros on this package.
iPhone 14: Apple's new standard meter
For its new iPhone 14, Apple only had to improve the recipe of its iPhone 13 which was already almost perfect. On the menu of novelties, we mainly note a new main sensor inherited from the iPhone 13 Pro Max. A module more sensitive to light, which is logically more effective at night, but also capable of capturing more details in everyday life. Especially since it is now supported by a new image processing, the Photonic Engine, which Apple announces is even better in difficult light conditions.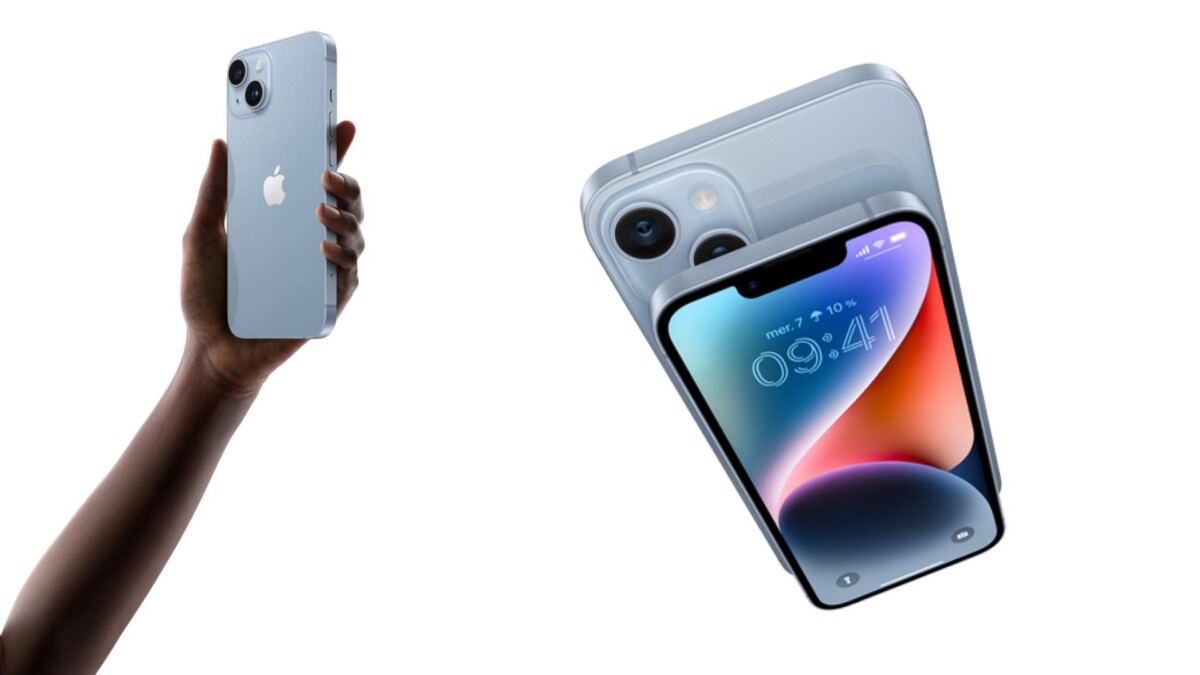 Another major innovation: an even more generous autonomy than the previous generation. The iPhone 14 has no trouble withstanding a big day of use, and even two if the use is moderate. Even if the Apple A15 Bionic chip was already present last year on the iPhone 13, it is however slightly more powerful on the iPhone 14, especially with regard to artificial intelligence and the graphics part.
Finally, the iPhone 14 promises exemplary longevity. First, because Apple is the most generous manufacturer in terms of updates. You can count on new versions of iOS for at least the next five years. But also because the iPhone 14 is the easiest to repair for many years. Apple has completely revised the internal architecture of its device to facilitate access to components. Two good points that ensure the iPhone 14 a long life.