The Federal Consumer Attorney's Office (PROFECO) rated the best speakers on the market in its recent report. 17 models from 8 different brands were taken into account, each and every one of them with great sound power and Bluetooth connectivity.
Now, these are the points they took into account to qualify:
Frequency response:

The range of sounds, both high and low, that the device is capable of reproducing.
Also, if in the more intense frequency ranges, there is or is not some type of distortion.

Audio Quality

The sound fidelity, that is, if the music is reproduced as the original product or there are any perceptible errors.
Audible range, what is the lowest and highest volume, without the presence of noise.

Consumer information

This means that both the instructions, labeling and guarantees are visible and are in Spanish.
Each of them was qualified as Excellent (E), Very Good (MB), Good (B) or Sufficient (S), this last qualification does not mean that it is not one of "the best speakers" according to PROFECO, but in terms of audio quality, durability, and consumer information, they may underperform.
These are the cheapest and best speakers according to PROFECO
In the case of 8-10-inch devices, that is, from the input range. For example, LG's OK55 model is positioned above Panasonic's. Likewise, the regulatory body points out that it has some interesting tools to animate your events:
Digital equalization.
Knobs, lever, microphone and buttons to generate sound effects.
Now, if you are looking for a larger and more powerful model, this PROFECO article also mentions which are the best 15-inch speakers. Speaking of which, LG appears again with its RK4, which offers excellent audio fidelity, as well as a good frequency response.
However, while in terms of performance, Sony's MHC-V71D may pale in comparison, the agency also points to its competitive advantages. Some of them are having a karaoke mode, having a remote control, allowing the use of a microphone, drum function (taiko) and having FM Radio.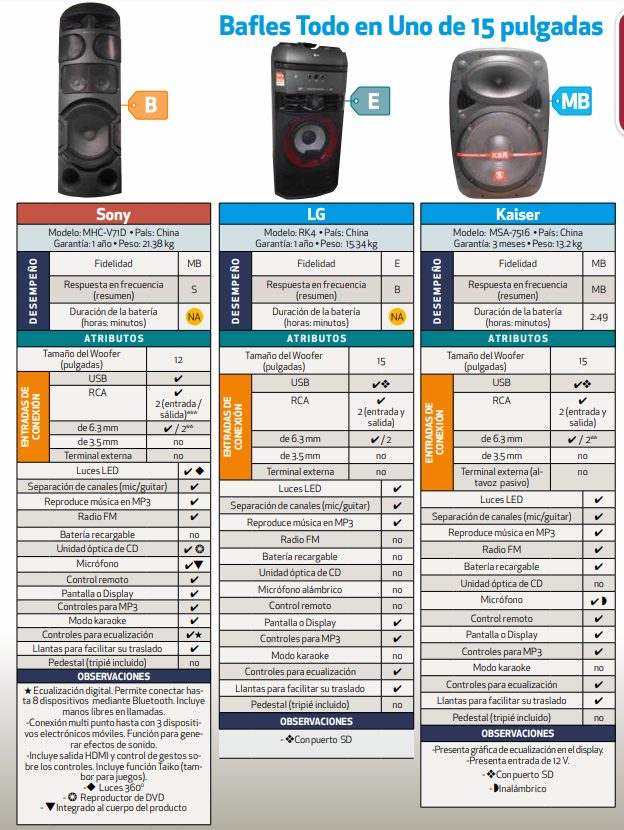 In addition, you can connect up to 3 different devices and it has an HDMI output, which allows you to link it to your computer or video game console.
This point is interesting because, as we mentioned at the beginning, PROFECO's ratings for the best and cheapest speakers are not necessarily an indicator of quality. For example, if you only care about having good audio quality, you could take the LG model, but if you want a more complete entertainment center, perhaps the Sony one is a better option.
We recommend you read the full report published by the regulatory body to form your own criteria and discover which device is perfect for you and your needs.
Remember to subscribe to our Newsletter to be aware of more relevant news. Also, do not forget to follow us on our social networks.