Google has just started rolling out a new Feature Drop to its Pixel smartphones, an update that brings many of the features that were promised when its newer smartphones launched.
Several Google Pixel smartphones have just received a new feature-packed update at the beginning of December. This Feature Drop is primarily focused on adding features to the Pixel 7 and Pixel 7 Pro that Google announced back in October when it unveiled the phones. Here are all the features that you can now find on your smartphones.
Google One VPN, free online protection
As promised, smartphones are finally getting some features like free Google One VPN protection. From now on, anyone with a Pixel 7 or 7 Pro can use a VPN powered by Google One at no additional cost.
The latter is usually available in exchange for a subscription charged at 10 euros per month, but Google now offers the functionality to all owners of its most recent smartphones. It should be noted that only the Pixel 7 and 7 Pro will have this feature.
Clear Calling, for telephone conversations without background noise
Among the other features that are arriving with this new update, we can also mention Clear Calling, or "clarity of the interlocutor" in French. This feature, which will also be exclusive to the Pixel 7 and 7 Pro, uses the same background noise cancellation technology found in the Pixel Buds Pro.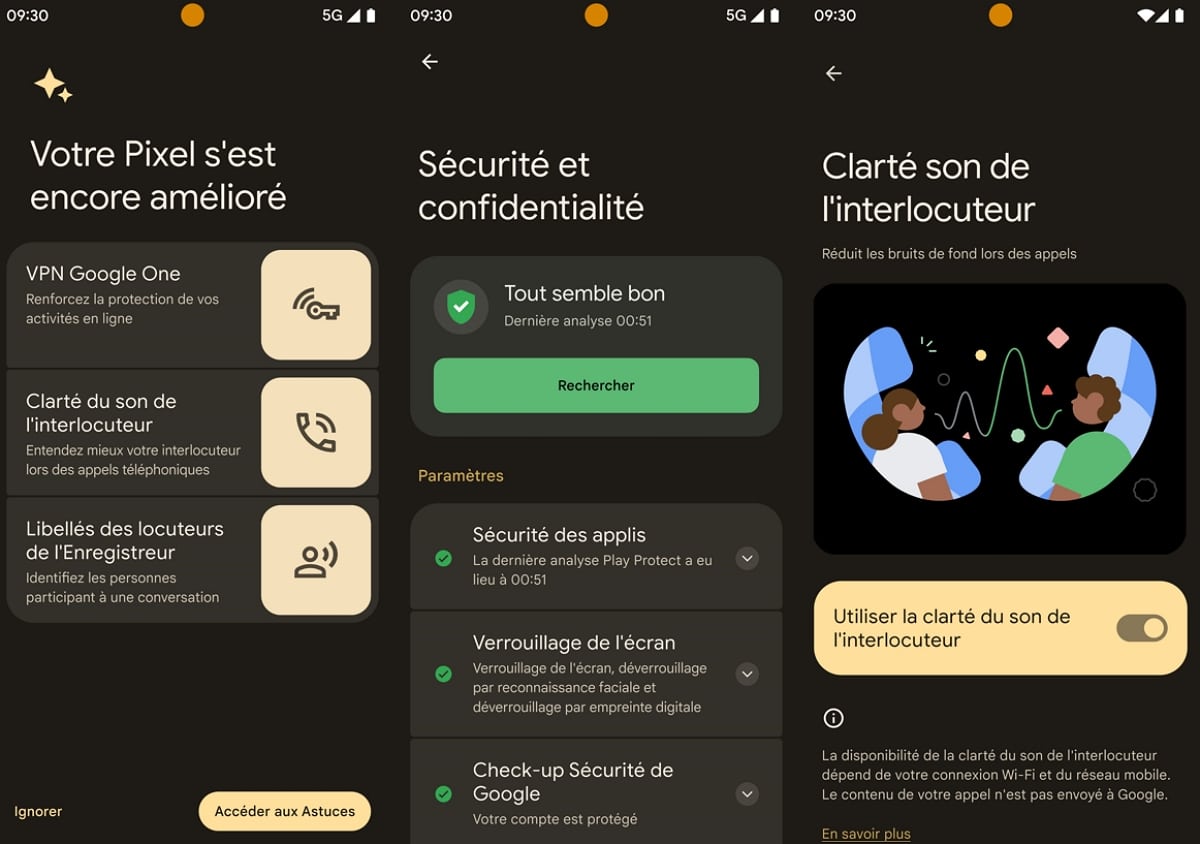 Using a machine learning algorithm, the technology is able to filter out background noise near you and also improve the voices of the person on the other line. So calls promise to be clearer and free of distractions. To activate it once the update is complete, go to Settings > Sound and vibration > Clear Calling. Note that this feature does not work for VOIP calls.
Speaker labels come to the Recorder app
The latest Pixel 7-exclusive feature is the arrival of talker labels on the Recorder app. If you record a conversation between several people with the default Recorder app, your Pixel 7/7 Pro can now tag each person speaking and intelligently know who is speaking.
Previously, conversations were displayed as a compact block and it was impossible to know who was talking. Now you can easily record an interview, meeting, lecture or conversation with each individually tagged person.
Google improves Pixel 7 Pro security settings
The Pixel 7 Pro gets a new unified security and privacy settings section which groups " security and privacy settings, risk levels and other information in one place which makes it easier to update everything and ensure your data stays secure. This includes new alerts that alert you to any security risks and offer simple steps to improve your privacy.
The Pixel Buds and the Pixel Watch are also entitled to new features
In addition to smartphones, Google has not forgotten its Pixel Buds headphones and its Pixel Watch watch. The American giant gave an update on spatial audio. This feature is coming to Pixel Buds Pro in January with head tracking allowing for immersive surround sound all around when watching movies and shows. Google states that " you can also enable spatial audio with wired headphones and that this feature will only work with Pixel 6 and Pixel 7.

The Pixel Watch also improves its sleep tracking. If you have a Fitbit Premium subscription and a Pixel 7, the watch can now provide more information, such as monthly analysis. If you wore your watch to bed for 14 nights in November, Google will assign you a pet. You'll get a new pet every month to encourage you to better gauge your sleep over time.
Google also reiterated that fall detection for the Pixel Watch is coming in 2023while new tiles for sunrise/sunset and favorite contacts are rolling out.
Older Pixel smartphones are entitled to features that had arrived on newer models. Smartphones from Pixel 4a get Preview and Search features, and the Pixel 6 and 6 Pro finally benefit from cough and snore detection. Finally, Google tells us that grammar check on Gboard is now available in French (in addition to Spanish and English).