Under the umbrella of "smart furniture"It hides a broad concept and why not say it, vague and diffuse: sometimes they have connectivity, there are some with integrated sensors and in others they are limited to adding a few USBs. With the optimization of space by flag, they are called to grow within the smart home and showrooms that have found their way to arguably the most popular furniture store out there: IKEA.

Whether you are a regular / regular at the Nordic store or are curious to know their latest and most interesting products, these are the best IKEA smart furniture you can find.

One of the keys to smart furniture is versatility, and the STARKVIND table is a good example. With a neutral design that opens the doors to having a place both in the living room and in the hallway or bedroom, this piece of furniture It also has an integrated air purifier just under its surface. most discreet.

Thus, you have a side table on the one hand and on the other a cleaner environment avoiding placing a device in full view. You'll need to connect it to the recently launched DIRIGERA hub to control the air purifier with the IKEA Home smart app.
STARKVIND Table with air purifier, stained oak veneer/smart white
Other IKEA table that can be controlled with your phone It's IDÅSEN, a lift-up work desk with a 10-year guarantee and available in various sizes and finishes.

Its "smart" function is that you can regulate its height range from 63 to 127 cm from the application installed on your smartphone (although you can also do it with a button) so that you can work both sitting and standing.

IDÅSEN Desk sit/stand, black/dark grey, 120×70 cm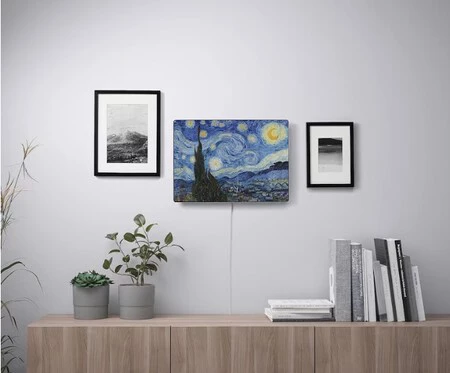 Although it is not essential, the paintings are part of the decoration of the rooms and with this SYMFONISK you will have a two in one: ornamentation and acoustic setting, since it houses a speaker with Wi-Fi connectivity that goes beyond connecting Spotify to play your lists, since you can buy a pair and use them as speakers for a home cinema. They are controlled by the Sonos app and are compatible with IKEA Home smart.

An interesting fact: although the base painting is available in black and white, you can buy a separate panel like the one that crowns these lines, Van Gogh's mythical Starry Night.

SYMFONISK Frame with Wi-Fi speaker, white/smart
From the same family as the previous one is this SYMFONISK speaker lamp, which connects via Wi-Fi so that you can play music from your phone or tablet (the entire range works with AirPlay 2) from the Sonos app or to add it to your IKEA smart home using the DIRIGERA hub.

SYMFONISK Wi-Fi speaker lamp with glass shade
The VAPPEBY is probably one of the most interesting connected devices from IKEA for this 2022. This compact lamp with Bluetooth has several aces up its sleeve regardless of its functionality in lighting and decoration.
The first is that it has an integrated speaker with Spotify Tap, ideal for putting your lists on, the second is that thanks to the fact that it has a built-in battery, you won't have to worry about having a plug nearby… which It even opens the doors to place it outdoors. Without fear of a possible downpour? Well yes, since it has IP65 resistance to water and dust.

Bluetooth speaker lamp, outdoor
The NYMÅNE lamp can also be used for your bedside table or for your work area thanks to its directed light with adjustable arm and shade, but it has one more extra: you can charge your phone simply by resting it on the base, as long as it is compatible with Qi wireless charging. And if it is not, you always have to charge it by connecting it to the USB-C port that you will find on the side.

NYMÅNE Flexo + load, white
With simple lines and a large size, the HEKTAR lamp has a touch halfway between retro and industrial that you can use to work or as ambient light.

Again, it has a wireless charging-capable base and a USB-C port so you can charge up to two devices simultaneously.

HEKTAR Flexo + load, dark gray
Belonging to the UPPSPEL gaming family, this height-adjustable table for you to use both when you are sitting and standing. Among its features, it has cable management, an automated lifting system and a USB port where you can charge a device.
UPPSPEL Gaming desk, black