Post-lockdown effect or growing ecological sensitivity, more and more of you are adopting the electric bike to get to work or to conquer the great outdoors. If you've already thought about buying yourself an e-bike, but haven't yet taken the plunge, it's time to take advantage of the French Days and get your hands on the excellent Nakamura E-Crossover V, the price of which goes from 1,599.99 euros to 1,399.99 euros at Intersport.
Like Decathlon, Intersport uses its expertise to offer you its own range of electric bikes made in France among the best on the market, the Nakamura. During the French Days, you can get your hands on one of the brand's latest models, the Nakamura E-Crossover V, which benefits from a reduction of 200 euros.
The Nakamura E-Crossover V in a few points
A bike at ease both in town and on the beaten track
Pleasant driving with the torque of 80 Nm
Comfortable autonomy
Instead of the usual 1,599.99 euros, the Nakamura E-Crossover V is now available on sale at 1,399.99 euros at Intersport. If your budget is tighter, you can have the Nakamura E-Fit 150 also on sale at 1,299.99 euros instead of 1,499.99 euros. Finally, be aware that for the purchase of an electric bike, aid from the State and your local authority can be made available to you.
---
If the offer mentioned in this article is subsequently no longer available, please take a look below to find other promotions for the Nakamura E-Crossover V. The table is updating automatically.
Where to buy The

Nakamura E-Crossover V at the best price?
A VAE equipped with everything you need
We can say in the preamble that the Nakamura E-Crossover V is a very big beast, with dimensions that do not go unnoticed and a weight of 24.3 kg. This is also one of the faults of this electric bike since it can be cumbersome, especially in an interior. Still, this VAE is comfortable not thanks to its saddle, but to its fork with a travel of 65 mm and its 28-inch tires which manage to erase the roughness of the road.
In terms of equipment, the Nakamura E-Crossover V ticks all the boxes. The bike is equipped with, among other things, aluminum mudguards, a kickstand, two LED headlights, the front one of which is tiltable, a luggage rack that can support a maximum load of 27 kilos and reflective inserts to be even best noticed at night. As long as we talk about safety, we take the liberty of reminding you that wearing a helmet is recommended, whether you are riding in town or in the countryside.
A dynamic motor and torque sensor
The Nakamura E-Crossover V is an electric bike that aims to be versatile, that is to say that you can ride both in town and in the countryside. It relies on a Naka E-Power motor with a force sensor whose torque amounts to 80 Nm, which is a high score. In concrete terms, the electric behavior of the bike allows you to climb slopes or ride continuously at 25 km/h without getting tired. As for the hydraulic disc brakes, there's nothing wrong with them.
Finally, Intersport indicates on the technical sheet a range of 100 km. However, we know from experience with electric bicycles and scooters that this figure is often overstated. Several factors must be taken into account such as the slopes, the weight of the cyclist, the outside temperatures and humidity. Here, the assistance mode used also has an impact on the autonomy, our tester, for example, exhausted the battery after 66 km with the Boost mode. Still, it's a good score in this price bracket.
To find out even more, read our full review of the Nakamura E-Crossover V.
8 /10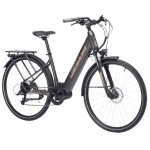 All about the French Days of spring 2023
The spring edition for the French Days has officially started since Wednesday May 3, 2023 in France and ends next Tuesday. As of now, several merchants have already drawn their best promotions. Here are the offers that we recommend at Frandroid.
To make sure you don't miss out on any good plan for this event, here are some reflexes to adopt now so as not to miss any of the offers we recommend:
Follow us on our twitter account @FrandroidPromos only dedicated to good deals (remember to activate the bell to receive notifications in real time)
Download our Frandroid application (available on iOS and Android) to activate notifications from the "Bons Plans" category and thus receive new articles related to the French Days in real time
Subscribe to our Good Deals newsletter to be sure to receive the offers in preview (no more than one email per day, unsubscribe in 1 click, no distribution to third parties):
---
Want to join a community of enthusiasts? Our Discord welcomes you, it's a place of mutual aid and passion around tech.