Not one, not two, not three… Almost 15 years since the first sketches of an Apple helmet or glasses oriented towards virtual, augmented or extended reality as it has ended up being. From that first Steve Jobs patent in 2008 to 2023 there have been 5,000 patents (confirmed by Apple).
However, Apple lenses are already a tangible reality. The Vision Pro, not Apple Reality Pro, already exists. Wow, they do exist. And if it were for Apple, will change the technological paradigm current as the iPhone did in 2007. Will they get it?
Data sheet of the Apple Vision Pro
APPLE VISION PRO

SCREEN

3D curved microLED with 25 million pixels

RESOLUTION

Determined

FIELD OF VIEW

360º

PROCESSORS

Apple M2

Apple R1

SOFTWARE

visionOS

CAMERAS

12 cameras

5 LiDAR sensors

BATTERY

up to 2 hours

Includes an external powerbank

AUDIO

6 microphones

CONNECTION

USB-C

PRICE

$3,499
A real world with an interface that can only be seen with these glasses
Quick and short summary: interactive screens everywhere. This is Apple's Vision Pro. A helmet/goggles, let's call it what we want, that makes all elements are superimposed on the real world. Although technically it is not augmented reality, it is a mixture with the virtual one that Apple calls 'extended reality'.
The device as such it is not opaque, since the rest can see our eyes and we can see the real world. It offers a series of controls such as the digital crown that we have in AirPods Max and Apple Watch. In addition, it is made up of a multitude of sensors and cameras.
So we can find a interface similar to that of macOS and iPadOS in different panels with which we can interact with fingers to swipe and scroll through the menus. Although the interface as such has been created from scratch, having prominent elements such as power resize the windows how we want. There is no limit here regardless of the room we are in.
The Applications they are the same for iPadOS, iOS and macOS. Thus we find native apps such as Keynote, FaceTime, Apple TV and Apple Music. It is literally as if these apps appear floating before our eyes.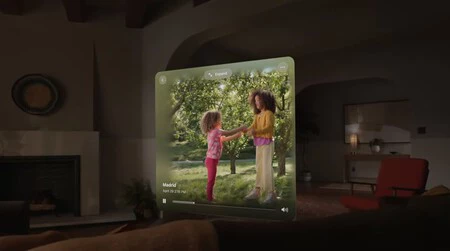 Something important to note is that it is possible to use Mac accessories such as the keyboard, mouse and trackpad for the use of applications. Although Apple has placed a lot of emphasis on finger control using gestures such as pinching.
The use to which Apple is directing the Vision Pro is both productivity in the work as leisure whether it is to give presentations by video call or to play video games with a PlayStation 5 controller or watch a series on Apple TV + or any other platform.
Of course, the demonstrations are only in environments such as the home and the office, thus confirming that It is a device to be used indoors. The dimensions of the lenses, of course, do not suggest otherwise.
Returning a bit to the hardware, the M2 chip has been modified to make it quieter than on the iPads and Macs in which it is present. A new chip called 'R1' is also added that processes images with a low latency that shows 9 images per second and prevents dizziness.
You will ask yourself how does the device show us in video calls in the absence of a camera pointing at the face. Well, the face must be registered with its 3D system similar to Face ID and that by taking thousands of reference points from the face it is capable of generating an avatar.
Of course, they do not have Face ID, but 'Optic ID', an advanced iris recognition system which will allow the glasses to distinguish the original owner.
Versions and prices of the Apple Vision Pro
Although they have been introduced today, these lenses They won't hit the market until early next year.. Its price, however, has been confirmed and will be $3,499.
More information | Manzana
In Applesphere | Goodbye going to the movies. Apple patents its replacement