Three years after its release, the Google Nest Mini is still one of the best references for miniature connected speakers. For Black Friday, it no longer costs 59.99 euros, but 24.99 euros at a multitude of e-merchants.
Small and inexpensive, the Google Nest Mini connected speaker is a model that stands out among the other references on the market. This originality is undoubtedly its strength. It is above all a good entry into the world of connected objects under Google Assistant. The good news is that for Black Friday, the bill is considerably lighter: this second generation of Google's mini speaker is currently at -58%.

The strengths of the Google Nest Mini
A compact speaker
Good sound reproduction
Google Assistant still as effective
Initially displayed at 59.99 euros, the Google Nest Mini (Gen 2) connected speaker is now offered at 24.99 euros at Fnac and on Darty, Cdiscount, Boulanger as well as on Rue du Commerce.
If you want a more powerful connected speaker, but still powered by Google Assistant, you can opt for the Google Nest Audio, also currently on sale: its price goes from 99.99 euros to 69.99 euros at Fnac and at Darty.
---

If the offer mentioned in this article is no longer available, please take a look below to find other offers on the Google Nest Mini speaker. The table updates automatically.
A small, sleek speaker and good sound quality
On this second generation of the Google Nest Mini, the design does not change: we will again find this fabric covering typical of connected objects from the Mountain View firm, which has also used recycled plastic in the design of this small speaker. With its compact and sleek pebble-shaped design, the Nest Mini will easily blend into any interior, whether placed on a bedside table, on a desk or even fixed to a wall thanks to its notch on the back and to a screw.
The other advantage of the Google Nest Mini is in its bowels: the sound reproduction of this second generation has been improved. Google has indeed integrated two more powerful basses than on the previous model, the Google Home Mini. We will thus be entitled to a clear and natural sound. The power delivered will even be rather amazing for such a small format, even if it naturally will not reach the height of that of a Google Nest Audio, for example. To adjust the volume, simply press the touch surfaces; the LEDs will allow you to know the sound power thus selected. And to start a song, you can simply do it by voice using Google Assistant.
Google Assistant ready to obey us
The Google Nest Mini comes with its flagship voice assistant. Google Assistant will thus obey all our voice requests and will be able to inform us about the news, the weather, or our agenda, and can also list the steps of a recipe or program alerts. If you have connected objects at home, such as connected bulbs or other speakers, you can also control them via the Google Nest Mini. To do this, you will need to download the Google Home mobile application.
Another good point: the Nest Mini is able to process some of your requests locally, and without a Wi-Fi connection, thanks to the machine learning. Convenient if cuts occur without warning, since the speaker, which will benefit from automatic learning, will still be able to obey you.
To find out more, do not hesitate to read our complete test of the Google Nest Mini.
9 /10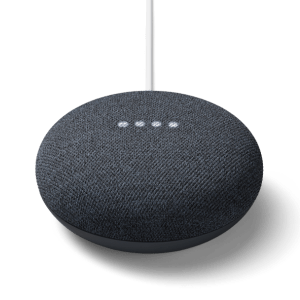 Black Friday 2022: don't miss the best deals!
Black Friday has not officially started, since the start date of the event is set for Friday, November 25, but most e-merchants have already started sharing their best offers under the sign Black Week, name given to the week preceding Black Friday. Here are the Black Friday offers already available at French e-tailers.
You can also find our selections by theme:
To make sure you don't miss out on any good plan for this event, here are some reflexes to adopt now so you don't miss any of the promotions that we recommend:
Follow us on our Twitter account @FrandroidPromos only dedicated to good deals (remember to activate the bell to receive notifications in real time).
Download our Frandroid application (available on iOS and Android) to activate notifications from the "Good Deals" category and thus receive new articles related to Black Friday in real time.
Subscribe to our Bons Plans newsletter to be sure to receive the offers in preview (no more than one email per day, unsubscribe in one click, no distribution to third parties):
---
To follow us, we invite you to download our Android and iOS application. You can read our articles, files, and watch our latest YouTube videos.