Centered around sport, hiking, health and autonomy, the Samsung Galaxy Watch 5 Pro is a top-flight premium connected watch and its price is down for the French Days, already dropping from 469 euros to 369 euros .
We can decently talk about flagship wearable with the Samsung Galaxy Watch 5 Pro. Released just a few days ago, the premium connected watch from the Korean manufacturer combines an elegant and resistant design, all in titanium with a nice evolution compared to the previous generation, in particular in terms of autonomy. It can be found with a 100 euro reduction at Boulanger thanks to a promo code.

What is the Samsung Galaxy Watch 5 Pro?
A quality OLED screen
Many compatible applications
Autonomy of more than two days
Many health and sports measures
Instead of 469 euros since its launch, the Samsung Galaxy Watch 5 Pro (45 mm) is now available on sale at 369 euros at Boulanger. To get this price, just enter the promo code SAMSUNG2022 before proceeding to payment,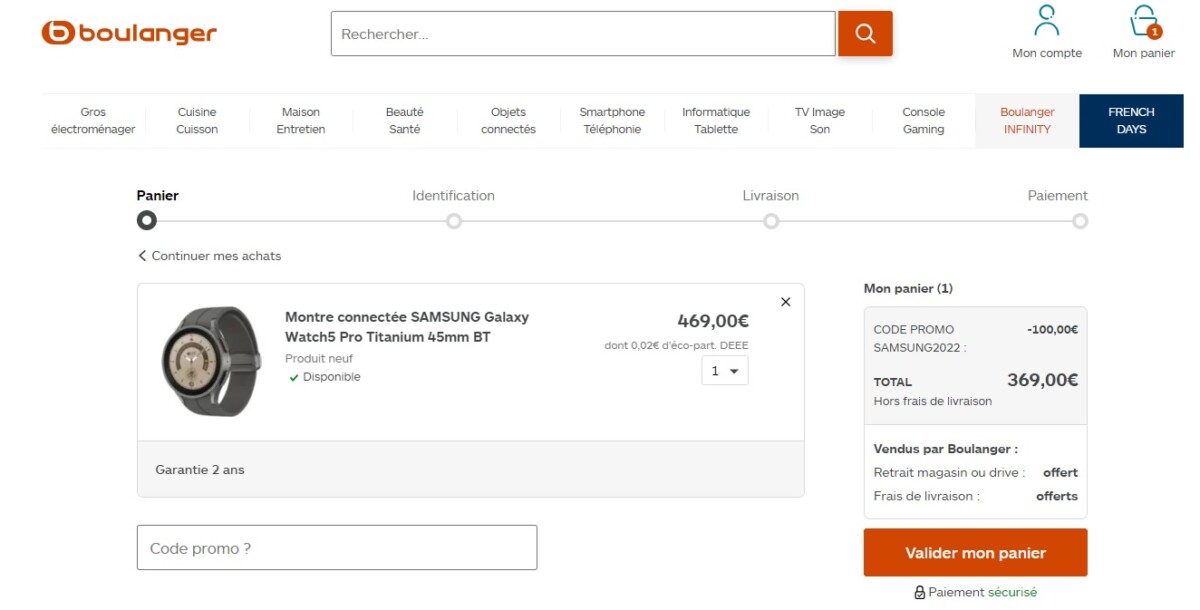 An elegant and robust connected watch
Where the Galaxy Watch 5 Pro differs from the Galaxy Watch 5 is mainly in the design. The Pro version indeed incorporates a slightly larger case with a thin fixed bezel around the screen. But it retains elements already seen such as the two buttons on the right side of the case. The top key, circled in red, and a lower key, all black, the same color as the watch. The same goes for materials since the Samsung Galaxy Watch 5 Pro incorporates a titanium case with sapphire crystal.
Who says bigger watch also says larger battery and more generous autonomy. The Galaxy Watch 5 Pro is no exception to this rule. The watch incorporates a 590 mAh battery and is able to last up to two full days, a big step up from the previous generation.
Sports health managements are its big strengths
The Galaxy Watch 5 Pro stands out for its health and physical activity features. It thus embeds some additional features compared to its little sister. On the side of the measurements themselves, on the other hand, we will find the same sensors. It is equipped with an accelerometer and a gyroscope, to count the number of steps, a barometer to evaluate the altitude, a geomagnetic sensor for the compass, an impedance analysis sensor bioelectric, for the fat mass rate, an electrocardiogram and a blood pressure monitor, as well, of course, as a heart rate monitor.
On the sports exercise side, the Galaxy Watch 5 Pro allows you by default to train on nearly a hundred sports activities, from running to skiing, outdoor biking, rollerblading or the hula hoop. . The Galaxy Watch 5 Pro will also allow you to switch to another application for your training sessions, such as Strava, simply by downloading it. It is also possible not only to export your sessions in GPX format from the Samsung Health app, but also to import your GPX tracks to follow a route from the watch, as we will see later.
The Samsung Galaxy Watch 5 Pro features the latest version of Google's software, namely Wear OS 3.5 and version 4.5 of the One UI Watch graphical interface. We therefore find an interface very similar to that which we already had on the Galaxy Watch 4 and Watch 4 Classic from last year and navigation which is particularly intuitive.
To find out even more, do not hesitate to read our complete test on the Samsung Galaxy Watch 5 Pro.

Don't miss any offers from the French Days 2022
The back-to-school edition for the French Days officially started on Friday September 23, 2022 in France and ends next Monday. As of now, several merchants have already drawn their best promotions. Here are the offers that we recommend at Frandroid.
To make sure you don't miss out on any good plan for this event, here are some reflexes to adopt now so as not to miss any of the offers we recommend:
Follow us on our twitter account @FrandroidPromos only dedicated to good deals (remember to activate the bell to receive notifications in real time)
Download our Frandroid application (available on iOS and Android) to activate notifications from the "Bons Plans" category and thus receive new articles related to the French Days in real time
Subscribe to our Good Deals newsletter to be sure to receive the offers in preview (no more than one email per day, unsubscribe in 1 click, no distribution to third parties):
---
To follow us, we invite you to download our Android and iOS application. You can read our articles, files, and watch our latest YouTube videos.