Were you waiting for the right moment to treat yourself to an electric scooter? Fnac makes it easier for you by offering the Xiaomi Mi Scooter 3 at 449.99 euros instead of 529.99 euros initially. A good ally for your daily journeys.
If you want to equip yourself with an electric scooter that offers good benefits without raising the price of the invoice, the Mi Scooter 3 is ideal. It has a powerful motor and also manages to be comfortable climbing hills. And if the Chinese firm has raised its price, today, it sees its price drop by 70 euros and becomes more affordable.
The Xiaomi Mi Scooter 3 in a nutshell
A scooter that is easy to store and transport
A powerful engine (speed 25 km/h, same gradient at 16%)
Pleasant city driving
If initially the Xiaomi Mi Scooter 3 scooter was sold at 449 euros, it has since seen its price increased to 529 euros. Good news, today it is on sale at 449.99 euros on the Fnac website.
---
If the offer mentioned in this article is no longer available afterwards, please take a look below to find other promotions for the Xiaomi Mi Scooter 3. The table is automatically updated .
Where to buy The

Xiaomi Mi Scooter 3 at the best price?
A scooter always practical to transport
The Mi Scooter 3 is one of Xiaomi's electric scooters. Apart from its white color and its orange cables, this reference resembles the other models of the brand. It has an aluminum frame to support a maximum load of 100 kg and IP54 certification to resist raindrops and dust. At the level of the handlebars, there is of course the screen which will display information such as the speed, the state of the battery and the driving mode chosen according to the situation.
With 3.2 kg on the scale, the Mi Scooter 3 is easily transportable, even when climbing stairs. Its size is rather small, which makes it quite easy to slip into the trunk of a car or into a small corner of an apartment. We would like the handles to be able to fold back on themselves, but this is not the case. The folding system of the stem now has a new security that requires pulling a trigger to be activated in one direction or the other. Extra security to prevent the scooter from collapsing while traveling, but also makes folding a bit more difficult.
Powerful, but with a fairly limited autonomy
This model comes above all to bring a more powerful motor: it goes from 250W to 300W and from 500 to 600 W of maximum power – the same power as the Mi Pro 2 model. Of course, it remains limited to 25 km / h, in accordance to French legislation, but with this more powerful engine, it is more comfortable quickly reaching the maximum authorized speed, or climbing hills of up to 16%, compared to 20% for the Mi Pro 2. Despite the absence shock absorbers, it offers excellent handling and good overall driving stability. You can easily weave between vehicles and road holding is good thanks to its efficient braking system.
Finally, the manufacturer promises 30 km of autonomy. However, be aware that this figure was obtained under very specific conditions: with a load of 75 kg at 25°C, without wind, on a flat road, and above all at 15 km/h. This score will therefore necessarily change depending on your driving. For example, if you opt for sport mode, you can travel a little over 20 km. For recharging, you will have to wait for 5:30 a.m. to go back on the roads with the full battery.
To discover more details on the scooter, find our test on the Xiaomi Mi Scooter 3.
9 /10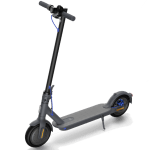 If Xiaomi's Mi Scooter 3 does not meet your needs, then we invite you now to consult our guide to the best electric scooters in 2023.
---
Do you use Google News (News in France)? You can follow your favorite media. Follow Frandroid on Google News (and Numerama).