Samsung unveiled the Galaxy Buds 2 Pro on August 10, 2022. This premium pair of earphones has been well received by the public. The Galaxy Buds 2 Pro are currently on sale on Darty. Instead of buying them at 229 euros, you will have it at 149 euros.
Samsung's Buds range enjoys a good reputation with reviewers, although the South Korean brand isn't the best at it. It is currently on its second iteration with its Galaxy Buds 2 Pro, released recently this year. And for Black Friday, we already find them 80 euros cheaper.

The Galaxy Buds 2 Pro in a nutshell
Instead of the usual 229 euros, the Samsung Galaxy Buds 2 Pro are now available on sale at 149 euros at Darty.
---

If the offer mentioned in this article is no longer available after that, please take a look below to find other Galaxy Buds 2 Pro offers. The table updates automatically.
Where to buy The

Samsung Galaxy Buds 2 Pro at the best price?
Refined and reinforced design
To be mistaken, the design of the Galaxy Buds 2 Pro resembles in many respects that of the first model. In detail, these wireless headphones are 15% thinner than the first version. And if the Galaxy Buds Pro weigh 6.3 grams, its successors gain 0.8 grams to drop to 5.5 grams. We are thus with compact and refined headphones.
As with the first generation, the rounded format has been retained. In-ear headphones are as ergonomic as ever and fit well in the ear. The active noise cancellation of the Galaxy Buds Pro is already excellent. Samsung has obviously optimized it for the Galaxy Buds 2 Pro.
Premium features
The Galaxy Buds 2 Pro have many smart features: Auto Switch is one of them. This function switches from one mode to another without your intervention. If the headphones are paired on different devices, Auto Switch will prioritize the urgent item. If you are playing on a tablet and receive a call on your smartphone, the function will transfer the audio to the phone.
If you misplace your headphones, the SmartThings feature will make it easy to find them. In offline mode, it will inform you about their last location. Audio 360 technology for its part will virtualize the sound for a better experience. The box also has a USB-C port, but you can also recharge it with Qi wireless induction charging. As far as autonomy is concerned, count a little more than 20 hours with the case.
To find out even more, do not hesitate to read our complete test on the Galaxy Buds 2 Pro.
7 /10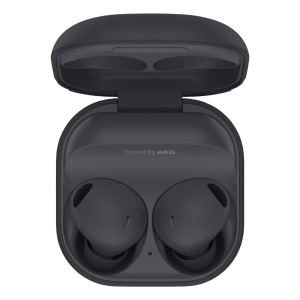 Black Friday 2022: don't miss the best deals!
Black Friday has not officially started, since the start date of the event is set for Friday, November 25, but most e-merchants have already started sharing their best offers under the sign Black Week, name given to the week preceding Black Friday. Here are the Black Friday offers already available at French e-tailers.
You can also find our selections by theme:
To make sure you don't miss out on any good plan for this event, here are some reflexes to adopt now so you don't miss any of the promotions that we recommend:
Follow us on our Twitter account @FrandroidPromos only dedicated to good deals (remember to activate the bell to receive notifications in real time).
Download our Frandroid application (available on iOS and Android) to activate notifications from the "Good Deals" category and thus receive new articles related to Black Friday in real time.
Subscribe to our Bons Plans newsletter to be sure to receive the offers in preview (no more than one email per day, unsubscribe in one click, no distribution to third parties):
---
To follow us, we invite you to download our Android and iOS application. You can read our articles, files, and watch our latest YouTube videos.