The recently launched Roborock S7 Pro Ultra offers very complete cleaning of home floors, for a more contained price than other references offering the same features. During the French Days, the cost is even reduced since this robot vacuum cleaner is available at 959 euros instead of 1,499 euros at Cdiscount.
Launched this year, the Roborock S7 Pro Ultra was released after the brand's star vacuum robot, the Roborock S7 MaxV Ultra. The S7 Pro Ultra is actually a more accessible version of its sibling, but the two share several commonalities, like that versatile three-bin station that empties dust, fills the robot's water reservoir, and collects dirty water from the mop. In short, a cleaning that is very complete. During the French Days, it will even be possible to take advantage of it at a lower cost thanks to a reduction coupled with a promo code.

What to remember about the Roborock S7 Pro Ultra
A suction force of 5100 Pa
A mop equipped with sonic vibration technology
A self-cleaning station
Controlled cartography
Instead of 1,499 euros, then reduced to 1,019 euros, the Roborock S7 Pro Ultra vacuum robot is now available at 969 euros on Cdiscount thanks to the promo code 50DES499. For CDAV members, the price even drops to 959 € with code 60DES499CDAV.
If you are looking for an efficient robot vacuum cleaner, but less expensive and simpler, you can bet on the classic Roborock S7, available at 389 euros instead of 649 euros on Cdiscount thanks to the code 25DES299. A price that drops to 379 euros for CDAVs with the code 35DES299CDAV.
---

If the offer mentioned in this article is no longer available after that, please take a look below to find other offers on the Roborock S7 Pro Ultra. The prices in the table are updated automatically.

Where to buy The

Roborock S7 Pro Ultra at the best price?
A well-equipped dump station
If the Roborock S7 Pro Ultra vacuum robot manages to stand out from its congeners, it is above all thanks to its emptying station. Indeed, while that of most references on the market contains only one bin to empty the dust, that of the S7 Pro Ultra consists of three bins: the first is dedicated to collecting dust, stored in a bag; the second stores clean water and the last dirty water. In short, a very complete and practical station… but very cumbersome. Yes, its measurements are rather substantial: 42.2 x 50.4 x 42 cm. It will therefore be necessary to find a good place for it, but the benefit of this sort of waste sorting will certainly prevail.
A robot equipped with sensors and well-controlled mapping
To swallow all dust and other dirt effectively, the Roborock S7 Pro Ultra is helped by its laser rangefinder, nestled in the dome, as well as infrared sensors on the sides. Under the robot, we can also find anti-fall sensors to avoid incidents on the stairs or on a terrace.
These sensors will be used in particular to locate itself in space and to establish the map of your home, mainly via the rangefinder. And the least we can say is that this model of robot vacuum cleaner is one of the best in the sector, since it provides an accurate map generated quickly. The robot will move very efficiently across your floors, and unless you're constantly moving your furniture, it shouldn't collide with any large obstacles. Be careful, however, and unlike the S7 MaxV Ultra, this Roborock S7 Pro Ultra does not have a camera and 3D scanner, which prevents it from identifying small obstacles, such as cables for example or a small toy.
Powerful suction, but wet cleaning to polish
The Roborock S7 Pro Ultra delivers a suction power of 5100 Pa. Unsurprisingly, the performance is therefore excellent, since on hard floors, the robot sucks up 85 to 90% of residues, and 83 to 88% on carpets. short threads. No area is spared. Everything can be completed by a wet cleaning since this model has a mop to refine the cleaning or remove stains. For this, the S7 Pro Ultra uses vibration technology, which is very effective on cool and light tasks. On the other hand, for more encrusted stains, several passes will be necessary.
Finally, regarding its autonomy, it will be necessary to expect a duration of use of approximately 2h30 in Standard mode, 1h45 in Maximum mode and almost three to four hours in Eco mode if you use a vacuuming / wet cleaning cycle. You will be able to gain 20 to 30% autonomy by using only one of these modes.
To find out even more, do not hesitate to read our complete test of the Roborock S7 Pro Ultra.
8 /10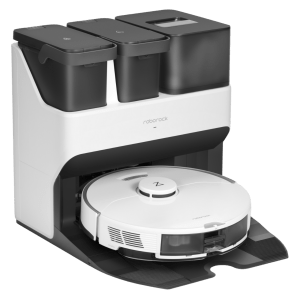 Don't miss any offers from the French Days 2022
The back-to-school edition for the French Days officially started on Friday September 23, 2022 in France and ends next Monday. As of now, several merchants have already drawn their best promotions. Here are the offers that we recommend at Frandroid.
To make sure you don't miss out on any good plan for this event, here are some reflexes to adopt now so as not to miss any of the offers we recommend:
Follow us on our twitter account @FrandroidPromos only dedicated to good deals (remember to activate the bell to receive notifications in real time)
Download our Frandroid application (available on iOS and Android) to activate notifications from the "Bons Plans" category and thus receive new articles related to the French Days in real time
Subscribe to our Good Deals newsletter to be sure to receive the offers in preview (no more than one email per day, unsubscribe in 1 click, no distribution to third parties):
---
To follow us, we invite you to download our Android and iOS application. You can read our articles, files, and watch our latest YouTube videos.