In the recent biography of Elon Musk written by Walter Isaacson, there is talk of the future $25,000 Tesla, or Model 2. The latter would adopt the style of the Cybertruck. An atypical style that would have pleased Elon Musk.
It is an open secret. Elon Musk has already mentioned the idea, but without going into details. The mysterious project is commonly called "Model 2", in the absence of an official name.
Although rumors abound, little concrete information has filtered out. What we do know is that this car will benefit from a new architecture, probably designed to optimize production costs.
The new biography of Elon Musk, written by Walter Isaacson, echoes this project. Axios reports that the book details the plan to build not only this $25,000 electric car, but also a " robot taxi " autonomous. The latter, intended to transport passengers, would be a response to the desire to reduce dependence on car ownership.
In the biography, there is described an interesting dynamic within Tesla between Elon Musk and his team of engineers. While Elon Musk is a firm believer in the robo-taxi revolution, some laborious advances in Full-Self Driving (FSD) have reportedly generated concerns among its engineers. The latter, concerned about the long-term viability and the pace of adoption of this technology, would have tried to convince Elon Musk to direct his ambitions towards something more tangible and immediately achievable: an accessible classic electric car.
A futuristic design with Cybertruck style
And, the most interesting thing is that the Model 2 would adopt the lines of a car already presented. The famous Cybertruck, this pick-up with an avant-garde design unveiled in 2019. After repeated delays and design challenges, its production should start this year. But mass production is expected in 2024.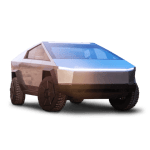 Information gleaned so far suggests that the Model 2 could borrow styling cues from the Cybertruck. Elon Musk himself would be attracted by the idea. After seeing the design proposed by his engineers, he reportedly joined the project, declaring: " When one of these comes around the corner, people will think they're seeing something from the future ".
The reality is that nothing is known about the Model 2's design, aside from a glimpse of its design briefly seen in a Tesla corporate video, fueling speculation.
It is important to emphasize that all of this information is, at this stage, only rumors, based on a few scattered testimonies and speculation.
Although the idea of ​​an affordable and futuristic vehicle is attractive, Tesla has always favored pragmatic strategies to reach a wide audience. The American company is looking to increase its sales volumes, and a design that is too atypical could prove to be a hindrance for certain consumers. This is also what could explain the relatively traditional and classic design of the new Tesla Model 3, which targets a mass market.
A launch still uncertain
Promised in 2018 for completion planned three years later, the $25,000 electric car is salivating with impatience. However, the exact date of its release remains undetermined. As is often the case with Tesla, deadlines can be elastic. Unfortunately, Walter Isaacson's biography does not enlighten us on this point.
---
Want to join a community of enthusiasts? Our Discord welcomes you, it's a place of mutual aid and passion around tech.