With its neat design and beautiful screen, the Xiaomi Redmi Pad is an entry-level tablet that offers several advantages. Already accessible from the start, this model is even cheaper during the French Days, since it is available at 184 euros instead of 299 euros on AliExpress.
The tablet market may be dominated by behemoths like Apple and Samsung, which offer expensive references, but some brands are trying to stand out with efficient models, but much more accessible. This is for example the case of Xiaomi, which recently launched its Redmi Pad after presenting its very good Pad 5 last year. Today, it is indeed the Xiaomi Redmi Pad that interests us, since it is even cheaper than during the French Days.
The strengths of the Xiaomi Redmi Pad
A 10.61-inch 2K IPS panel
A good grip
Good autonomy
Launched at 299 euros, the Xiaomi Redmi Pad tablet (4 + 128 GB) was offered at 197 euros during the French trade event that took place two days ago, but today it can be found at only 184 euros . The offer is available on the AliExpress website.
---
If the offer mentioned in this article is no longer available afterwards, please take a look below to find other promotions for the Xiaomi Redmi Pad. The table updates automatically.
Where to buy The

Xiaomi Redmi Pad at the best price?
An ideal panel for viewing content
If the Xiaomi Redmi Pad is presented as an entry-level tablet, its design rather copies that of much more premium models. The Chinese brand has therefore opted for a sober appearance and neat lines, with a brushed aluminum body, the back of which fortunately does not take fingerprints. Only downside, perhaps: the borders around the screen are a bit thick, but that's not surprising for a tablet launched at less than 300 euros. We will console ourselves with its rather contained weight (445 g), which allows a good grip on a daily basis.
The Xiaomi Redmi Pad largely makes up for it with its 10.6-inch IPS LCD panel, with a definition of 2,000 × 1,200 pixels and a maximum brightness of 400 cd / m², which is more than enough to read comfortably indoors, but less outdoors. This screen also benefits from a refresh rate of 90 Hz, which promises pleasant fluidity in the display of content, and even in the few low-power games that can be launched. Of course, at this price, we cannot expect OLED, nor 120 Hz mode, but being able to have 90 Hz at this price remains rather rare. And, overall, this screen will be quite suitable for web browsing or even watching series in streaming, especially since the panel is not too small either.
A durable tablet
On the performance side, the Xiaomi Redmi Pad is powered by a MediaTek Helio G99 chip. True, this is not the most powerful of chips, but with it the tablet will be quite functional. Classic tasks, such as browsing the web, consulting social networks or even watching series, will run correctly, even if the tablet will not be the fastest on the market. In terms of gaming, the Redmi Pad will unfortunately not shine with 3D-intensive games, but it will be able to run other titles. As for the user experience, it is fluid on the MIUI interface based on Android 12.
One of the main advantages of the Xiaomi Redmi Pad is still its autonomy, since it has a large 8,000 mAh battery. During our test, the Redmi Pad was able to hold nearly twenty hours of video playback. Its endurance even makes it an ideal device for linking episodes of a series without having to recharge it. The tablet also has an 18 W recharge: allow a good two hours for the battery to fully fill.
To find out even more, do not hesitate to read our complete test of the Xiaomi Redmi Pad.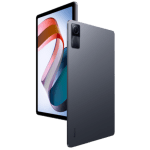 In order to compare the Xiaomi Redmi Pad with other references available on the same price bracket, we invite you now to consult our guide to the best affordable tablets in 2023.
---
To follow us, we invite you to download our Android and iOS application. You can read our articles, files, and watch our latest YouTube videos.