Always carrying your phone means that, in addition to being in contact, you can take photos and videos and pay wherever you want. Come on, that can replace a camera and card. But if we talk about procedures with the administration from the mobile through applications, you can avoid appointments, calls, doubts and, ultimately, waste a lot of time and potential unpleasantness. And this is priceless.
These are the Spanish state administration applications that I have installed on my phone. They are not all that they are, but they are all that are. As usual, You are free to contribute your grain of sand (for example, with the app of the health service of your community).
Note: Another application that serves as an access bridge for some of these apps is Clave PIN (available in the Apple Store and in the Google Play Store)
My Citizen Folder
At the time I already told you about my love for My Citizen Folder but the reality is that I do not stop recommending it whenever the occasion arises because it is probably the best thing that the administration has done at the computer level.
And it is for two reasons: all the information you store (your card, official qualifications, medical history, benefits… and up to 40 official documents) and its careful interface, which means that you can navigate intuitively. Highlight your calendar and notifications so you don't miss things like renewing unemployment or driving license.
Even if you are not a technological person and have WhatsApp and little else on your phone, make the effort to install it and take a look at it because it is very worth it: you will save time and trouble.
myDGT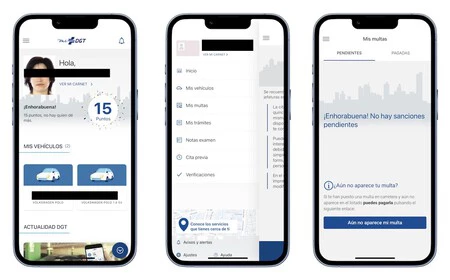 When I moved to Madrid a little over a year ago, I began to travel more and received the occasional fine. If I, who am quite a technological person, had a hard time finding where and how to pay for them online, I don't want to imagine my father. So at this point I installed miDGT and saw the light.
Although some of the functions and documents of miDGT are present in the previous application, there are others that are not, such as the management of fines and the possibility of paying them in a couple of clicks.
In any case, with miDGT and its uncluttered interface you'll have all your car and driving documents at your fingertips, ideal when you're stopped by the police, you get nervous and can't find anything.
personal health folder
Although the interface of the Navarra Personal Health Folder could have a cleaner interface (right now there are sections that are practically those of the web), the reality is that delivers what it promises effectively and works well.
Thus, at the time it helped me to control my vaccination against COVID-19 and make appointments, request an appointment with my doctor and renew prescriptions, among other tasks that I had carried out up to now or from the computer (the task was agile, but from the mobile reduce options and distractions) or even approaching my health center. Take a look at your community, you may be pleasantly surprised
help lines
As a self-employed worker, as a student, as an unemployed person… I don't even know how many times I have had to look for my life with advice or directly searching the internet to find out what subsidies and aid you could opt for. And many others that I have missed out of ignorance.
That's why I installed Help Lines, an old-school application (I wish they would get their hands on the "My Citizen Folder" style) that is still a great and simplified search engine where you can see Subsidies, grants and prizes to apply for, selecting if they are open, who offers them, to whom they are intended…
public employment
Mine with Public employment is very similar to what happens to me with the Idealista app: I have it installed on my mobile and I look at it from time to time to see what's going on and in case I fancy a change of scenery. It's actually on my phone because my plan B in life, a plan that will probably come sooner or later, is to move into the civil service and the opportunity to have a public job can come when you least expect it.
Precisely this application is used so that you do not miss the calls for public employment in the state. Although it is true that they could take care to give the interface a twist to give it a more modern touch, the reality is that it fulfills its mission and is easy to use: simply search for what you want from the white box and configure the filters to your liking. taste so you don't miss anything. Screen by convener, location, access route, if the call is open, deadlines, where to subscribe… essential for whoever is opposing.