---
Privacy coins like Monero (XMR) are gaining more popularity in cryptocurrencies by market cap as investors seek privacy with their decentralized assets. Indeed, in the last three months, XMR has risen 44.87% from $156 on February 4 to $226 on May 5. The cryptocurrency community at CoinMarketCap is also optimistic about the price of XMR.
They predicted the price of Monero! Here is the date!
Interestingly, the cryptocurrency community at CoinMarketCap is optimistic about the price of XMR and predicts it will trade at $247.67 by the end of May 2022.
XMR average price prediction. Source: CoinMarketCap
The estimated price reflects an increase of 10.87%, or $24, over Monero's current price. Overall, 2,842 members of the CoinMarketCap community voted to arrive at the final price prediction.
Based on six previous price predictions for XMR, the community has 77.42% historical accuracy in predicting the price of the digital asset.

XMR accuracy. Source: CoinMarketCap
Monero price analysis
Currently, Monero is trading at $220.93, down 3.04% in the last 24 hours and down 6.83% in the previous week. The thing is, XMR has a total market cap of $4 billion.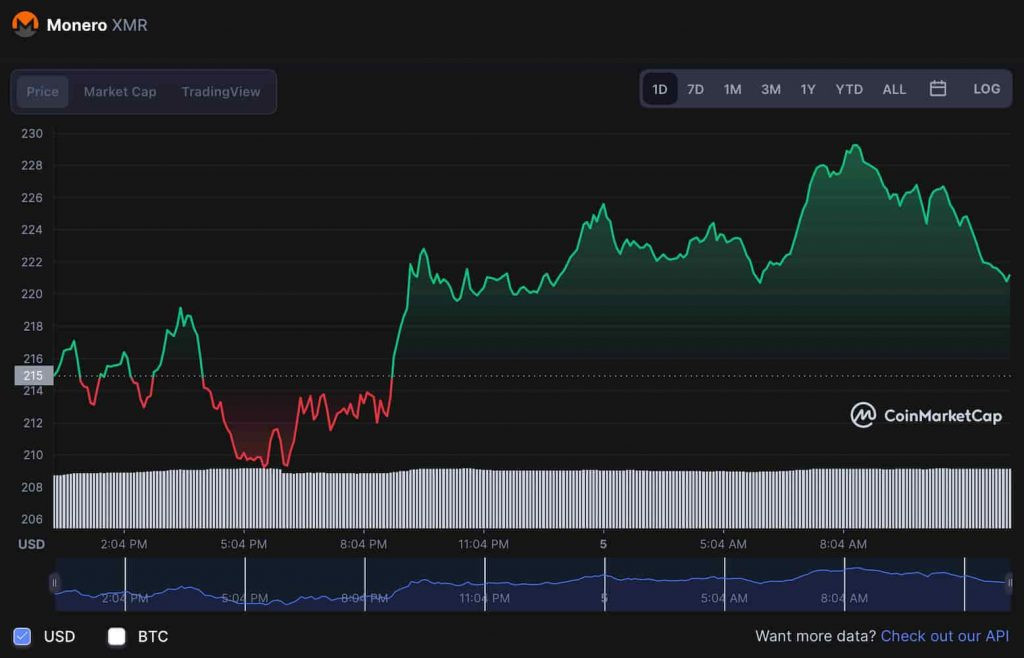 XMR 1-day price chart. Source: CoinMarketCap
According to an April 20 post from one of Monero's owners, the network will go through an update at block height of 2.6 million on July 16, 2022. The "Florin Fermi" upgrade will bring bug fixes as well as many new features to the network.
#monero will undergo a network upgrade on July 16th, 2022:https://t.co/9NKlGtqXAn

All users will need to do is keep their favorite wallet up to date, update their nodes once v0.18 is released (~June 16th), and enjoy even better digital cash afterwards 😎

— Monero (XMR) (@monero) April 20, 2022
As previously mentioned by the developer, Monero will increase the ring size from 11 to 16. An expression known as the "ring size" is used to describe the total number of signers in an XMR transaction. In keeping with the network's unique approach, the upgrade will give users greater access to their core privacy.
Legal warning: The content on this site should not be considered investment advice. Investment is speculative. When investing, your capital is at risk.