With a 1 inch sensor, and its ability to shoot up to 5.4K, the DJI Air 2S seems to have chosen everything to offer you an excellent in-flight experience, whether you are a beginner or a professional. Today, it amounts to 849 euros against 999 euros usually.
After a very successful Mavic Air 2, DJI is back with a newer model, the Air 2S. This drone takes the advantages of its predecessor and brings a better photo sensor for more detailed and better quality images. Intended for the general public, this drone sees its price drop by 15% just after the winter sales.
The highlights of the DJI Air 2S
Lightweight, compact, convenient to carry
A one-inch sensor and films in 5.4K at 30 IPS
Automatic flight modes
Launched at 999 euros, the DJI Air 2S drone benefits from a 15% reduction and is now trading at 849 euros on the Amazon site. We also find the Fly More Combo Bundle at 1,159 euros instead of a price crossed out at 1,347.12 euros.
---
If the offer mentioned in this article is no longer available after that, please take a look below to find other promotions for the DJI Air 2S. The table updates automatically.
Where to buy the

DJI Air 2S at the best price?
A model that ensures better photo and video quality
The DJI Air 2S model can be inspired by the Mavic 2 Pro in a more miniaturized version, but also takes up the features of the DJI Mavic Air 2 and the latter's foldable design. The S version is differentiated by its sensor is 1 inch, against 1/2 for the Air 2. With this sensor, the drone is able to capture 20 megapixel snapshots, and record videos up to 5.4K at 30 frames per second (IPS) or 4K at 60 frames per second.
By offering a sensor twice as large as before, the drone delivers more information and details for better photos and videos. In the absence of a real optical zoom, the DJI Air 2S offers a digital zoom supporting x4 zooms in 4K at 30 IPS, 6x in 2.7K at 30 IPS, and up to 8x in Full HD at 30 IPS . For formats, users can choose to record in H264 or H265, and can also choose from three video color profiles, Normal (8-bit), D-Log (10-bit), or HLG (10-bit).
Improved flight modes
The DJI Air 2S also reviews the "intelligent" flight modes. The drone brings a new feature named MasterShots which uses automatic flight path planning to set the path of the drone while recording video. The manufacturer is improving its FocusTrack mode and there are programmed modes such as Spotlight 2.0, ActiveTrack 4.0 and Point of Interest 3.0. And finally, we obviously find the QuickShots and the Hyperlapse mode. However, the DJI Fly application lacks precision and is not as effective as FreeFlight, its competitor Parrot's application.
In terms of autonomy, the Air 2S model has the same battery as the Mavic Air 2, but its increased weight and more demanding sensor reduce its theoretical maximum flight time from 34 to 31 minutes. In practice, during our test, the drone was able to hold between 20 to 25 minutes of flight. The drone works up to a maximum range of 12 km and is equipped with sensors for obstacle detection, so that the pilot can concentrate on his shot. Remember, however, that European regulations do not allow flights at an altitude of more than 150 m and out of sight of the user. As for the APAS 4.0 system, it allows the device to maneuver autonomously around objects and the O3 transmission system provides a stable connection to users.
If you want more details, we invite you to read our test on the DJI Air 2S.
9 /10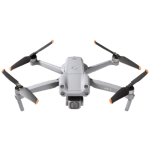 Which drone to choose?
To satisfy both beginners and experienced amateurs, find our selection of the best drones of the moment to find out which one best suits your needs.
---
Do you use Google News (News in France)? You can follow your favorite media. Follow Frandroid on Google News (and Numerama).