The Slovenian company Norduung is at the origin of a triple function electric bike: in addition to transporting you from point A to point B, its model can play music and measure the air pollution of the moment.
When it comes to originality, the Norduung e-bike clearly has its say. Imagined and designed by a Slovenian company of the same name, this cycle, presented by the specialized site Hibridos and Electricos, stands out in many ways. It could even be described as unique in its kind with regard to the technologies it embeds.
With its typical cafe racer style, the Norduung has a very special case on the upper bar of its frame: in addition to housing the battery, the latter incorporates four speakers inclined upwards so that the music played is oriented towards The cyclist. One way, in this case, to avoid dangerous behavior is to wear headphones or wireless headphones.
Real-time data
Said box goes further, since PM 2.5 and PM 10 particle sensors have been installed there in order to calculate air pollution. PM 2.5 are among the most dangerous and toxic: their diameter of less than 2.5 microns allows them to penetrate more easily into our lungs.
These sensors transmit data in real time to the Noordung mobile application, so that the cyclist can see the level of pollution on the routes taken. In addition to the ecological dimension of an electric bike – although a two-wheeler inevitably pollutes a little during its productive cycle – this model also seeks to preserve your health.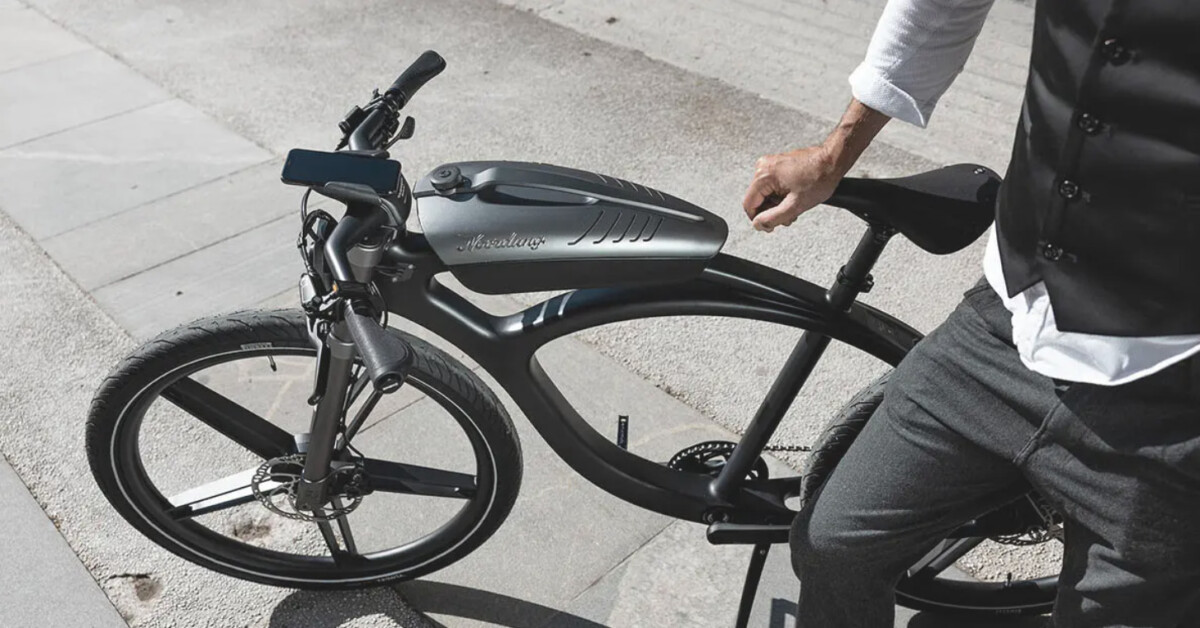 For the rest, the Noordung definitely belongs to the category of high-end e-bikes. Its price of 6690 euros positions it well. The cycle opts for a 100% carbon frame, 27.5-inch wheels, Pirelli Angel GT Urban tires, a 10-speed Microshift Advent transmission and a Magura braking system.
According to the photos, they are disc brakes – mechanical or hydraulic, the mystery is complete. Placed on the rear hub, its 250 W motor is supported by a 300 Wh battery capable of providing a range of 60 kilometres. The brand does not specify with which mode of assistance this radius of action is obtained.
Smartphone holder
Without its 3.5 kg case, which is therefore removable, the Norduung weighs a total of 17.3 kg (20.8 kg with). Or a relatively classic weight for an electric bike. Finally, a smartphone holder is attached to the handlebars to access, for example, GPS indications while keeping your two minus on the handles.
Reservation requests are already open on the site, for the sum of 6690 euros. No specific schedule is indicated.
---
To follow us, we invite you to download our Android and iOS application. You can read our articles, files, and watch our latest YouTube videos.