This species of lizard is the largest in the world and one of the most curious animals on the planet, both inside and out.
In the animal kingdom there are species that have evolved converting their body into an insurmountable armor. The turtle is a clear example, with an external shell that forms part of its skeleton and protects against predators. Crocodiles are also another species that has true body armor, but in this case we are talking about an animal that wears the armor hidden under the skin. It is about one of the most curious species on the planet: the Komodo dragon.
These reptiles are one of the species that could be considered "living dinosaurs", and are today the largest lizard species in the world. Do not trust the "lizard", since the name "dragon" is much better attributed to it. These animals they are very territorial and violent, and have an extremely poisonous bite. They don't inject you with venom like a snake would, but it is the saliva itself that harbors an infinite number of pathogens that, if they get into your bloodstream, they put you in serious trouble.
These lizards are only found in certain parts of Indonesia and they are animals that are in danger of extinction. There are few specimens in the entire world, and studying their anatomy has been a challenge for many years. Many studies have been carried out analyzing their skin and anatomy, but one University of Austin, Texas, decided to dig a little deeper. What they found was surprising, since when analyzing bone structure from an adult specimen they realized that instead of a skeleton, these animals have real armor under the skin.
Scans of the head of a dead specimen showed unusual patterns in its bone structure.
The bone pattern of Komodo dragons closely resembles that of chain mail armorwith small filaments that come together to form a "web". The study showed that lizards are not born with this armor, but rather they develop it when they are adults to protect themselves. And it is that this animal has very violent territorial confrontations, and fierce fights for food. Christopher Bella paleontologist at the University of Austin, Texas explained the exact moment where this armor begins to form:
"Young Komodo dragons spend quite a bit of time in the trees, and when they're big enough to come down to the ground, that's when they start fighting with members of their own species. That's when armor develops, for sheer survival."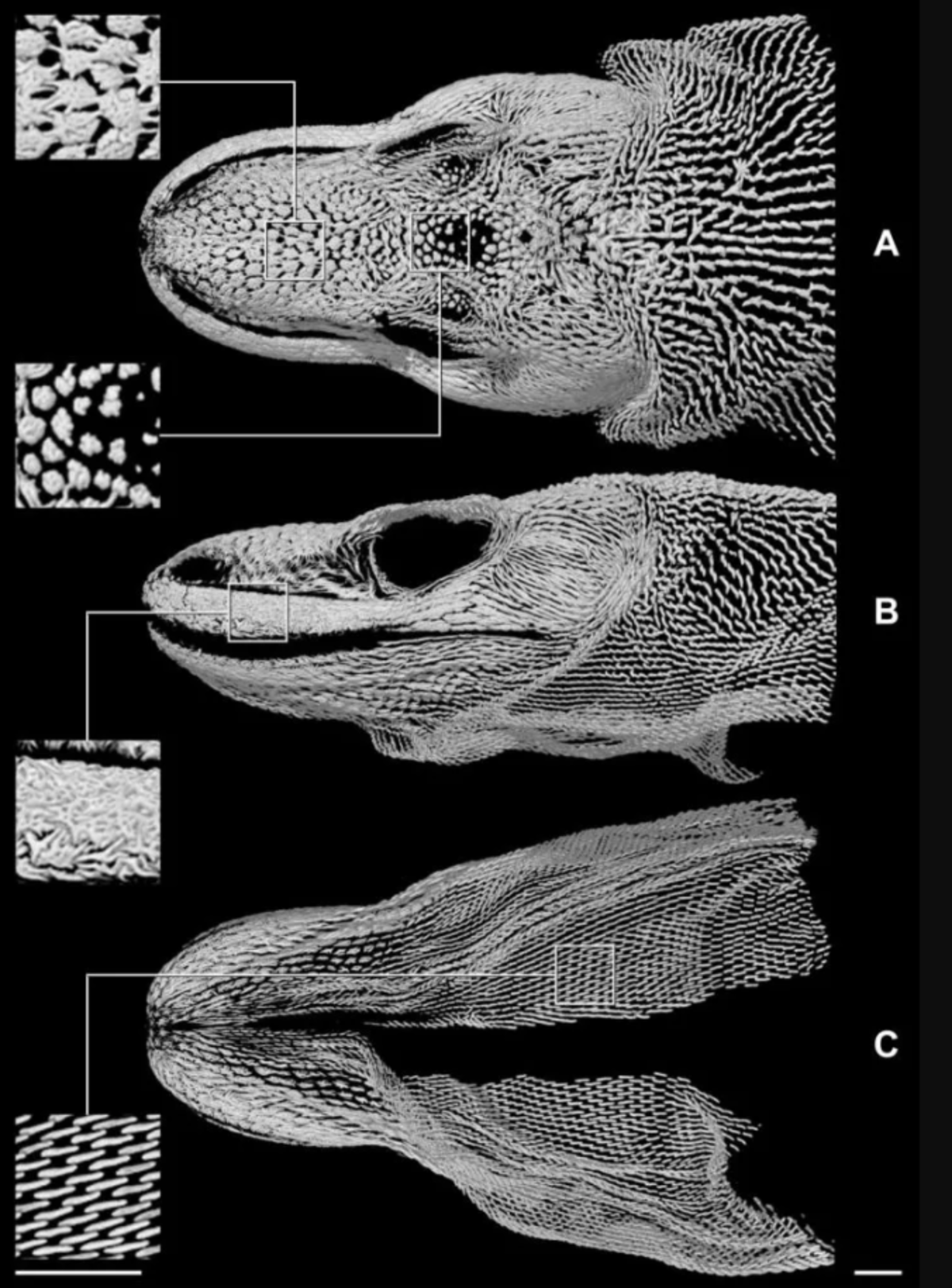 The researchers were able to draw these conclusions thanks to a specimen donated by the forth worth zoo when he passed away The Dragon I was 19 years oldand after subjecting the corpse to a tomographic scanner, the scientists discovered that the lizard's head was completely wrapped in a mesh of tiny bones, completely unusual compared to the anatomy of other reptiles. When they compared it to the skeleton of a baby Komodo dragon, they found that the armor is a defense mechanism that they develop as adults to protect themselves from other members of their own species.