Among the owners of electric scooters, we have those who do not spare money and buy the most powerful and durable models, and on the other hand those who still need to watch over their savings. On both sides, we find Ninebot, one of the market leaders in electric scooters. At the moment, the more affordable model in its catalog, the Ninebot KickScooter D18E, sees its price drop to only 192.54 euros at Banggood.
Among Ninebot's many ranges of electric scooters, those in the D range are the most affordable and are ideal for a first time with this type of vehicle. But a low price necessarily means that there are concessions somewhere and the Ninebot KickScooter D18E is no exception to this rule. Currently, this entry-level, and therefore already affordable, electric scooter is benefiting from a 46% reduction. It's almost half price!
The Ninebot KickScooter D18E in a few points
A successful design and beautiful finishes
A folding system with double security
Fast charging
Instead of 359 euros at its launch, the Ninebot KickScooter D18E is now available on promotion at 192.54 euros at Banggood, partly thanks to the promo code BGFRNBD18E.
---
If, subsequently, the offer mentioned in this article is no longer available, please take a look below to find other promotions concerning the Ninebot KickScooter D18E. The table updates automatically.
Where to buy

Ninebot KickScooter D18E at the best price?
A well-designed electric scooter for beginners
It may be entry-level, but the Ninebot KickScooter D18E looks great with this bright red metal frame surrounding a wide deck which ensures a good driving position. It is classy, ​​but also robust given that Ninebot has revised the composition of the alloy so that the stem is more resistant, and let's not forget the IPX5 certification which allows it to withstand heavy downpours without after-effects. As long as the motor is not submerged, everything works!
For the driving part, the Ninebot KickScooter D18E uses 10-inch inner tube tires, durable mudguards, a drum brake that can be used when it rains, a front headlight that illuminates up to about ten meters away and a screen that is not the most readable during the day. You can also be assisted by the Segway-Ninebot application in order to lock the scooter remotely or to keep an eye on the range in real time.
Some inconveniences in terms of autonomy
The Ninebot KickScooter D18E was designed to be the very first scooter with which a teenager (who must be at least 14 years old to be able to drive this type of vehicle) can get started. Acceleration is smooth and slow, taking over five seconds to go from 0 to the top speed of 25 km/h. The scooter is balanced and offers a quiet ride, its 500 W motor would be able to climb slopes at 10%. Even if it is simple to use and secure, wearing a helmet is still strongly recommended.
To park it, nothing could be simpler. The folding and locking system is activated in two steps and with one finger. Simple, quick, practical. On the other hand, what is less practical for climbing stairs, for example, is the weight of the scooter: almost 15 kg. Finally, and this is the big weak point of the KickScooter D18E, the autonomy would be limited not to 18 km but to around ten kilometers according to our test. We can at least count on the fast charging which lasts only two hours.
To find out even more, read our full review of the Ninebot KickScooter D18E.
5 /10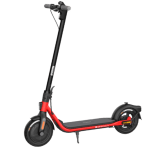 In order to compare the Ninebot KickScooter D18E with other products in the same category, we invite you now to consult our guide to the best electric scooters of the moment.
---
Some links in this article are affiliated. We'll explaine everything here.

---
Want to join a community of enthusiasts? Our Discord welcomes you, it is a place of mutual help and passion around tech.