If you want to get rid of one of the most tiring chores, you might as well bet on a very complete robot vacuum cleaner. This is the case of the Roborock S7 Pro Ultra, which is no longer as expensive as before: it is offered at 899 euros instead of 1,499 euros on Cdiscount.
Several months after the release of its very good S7 MaxV Ultra, Roborock launched a new, more accessible robot vacuum cleaner, the S7 Pro Ultra. Like its predecessor, the latter stands out above all thanks to its versatile station which has three bins: one which collects dust, another which stores clean water and a last which collects dirty water from the mop. Yes, this robot doesn't just vacuum, it also washes. If it catches your eye, now is the perfect time to buy it since it has just dropped below the 900 euro mark.
The strengths of the Roborock S7 Pro Ultra
A self-cleaning station
A suction force of 5100 Pa
A mop equipped with sonic vibration technology
Initially displayed at 1,499 euros, the Roborock S7 Pro Ultra vacuum robot is now offered at 899 euros at Cdiscount.
---
If the offer mentioned in this article is no longer available after that, please take a look below to find other offers on the Roborock S7 Pro Ultra. The prices in the table are updated automatically.

Where to buy the

Roborock S7 Pro Ultra at the best price?
A convenient dump station
As mentioned above, the Roborock S7 Pro Ultra robot vacuum scores a lot of points thanks to its dump station. Indeed, while those that accompany other references on the market only contain a single bin to empty the dust, that of the S7 Pro Ultra consists of three bins: a first dedicated to the collection of dust, stored in a bag that will need to be replaced every 1 to 2 months, a second that stores clean water and a last one that collects dirty water. The latter two can also withstand 3 liters of water.
This station capable of sorting its waste will therefore be very complete. Only downside that you can not escape: it is very bulky. Its measurements are rather substantial: 42.2 x 50.4 x 42 cm. It will therefore be necessary to be able to install it in a corner where it will not encroach too much on your furniture or decorative objects.
Sensors for locating in space
Before carrying out its mission, the Roborock S7 Pro Ultra vacuum robot will have to concoct a map of your home, via its laser rangefinder nestled in the dome of the device. It will also be aided by sensors, which will help it locate itself in space. This model is thus capable of very quickly generating a precise map of your home, which can also be personalized; an efficiency that allows it to rise among the best references on the market.
The S7 Pro Ultra also has infrared sensors on the sides as well as anti-fall sensors, which will allow it to avoid incidents on the stairs, for example, or collisions with your furniture. However, unlike the S7 MaxV Ultra, the S7 Pro Ultra lacks a camera and 3D scanner, which prevents it from identifying small obstacles, such as cables or small toys left on the floor.
A complete cleaning
Once the mapping has been completed, the robot vacuum cleaner will be able to perform its task. It will use a suction power of 5100 Pa for this. Unsurprisingly, the performance is excellent, since on hard ground, the robot sucks up 85 to 90% of residues, and 83 to 88% on a carpet. with short wires. But that's not all: in addition to vacuuming, the S7 Pro Ultra will complete the whole thing with wet cleaning thanks to its mop capable of removing various tasks. For this, the robot will use vibration technology, which is very effective on cool and light tasks. For those that are more encrusted, the robot will have to make several passes. Otherwise, on the Roborock app, you can access pre-programmed cleaning programs, previous cleaning reports or even set up cleaning room by room. Alexa and Google Assistant voice assistants will be there to allow you to control the robot by voice.
Finally, with regard to its autonomy, the S7 Pro Ultra will be able to roam your interior for about 2h30 in Standard mode, 1h45 in Maximum mode and almost three to four hours in Eco mode if you use a vacuuming / wet cleaning cycle. You will be able to gain 20 to 30% autonomy by using only one of these modes.
To find out even more, do not hesitate to read our complete test of the Roborock S7 Pro Ultra.
8 /10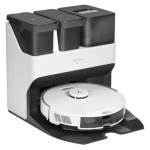 If you want to discover other references that will do the net just as well for you, we invite you now to consult our guide to the best robot vacuum cleaners to buy in 2023.
---
To follow us, we invite you to download our Android and iOS application. You can read our articles, files, and watch our latest YouTube videos.