Share
'What To Watch' is a new exclusive service for Amazon Fire TVs that will help you choose what to watch, in collaboration with IMDb.
Choosing which series or movie to watch is not always an easy task. Currently, there is a multitude of content, in addition to streaming platforms such as Netflix, HBO Max, Disney+ or Amazon Prime Video where many titles are exclusively available, something that encourages piracy. Sometimes, it is possible to take a look at the huge catalog of platforms and, nevertheless, don't come across any catchy titles.
If you have ever experienced this feeling, say that you should not worry. Amazon has launched a new application for Fire TV in collaboration with IMDb which, in a similar way to a game, can make it easier for you to select the contents to be displayed. This way, when you don't know what to watch on your TV, you can decide much faster with Amazon's suggestions.
What To WatchThis is the new exclusive IMDb application for Amazon Fire TV that will allow you to decide what to watch
Collaborations between Amazon and the IMDb service are not new. For years, when Amazon Prime Video content is played, information such as the actors and characters extracted from this platform usually appears. However, it seems that they have decided to go one step further, and now there is a new application that helps decide movies and series but it is exclusive to Amazon Fire TV.
If you have one of these devices, you should already be able to download the app on it What To Watch from IMDb to start finding recommendations, or ask Alexa to do it for you. Of course, the service for the moment is only available for US usersand plans for arrival elsewhere by Amazon are unknown.
The operation of the app What To Watch for Fire TV is quite curious. To suggest titles, there are 3 different games that you can try, and from there custom suggestions based on Artificial Intelligence will be shown:
QuickDraw– For gamers who want a bit of chance, virtual "cards" shuffle movie and series options, revealing a trio of selections in seconds. Players can click "deal cards" to get a new set of selections.
Watch Challenge– Players are invited to view, rate and collect digital stamps as they view IMDb's title lists of titles, including the IMDb Top 250 Movies list, award-winning titles and popular franchises. The subject lists will be updated frequently.
This or That– Players will answer a series of simple questions "This or that?" to find the perfect movie or TV series for your mood, whether you're looking for an epic romance, a G-rated family title, a supernatural horror movie or a comedy comedy. Players can update their choices, including desired viewing time, before their choices are revealed.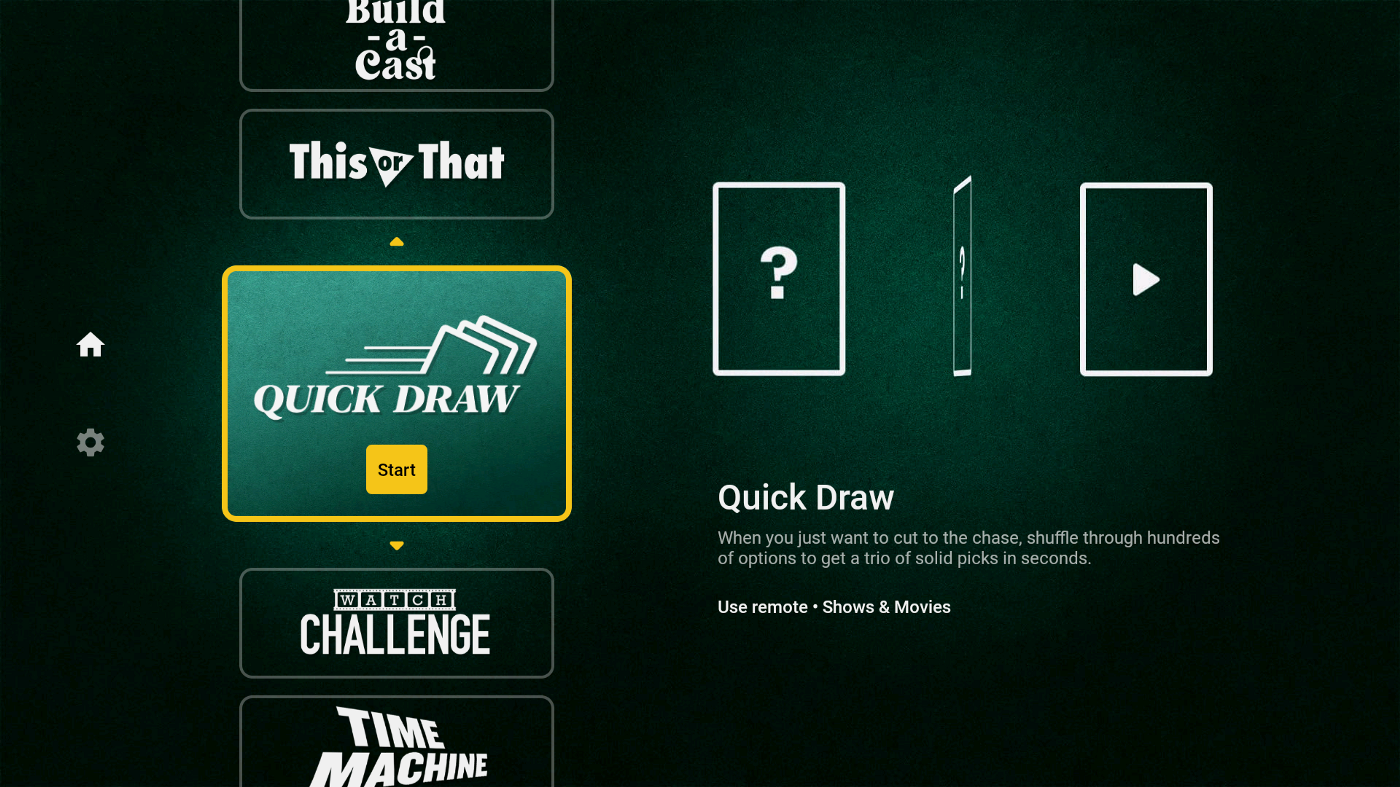 Also, probably the most interesting thing about this new application is that the recommendations will not only be from a single service, but all the platforms on which each content can be played will be displayed according to the IMDb database. In addition, if you wish you will have the option to configure What To Watch so that the recommendations displayed are exclusive of the services you have contracted. Thus, you will not create any illusion of any content that you cannot see later.
Thanks to this technology, Amazon will show you ads in series without you noticing
As explained on the Amazon Fire TV blog, although only the 3 games mentioned above are available at the moment, it seems that sooner rather than later from IMDb they will add some more of the same style. Thus, the possibilities to find a movie, a series or a documentary according to your tastes will be greater and greater.
To access this service, you will need any of the Amazon Fire TV models and a television. If you are in the United States, accessing the Amazon AppStoreyou should be able to download What To Watch for free. Similarly, it is also possible join directly from Alexa.
Related topics: Applications
Share