The Galaxy Watch 5 is among Samsung's new high-end smartwatches, which are down sharply in price today. If the 44 mm and Bluetooth version was 329 euros when it was released, it is now only 195 euros thanks to this offer.
The Samsung Galaxy Watch 5 is inspired by the previous model, adding a few improvements along the way. It is certainly offered alongside a Pro model, its price remains more accessible for those who would like to be tempted by an Android connected watch. Its 44 mm version is now nearly 135 euros cheaper thanks to a reduction and a promo code.
The Galaxy Watch 5 in a nutshell
A neat watch, pleasant to wear
Giving access to many features and applications
On an interface similar to Samsung smartphones
Displayed at 329 euros for its 44 mm version, the Samsung Galaxy Watch 5 sees its price drop to 215 euros, but by applying the code RAKUTEN20the watch is trading at only 195 euros on the Rakuten site.
If the offer mentioned in this article is subsequently no longer available, please take a look below to find other promotions for the Samsung Galaxy Watch 5. The table is automatically updated .
Where to buy The

Samsung Galaxy Watch 5 at the best price?
A copy of the old model, with some changes
The Galaxy Watch 5 builds on the design of its predecessor, but brings a more scratch-resistant screen (60% more resistant according to the brand) and IP68 certification, which prevents it from being removed with each shower or swim (in a pool). Samsung therefore offers a watch made for duration, which remains pleasant to wear and not very imposing compared to the Galaxy Watch 5 Pro.
Its finishes are certainly less premium than the Pro version which opts for titanium, its aluminum case remains successful. The screen is 1.4 inches with a resolution of 450 × 450. We keep the Oled well, and the Alway-on function to display information such as the time is still there. The brightness is also good, which makes it possible to consult the watch in direct sunlight without ever squinting.
Full follow-up guaranteed
The Galaxy Watch 5 is able to measure the number of your steps, your heart rate, but also to orient you, to display your fat mass rate, to carry out an electrocardiogram, to measure your tension or even to measure your saturation in oxygen in the blood. Sleep monitoring is still in the game as well as snoring detection. On the sports side, it is able to detect more than 90 sports activities and has a GPS that lacks some precision during our test.
Otherwise, we find the WearOS operating system with the One UI Watch interface which gives access to the Play Store catalog. The interface is a real pleasure to handle, but can sometimes encounter significant lags and excessively long loading times.
Autonomy reviewed, but still struggling
One of the main flaws of its predecessor was the autonomy, and to correct this, Samsung brings a "bigger" battery: 410 mAh against 361 mAh on the Watch 4 in 44 mm. The South Korean firm is trying somehow to improve this point on its wearables, especially on the next generation. During our test, we tested the 40 mm version which incorporates a small 284 mAh battery. In less than 10 hours of heavy use, the watch didn't have many minutes left before it shut down completely. The 44 mm model will therefore be more enduring, and should last a good day, but no more. For an autonomy of more than two days, it is rather necessary to go to the Pro version.
Find more details on our review of the Samsung Galaxy Watch 5.
7 /10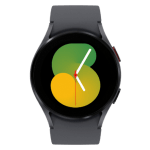 If you want to compare the Samsung Galaxy Watch 5 with other recent references that we recommend at Frandroid, we invite you now to consult our guide to the best connected watches in 2023.
---
Do you use Google News (News in France)? You can follow your favorite media. Follow Frandroid on Google News (and Numerama).