We are already in the middle of a whirlwind of World Cup matches and, as is usual in this type of event, knowing how to watch the World Cup in Qatar is the key that every soccer fan needs. And through World Goal
we can watch all the games
.
It is an OTT created for the occasion and that, from the start of the World Cup on November 20 and until the final on December 18, will allow you to follow all the matches live. In fact,
has several exclusive matches
that cannot be seen on other platforms.
What is Gol Mundial and on which devices can it be used?
As we said, Gol Mundial is an OTT. Created by Mediapro for this world football championship, it offers a streaming platform with which to be able to follow all the matches liveas well as being able to be aware of other information such as the programming with dates and times of each meeting and even being able to see the matches already played on deferred.

Regarding the devices in which you will find it, it is worth noting mainly the Gol Mundial website accessible from any mobile or desktop browser. Although in the end it is much more comfortable to do it through the mobile and tablet app on Android or on iOS and iPadOS. There's also app for televisions with Android TV or Google TV, as well as on Amazon Fire Stick and on Samsung and LG Smart TVs that are after 2018 (in the latter you only have to search for "Gol Mundial" in their app store).

Another way to access Gol Mundial is through Movistar Plus+. All those who have contracted football with Movistar with the 'LaLiga' or 'All football' package will have "free" access to the Gol Mundial channel, either with the Movitar decoder or through its app for mobile phones and televisions. The "free" quote is due to the fact that you do not have to pay for the World Goal as such, but the aforementioned Movistar rate that includes other championships such as LaLiga or the UEFA Champions League.

World Goal Prices
Being an OTT created exclusively for the World Cup, and unless some other destination is planned after it, Gol Mundial is an app for single subscription of 19.99 euros. There is therefore no installment subscription or anything, that payment is made and that's it.

In any case, it can be said that You can also pay 9.99 euros to watch a single game. It's not that this is a bad option, but unless you're only interested in one championship game, it's not worth it. It must be taken into account that by paying for two games you would already be paying what the full subscription costs.

Apart from the 19.99 euro subscription, you can also see if you have a Movistar+ football package and there is even a pack that includes a decoder with Android TV.
As we previously indicated, the Movistar Plus+ customers Those who have any of the contracted soccer rates will also have access. In addition, they do not require a registration process, since it appears as one more channel on the platform.

In the same way, it is noteworthy to say that they also offer a promotion that includes a decoder with Android TV and the subscription for 79.99 euros. Obviously, the device will continue to be functional after the World Cup with all the advantages of having an operating system like Android TV.

World Goal with matches in 4K, although not on all devices
At the moment of truth, which is none other than watching the games live, we note that not all the devices where the app is played at the same resolution. And it is that only on televisions can it be seen in 4K. If the browser or mobile applications will be limited to 1,080p.

A) Yes, on televisions we have two channels available: World Goal and World Goal UHD, the latter being the one that includes the broadcast of the matches in the highest resolution and the former being the one destined to broadcast in 1,080p.

In our experience of use, we must say that it is not a drama either. It would have been worse if the broadcasts were in 720p HD and even in SD. Although it is clear that there is a quality difference between devices which makes it more worthwhile to watch the games through the television app or the decoder or app for televisions Movistar Plus+a platform that also offers 4K on the Gol Mundial channel.

How to register in World Goal
The first thing you need to know is that the Gol Mundial service must be contracted through its website, which can be accessed from a computer or mobile phone. You have to press the button Contract and then choose one of its two packages already discussed previously (the one for 19.99 euros or the pack with an Android TV decoder for 79.99 euros).

When registering, you will be asked for the usual data (name, surname, province, email and payment method). Once you have created the account and the payment has been verified, you will already have full access to platform services from any of the aforementioned devices. Even if you bought the decoder you can already have access without having to wait for the device to arrive.

It should be remembered that, as indicated in the conditions of service, it is a subscription for residential use. In other words, if you are the owner of a bar or any other public establishment in which you wish to broadcast the matches through Gol Mundial, you will be breaching the conditions of service and could face a withdrawal from your account and even the platform taking action. legal against you.

This is how the application works on mobiles and tablets
Whether it's a tablet or a mobile, whether Android or Apple, the operation and interface of the Gol Mundial application is identical. When it first opens, it asks login with your account and password. Within the application we find several tabs.

On one hand we have Start. In this you will find a section of highlights in which there is the 24-hour channel of Gol Mundial and where the matches are broadcast in their respective schedules, in addition to having quick access to videos of other matches already broadcast. Already at the bottom a visual guide on the groups with their respective upcoming matches and schedules.

In the section of Programming We did not find anything that we did not expect, since we can see the entire schedule of the channel with their respective start times. And it is that the channel not only broadcasts during the matches, but also broadcast reruns and in this section you can check their schedules.

In addition to videos of reruns or specials from this World Cup, you can also access historical content from past championships.
In Videos We find all the reruns of the current World Cup. However, it is more striking that we can also see complete video summaries of previous and even complete finals. From the classic Naranjito World Cup in 1982 to the already legendary World Cup in Mexico in 1970 or the one in South Africa 2010 that awarded our team the first star of champions.

Finally we find the section of Me Bill which does not come as a surprise. Option to close session, frequently asked questions about the application and platform, as well as conditions of use, privacy and cookie policies.

On televisions is where we enjoy the World Goal the most
There is not too much mystery in this and it is that, in addition to offering a better resolution during the games, enjoying them from a television becomes much more rewarding for reasons of size. Although it is evident that we cannot always be in front of the TV at home.

We have tested the app on both a Samsung TV with Tizen and another with Android TV. We have even watched matches through the Movistar application on both devices. In all of them, the process is identical to that of the mobile, only having to enter our account and password to have access to the platform.

As in mobiles, we find identical sections, although in this case they unify practically everything on the main screen to make the content more accessible. But it also includes all the content of live matches, specials, as well as the content of previous World Cups.

The great limitation of Gol Mundial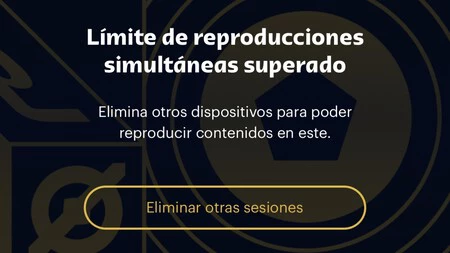 Apart from what has been said regarding the exclusive 4K resolution for televisions, the truth is that there is another important element that is a limitation in World Goal. And it is that there cannot be two simultaneous reproductions and not even from the same WiFi network.

We do not know if the intention behind this limitation was prevent account sharingBut the truth is that you can't. Thus, whoever wants to see all the games will have to have their own subscription.

What alternatives are there to World Goal?
If for some reason you do not want to sign up for Gol Mundial and you are not a client of Movistar's all-soccer package, we are sorry to tell you that In Spain there is no other platform that broadcasts all the matches. As we have already seen, Gol Mundial exclusively owns up to 44 matches of the entire championship, so you will have no other option to watch them.

Yes it can be said that RTVE has part of the rightsoffering up to 20 World Cup matches in the open, including the Spanish team matches. In addition, for the first time on DTT, it is possible to tune in to TVE UHD, a new channel in 4K on which public television broadcasts matches at maximum resolution.