You will surely want to take advantage of El Buen Fin that is getting closer and closer and buy a new screen to enjoy at home. To make your purchase worthwhile, we share with you which are the best and cheapest televisions according to PROFECO (Federal Consumer Protection Office).
Now, the complete analysis carried out by the regulatory body focuses on 25 models of LCD LED screens suitable for receiving high definition digital signal. This was done a couple of years ago, so the most recent models may not be in your research work.
What did PROFECO take into account to classify them as the best and cheapest televisions? The study focuses on the following technical sections:
Image quality

Color contrast and black level: They measured the absence of brightness and the maximum number of colors that each screen can offer.
Color Fidelity: They also looked at how close the original colors are to those broadcast on TV. Focusing on three areas:

Chroma (amount of color)
Luminance (brightness)
Phase (color)

Screen Brightness Uniformity: The uniformity of light emitted by the LEDs that make up the LCD panel illumination.

Audio Quality

The range of audible frequencies
The amount of falls or noise that each of them presents

Consumer information

That the brochures, instructions, guarantees and manuals are visible and in Spanish.
The best and cheapest televisions according to PROFECO
The best-rated model by this regulatory body was the 40-inch Sony Bravia KDL-40R471A with a rating of Excellent. This is because it has very good image quality with almost perfect ratings in the three main sections.
In addition, it has a digital and optical audio output, as well as HDMI and MHL inputs, so you can enjoy your movies, series or video games of your choice. This model is placed above the Toshiba 39L2300UM and the Panasonic Viera TC-L39B6X.
The report mentions that the differences in the image quality of the TVs analyzed are notable. Only a few models offer the best image quality to fully enjoy the HD experience. However, those with a lower rating have acceptable performance for most TV signals and HD movies on both DVD and Blu-ray.
The best 50-inch LCD screens
In the case of the best and cheapest televisions, PROFECO marks the analyzed models with MB ratings (only below excellence. In the case of the Panasonic Viera TC-L47ET60X, LG 47LA6205 and the Sharpd Aquos LC-50LE441u, they have almost perfect performance in terms of image.
In addition, they have multiple HDMI inputs and, some of them, like the Sharp, have a VGA input for computers. These models may be preferred for those who also use them in their daily work.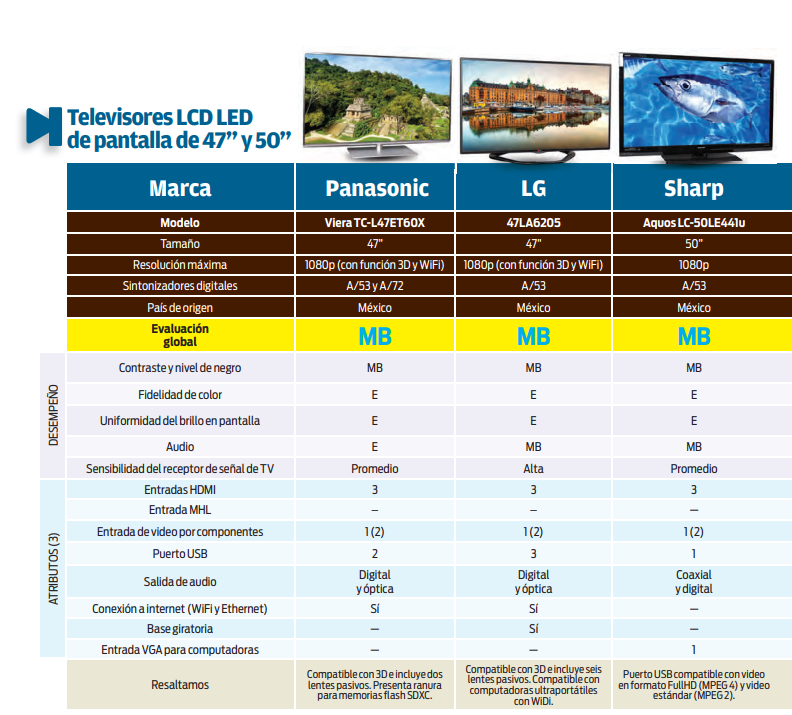 Regarding the best and cheapest televisions, PROFECO also points out that the models that consume the most energy are the 47 and 50-inch ones. Furthermore, they share the following conclusions:
Most screens offer very good quality in their overall performance, which is enough to appreciate most TV signals and movies in high definition with notable quality.
As for the models with the lowest rating in their overall evaluation, you should keep in mind that they may offer barely acceptable service. This is because they not only have inferior picture quality, but also often have a tuner with low sensitivity for channel reception or a very limited audio system.
Remember to subscribe to our Newsletter to be aware of more news relevant to you like this one.