After Apple's presentation, we know that the price of the iPhone 15 Pro Max is around 28,999, and that large number makes us wonder How many things could we buy for the same value?
This is not an easy question to answer, because video game consoles, screens and more vary in cost constantly. Therefore, take into account the publication date of this article in case you are interested in knowing more about this topic: September 12, 2023.
For this experiment, let's add customs and localization costs, so Let's stick with the price for the 1TB iPhone 15 Pro Max, which is 37,999 for this experiment. Assuming that with the price of this cell phone, you could easily buy a Gamer PC or Laptop, we are going to make a longer list to take advantage of those pesos.
What can you buy for the price of the iPhone 15 Pro Max?
Okay. For now, we are going to focus on two elements for entertainment: video game consoles and Smart TV, this to have a broader parameter but closed to certain needs in our comparison.
Let's start with something simple, a Nintendo Switch, a versatile video game console for both home and portable use, which has titles such as The Legend of Zelda: Tears of The Kingdom (TLOZ), Metroid Dread, Mario Party 8, among others.
In some online stores, it is priced at around 4,670 Mexican pesos (about $280). If we add three games, like the one mentioned above, we could reach a total of 7,000 pesos.
This leaves us with 18,000 pesos of the iPhone 15 Pro Max price to spend.
Xbox Series X price
Now, we need a more powerful video game console to enjoy new generation games, such as Starfield or the upcoming Activision releases. A Bundle with Diablo IV and a 1 TB Xbox Series 9,000 pesos seems like a reasonable option.
If we also want to enjoy PlayStation 5 exclusives, such as the next Spider-Man game or Final Fantasy XVI, We will have to add approximately 9,000 pesos for the console and 1,000 pesos for the video games.
In this way, we would have spent the price of the iPhone 15 Pro Max on three consoles and several different video games for each of them, which provides us with more than 800 hours of entertainment in total. However, what other things can we buy with the money we have left?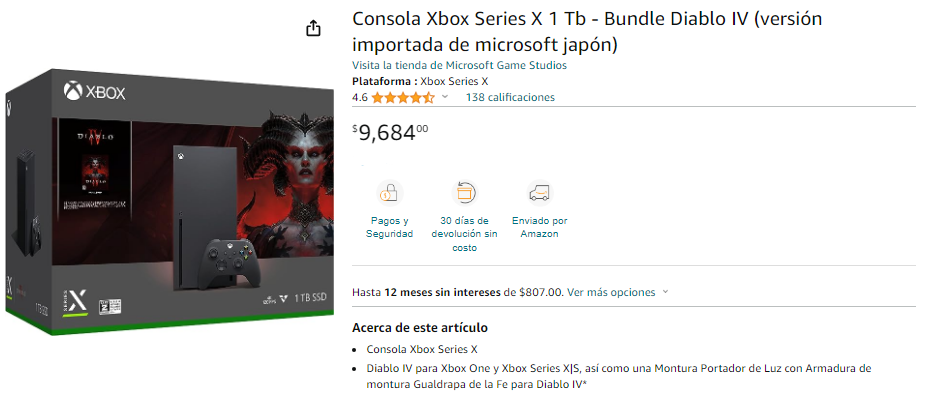 Of the original price of the iPhone 15 Pro Max, we would have 11,999 pesos left. For this value, we have two purchase options. The first of them would be to purchase a virtual reality (VR) headset to enjoy virtual reality games like Half-Life Alyx. For example, a Meta Quest 2 has a value of 5,555 pesos. And, although we can enjoy several titles with its operating system, its library is limited.
There are also other options such as the new Picco models, or a PlayStation VR 2, which could complement your new Sony console. But even with that we would have several thousand pesos left over.
Therefore, another option would be to buy a 65-inch Hisense screen worth 6,999 pesos could be ideal to test, whether it is the Steam or PlayStation VR system. And, if we have money left over, we can still buy a little for the month's pantry.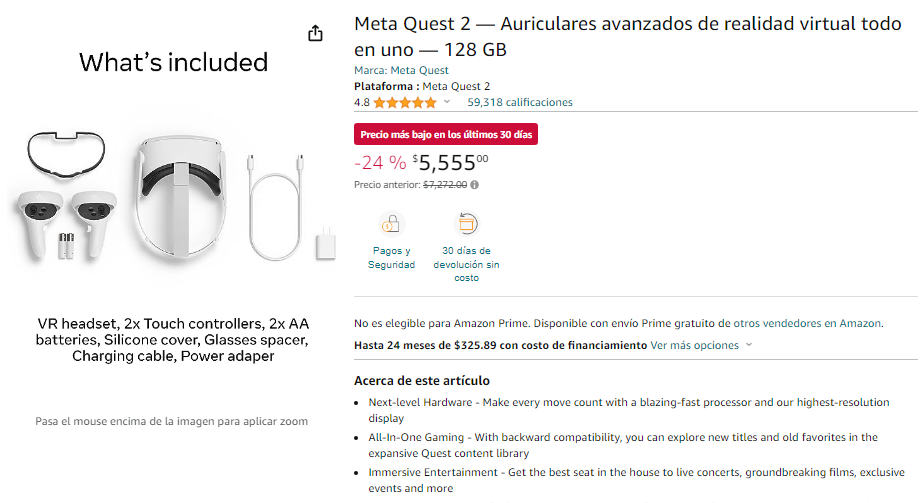 Although, the price of the iPhone 15 Pro Max may seem to have a higher value than the average cell phone, It promises to offer a higher quality of life and durability due to its titanium materials and its memory capacity of up to 1 TB.
| | | |
| --- | --- | --- |
| | Price | iPhone 15 Pro Max |
| Nintendo Switch and three games | $7,000 | $36,999 |
| Xbox Series X – Diablo IV Bundle + Game Pass and 1 game | $9,000 | |
| PlayStation 5 + 1 video game | $10,000 | |
| Meta Quest 2 | $5,500 | |
| Hisense Smart TV | $6,999 | |
| Total: | $38,999 | $36,999 |
Remember to subscribe to our Newsletter to be aware of more relevant news like this for you.