---
As Bitcoin (BTC) is returning to trading in the green, showing signs of recovery after a tough spell that has gripped the entire cryptocurrency market in recent days, crypto analysts are speculating on where the price of the flagship digital asset might go.
What do experts say about Bitcoin after the Fed decision?
Crypto analyst Michaël van de Poppe, in a YouTube video from May about where the price of the Bitcoin asset will go, says that Bitcoin is currently trying to retest lows with prospects of falling south.
The crypto trading expert also said that while the majority expects a downward momentum, a scenario is possible where the real pain point could turn Bitcoin up rather than down.
Fed meeting effect
With the Federal Reserve's expected meeting on Wednesday, May 4, fears in the markets are raising concerns that the central bank's $9 trillion asset portfolio will be contracted by a policy known as quantitative tightening.
According to Van de Poppe:
"It is often overpriced when there is a lot of fear in the markets, which means the market has outgrown the reaction itself. If you ask me, I think we're going to have heavy volatility, expectation for tonight."
However, in his view, the big picture is that this downward movement, like a bear market, is already expected, but interest rate hikes are not at all in a downward trend, he said;
"My opinion is that we will have an upside break with Bitcoin and the chances will increase depending on the price action."
Bitcoin forecast based on price action. Source: Crypto Michael
BTC leaves the exchanges en masse
Elsewhere, crypto investor and analyst Lark Davis, aka TheCryptoLark, noted that the amount of Bitcoin on exchanges has been steadily falling as all categories of investors, including retail traders, whales and institutions, are buying.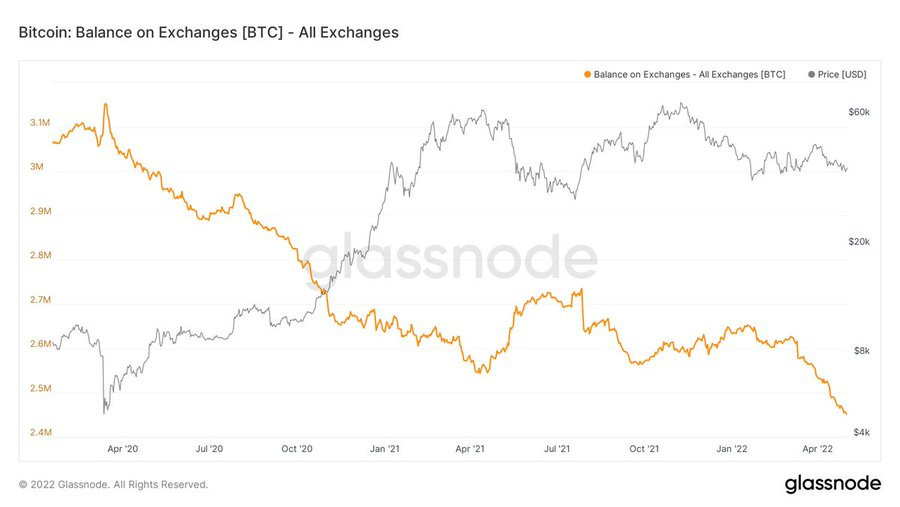 Source: Lark Davis
Such a trend could indicate an increase in BTC price in the future, as assets held on exchanges tend to decrease as more market participants want to buy rather than sell. The more limited the supply of a purchasable token becomes in this way, the more it pushes demand and with it its price.
Legal warning: The content on this site should not be considered investment advice. Investment is speculative. When investing, your capital is at risk.