Once again, it's that time of the month when we take another look at all the
changes and updates that have taken place in Microsoft Teams this last month.
We've seen a lot of updates and changes to Teams in the month of July, so let's dive in and run through the highlights.
What's new in Microsoft Teams during July
Improved meeting experience
First of all, in July, we saw integration between Microsoft Teams and Microsoft Forms which led to the introduction of new features as well as enhancements to existing features within Teams meeting polls. Between them, replacing the Forms app in Teams with Polls. This was done to help users locate and add polls to their chats and meetings.
They are also seen Survey Suggestion Panel UI improvementswhich now allows users to change the position of suggested surveys from the bottom to the side panel and the ability to show or hide the side panel, among other improvements.
Additionally, users will have access to a list highlighting your recent surveys, in this way they will be able to reuse these surveys in new meetings which in turn helps them save time. Users will also get a "dynamic confirmation" once they have participated in a survey, as well as an evaluation capacity that will allow them to give their opinion by scoring the symbols on the scale.
Key changes to phone and calling
Another notable feature that came to Teams this July is the ability to hide call history in Teams for desktop and mobile. And not only that, users will now be able to listen to call recording announcements using the default language set for Teams calls to or from a phone number.
The common area phone has also been improved so that it can reach a larger audience without increasing cost. You can access cloud-based security, endpoint management, and voicemail features through the following service plans that have been incorporated into the Common Area Phone license:
Azure Active Directory Premium Plan 1
Microsoft Intune
Exchange Online Plan 2 (cloud-based voicemail only)
According to the blog post. "Spectralink DECT devices have been integrated with SIP Gateway". This has been done to improve both efficiency and effectiveness, as frontline workers can make use of the Teams calling feature to improve communication with their colleagues.

Additionally, users can now easily log out of the Teams Reserved Room using the new "Manage" button on the dashboard.
Also, through the same button, users can reach extend a Teams Rooms reservation directly from the panel. However, this is only possible if the room is available at the time.
Users running Teams on certified peripherals that support the camera on/off feature can now get it to run more efficiently with a simple click of a button instead of the previous approach that required the user to fumble with the mouse or mouse. keyboard to alter it.
Chat and collaboration
LinkedIn has been integrated with Teams, this way users can see the profiles of their colleagues. While helping them bond over similar interests while also improving their skills.
On the other hand, if we want to create a message in a team channel, we no longer have to mention the team owners individually. Instead, you can notify them all at once by mentioning "@TeamOwners" or @TeamOwners.
Management
Users will be able to inherit the correct policy, either through a group policy assignment or by default at the organization-wide level, as administrators now have the ability to clean up individual user policy assignments en masse.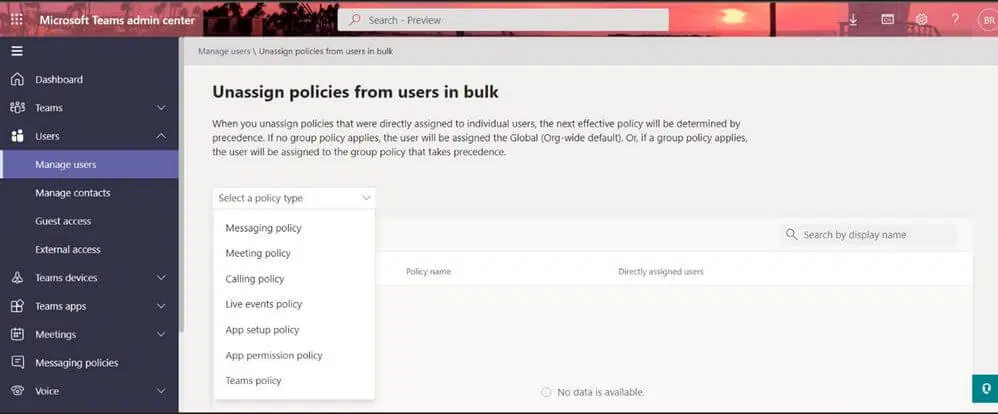 Teams for education
We recently reported on the integration of Microsoft Teams with Canvas. It turns out that they have also joined Moodle with the aim of improving the learning experience. The Microsoft Teams Meetings LTI and Classes LTI applications can be accessed directly from Moodle.
Government
Government officials will now be able to change their user experience or even customize their security settings using the new meeting options feature, they will also be able to view up to 49 videos at a time during meetings on virtual desktop infrastructure, and finally, Using the joint mode function, officials will be able to see all their colleagues in a shared background.