By marketing these wireless headphones that look like a pair of AirPods, Xiaomi is making it clear that it intends to have its place in the high-end segment of the market. Despite the premium nature of its Xiaomi Buds 3T Pro, the prices charged by the Chinese manufacturer are still just as aggressive. At the moment, several merchants are offering the Xiaomi Buds 3T Pro at 99.99 euros instead of 199.99 euros.
Xiaomi is very well known for its smartphones, but also offers connected watches or wireless headphones, among others. Last year, the Chinese manufacturer inaugurated its first pair of headphones true-wireless premium and, today, these Xiaomi Buds 3T Pro have a reduction of 100 euros at several merchants.
The advantages of the Xiaomi Buds 3T Pro
Active noise reduction
Multipoint Bluetooth
The correct autonomy
Instead of the usual 199.99 euros, the Xiaomi Buds 3T Pro are now available on sale at 99.99 euros at Darty, Fnac and in the official store.
If the offer mentioned in this article is no longer available afterwards, please take a look below to find other promotions for the Xiaomi Buds 3T Pro. The table updates automatically.
Where to buy the

Xiaomi Buds 3T Pro at the best price?
It's like AirPods, but they're not AirPods
The Xiaomi Buds 3T Pro are stored in a pebble-shaped case with a decent finish and available in two colors: white or black. As with the AirPods, Xiaomi has also decided to adopt a rod format and put a kind of small grid on the outer face of its Buds 3T Pro.
These wireless earphones come with several large plastic tips and not necessarily suitable for all ears. Even though the earphones stay in place, people with a small ear canal may be embarrassed after a long period of use. For others, they will be comfortable and allow you to listen to music for six hours straight without the noise reduction activated. As for the case, it provides 24 hours of autonomy and can be recharged wirelessly.
Headphones by Xiaomi, for Xiaomi
According to the manufacturer, the ANC can reduce surrounding noise by 40 dB. In practice, this is correct, even if we are more in attenuation than in suppression. Another advantage, and not found with all manufacturers: multipoint Bluetooth allows you to connect to two sources simultaneously. However, some features are reserved for owners of a recent Xiaomi smartphone. This is the case of fast pairing, ANC customization, spatial audio and the LDHC 4.0 protocol which offers better sound quality.
The audio part defends itself well. The mids and highs are detailed and quite good, but the bass is, however, behind. The higher the volume, the more the highs are also discreet. The musical experience could be better if you have a Xiaomi 12 to take advantage of LDHC 4.0, otherwise you have to settle for the AAC and SBC codecs. In short, the Xiaomi Buds 3T Pro are well-made wireless headphones, but they only have real interest when you have a recent Xiaomi smartphone.
To find out even more, read our full review of the Xiaomi Buds 3T Pro.
6 /10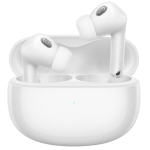 The best of true-wireless
In order to compare the Xiaomi Buds 3T Pro with other products in the same category, we invite you now to consult our guide on the best Bluetooth headphones of 2023.
---
Do you use Google News (News in France)? You can follow your favorite media. Follow Frandroid on Google News (and Numerama).