The technological evolution in keyboards has led to greater customization so that we can freely choose the one that best suits what we need. There are all kinds of them, but currently the ones preferred by many people, especially those who usually play video games from the computer, are the mechanical ones. In the Amazon store the one with the most ratings (6,459) is the RK Royal Kludge RK61and it is currently on sale through a coupon that leaves it for 69.29 euros.
RK Royal Kludge RK61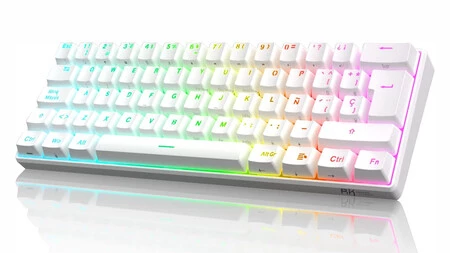 This Royal Kludge mechanical keyboard has a total of 6,459 opinionsbut it is also notable that it reaches a 4.5 star rating out of five and is ranked number 48 of the best-selling keyboards on Amazon.
First of all, it should be said that this keyboard has a layout QWERTY in Spanish, so it includes the letter "Ñ" that we do not see in other models. This is a mechanical keyboard with a hot swap red switch; that is, with interchangeable keys and without an audible click. The keyboard can connect to up to three devices at once and switch between them easily with a button.
In its entirety, it includes 62 keys distributed in a fairly compact format without a numeric keypad. What it does include is a RGB LED backlight with 18 different modes. For its part, the keyboard is wireless and includes a USB-C port that can be used either to use it via said cable or to recharge the battery. And if we talk about compatibility, it covers a good number of devices: from Windows and Mac computers to other devices with Android and iOS.
Main positive comment
"Very good keyboard but a little complicated" —Alejandro Jaime
The keyboard is very good for the price, I have been using it for a couple of days to program and it looks quality, it seems that no key is missing and that the Bluetooth connectivity works well (with a little delay, yes) .
The only problem I see is the configuration of the keys. If the arrows are blocked, you have to press "Fn + Enter" and to access F1, F2, etc., you have to press "Fn + Left Ctrl". In short, a real hassle that in my opinion ruins a little the rest of the keyboard's qualities.
Since the keys are configured with viciousness and hostility and there are things that are difficult to do like "Ctrl + Alt + Del" or how to write "" without dying trying and since the technical support they offer is zero, I recommend using a program to assign custom keybinds, in my case AutoHotkey.
Main critical comment
"Impossible key combinations" —Vladyslav
I use the computer a lot to work, I use it to program, to manage computer systems, and in general, to write a lot. After using it for almost a month, I leave you my opinion, although I can already summarize that if you are a user who goes beyond writing in Word and browsing the Internet a little, it falls short. (Maybe for gaming it's also fine, although I can't confirm it).
I have been testing this keyboard for almost a month and I do not recommend it at all if your goal is to program or do something other than write normal text, in my opinion a 60% keyboard falls very short for this goal, making your time in front highly unproductive. to this keyboard. I do not recommend at all. (There are even key combinations that are impossible to press, such as ctrl+alt+delete due to the keyboard's function key configuration, a horror).
The configuration software is terrible (And hard to find), I don't want you to have to deal with it.
In positive?
Bluetooth connectivity and battery. I haven't had to charge it since I had it, which was about a month ago (It's true that I have it with the lights off, but I'm still very happy with this section).
Also, another feature that I like is its USB-C connection and Bluetooth, it's really great, it's difficult to find mechanical keyboards with these features.
The RGB lights are great, they are pretty and the effects are very good. I also really like that it is a mechanical Bluetooth keyboard with a Spanish layout, I think that on Amazon there are 2 or 3 keyboards with these features, it is appreciated that there is one (A shame that it is 60%, at least 80% would be great).
The latency via Bluetooth is not very good, so if your intention is to play with it via Bluetooth I do not recommend it.
In summary. I don't recommend it if you want to give it relatively "deep" use.
More offers
If you make Amazon Primeyou have a 30-day free trial (after 49.90 euros per year) to enjoy free fast shipping, a priority accessory to offers, services such as Prime Video, Prime Music and unlimited photo storage. Also, if you are a student, make sure Prime Student It costs half and you have a 90-day trial. You can also try services like Kindle Unlimited either Audible.
Entertainment with Apple is assured: don't forget that you can subscribe to Apple TV+ to watch your favorite series and movies (you have seven days free, then 6.99 euros per month) now Apple Music so that music is never missing from your parties with high-quality audio (you have a free trial month, then 10.99 euros per month for an individual plan).
You also have at your disposal AppleBooks, to always have your favorite readings at hand, whether in book or audiobook format; and Apple Podcastswhere you will find millions of programs to listen to.
You can be up to date and informed at all times of all the news from the Apple world and Applesfera Selección offers in our profiles. Twitter and Facebook and on our channel Telegram.
Some of the links in this article are affiliated and may provide financial benefit to Applesfera. In case of non-availability, offers may vary.
Images | Royal Kludge
In Applesfera | After fifteen years of teleworking, this is what I have learned by making the most of the usability of my Apple devices
In Applesfera Selection | Which keyboard to buy for Mac: eight alternative proposals to the Magic Keyboard fully compatible with macOS