The virtual mobile operator that has been leading the cheapest mobile contract rates for years had recently lost some advantage over other ultra-cheap MVNOs, but xenet has regained the throne of cheapest operator after the new improvement applied to your rates.
If Xenet was already practically unbeatable in terms of prices, it is much more so after double the gigabytes of your family rates for free and lower the minimum price of the giga up to 10 cents on their individual rates.
Up to double gigabytes for free and one less fee
The Xenet rate remodeling eliminates the 8 euro rate, which until now included 30 GB. Meanwhile, the cheapest rate remains at 6.90 euros, and from now on includes 32 GB after increasing their gigabytes by 45%.
The rate of 9 euros now has 70 GBwhich is 17% more, but the rate that has become the most interesting for the operator because it offers the cheapest average price for the gigabyte is 14 euros, which now includes 140 GB after increasing their gigabytes by 40%.
The rates with 160 GB for 17 euros and unlimited gigabytes for 21 euros remain unchanged. The fiber rate has not changed either, but when combined with the new mobile rates, your mix is ​​now even more competitive.
Those who also improve are the two family rates, which have doubled the gigabytes for free, so that now it is possible to have three lines with unlimited minutes and 150 GB shared for a total of 20 eurosor with 200 GB shared for 22 euros.
In addition to all these rates, which are available with Orange coverage, Xenet also offers another alternative with Movistar coverage which has also improved their conditions. Now it offers 5 GB for 6.90 euros, 30 GB for 9 euros, 60 GB for 12 euros, or 100 GB for 15 euros.
The complete offer of Xenet rates in force since March 2023, is as detailed in the following image:
New family combination of fiber and mobile
In addition to the improvements derived from the increase in gigabytes of mobile rates when combined with fiber, Xenet has launched a new family combination with fiber at 300 Mbps and up to three mobile lines with unlimited minutes and 75 GB shared for 39.90 euros.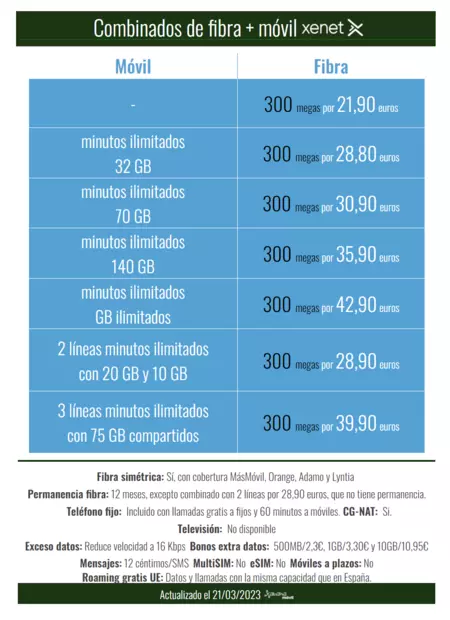 More information | Xenet.