Launched in 2017, Fortnite is still one of the most popular games of the moment, which for many players was a drama when the game was removed from the App Store two years ago, since during all this time
iOS
users did not have an official form of
play Fortnite on your iPhone and iPad
if we don't take into account the closed beta of
Nvidia
GeForce Now released earlier this year.
As well,
microsoft
has advanced to
Nvidia
and from
today
allows
play Fortnite for free on iPhone, iPad, Android phones and tablets
and
Windows
computers via
Xbox CloudGaming
. Epic Games and Microsoft have teamed up to bring the famously popular battle royale to more devices and players thanks to the magic of streaming.
Free Fortnite on Xbox Gaming Cloud
to play to Fortnite on your iPhone, iPad, or Android device you don't need to install anything, or even have an Xbox Live subscription. Can you play totally free with your microsoft account and from you Web navigator. The only thing we have to have is a good Internet connection.

We just have to go to Xbox.com/play to start playing from your mobile. On the main screen we will see we will have an access to play free to Fortnite. We log in with our Microsoft account and we can now play streaming from the screen of our mobile device.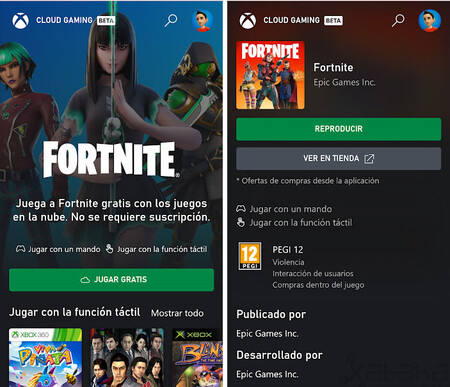 The best of all is that Fortnite has come to Xbox Cloud Gaming with touch controlsso if we don't have a Bluetooth gamepad we can play directly from our touch screen as if it were a native game.

In this way, iOS, iPadOS and Android users can now play streaming through Xbox Cloud Gaming or from the closed beta of Nvidia GeForce Now. If you have an Android mobile or tablet you can continue installing Fortnite on your device through the Epic Games Store or if you have a Samsung from the Galaxy Store.

Via | Xbox