Our mobile is a tool with infinite possibilities, it can even save us in
emergency situations
.
Google cares about the safety of its users
and for this reason it has developed the Emergencies app, available on
Android
.
This application is available in the official Android application store,
Google Play Store
. Within the application we can add information related to our health, among other useful functions to get us out of trouble. But let's take a closer look at it.
Configuration and design of the Emergency application
The initial configuration is very simple: It will ask us to fill in some important fields about personal health, such as our blood group or emergency contacts to call in case of misfortune. After completing these fields, we can use the application freely.

The application's interface is very clean and follows the patterns set by Google with Material You, the style sheet for Android 12 and higher versions. Thanks to this interface we will not find any difficulty to configure it and find all the settings and possibilities that it allows.

Emergency responses: automate your notifications
If we touch the Settings icon in the upper left corner, we will see all the possibilities it offers us. First of all we can modify two fields related to emergency responses.

As we can see, the first section will activate a function so that when press the lock button five times different actions are initiated, such as sounding the alarm, calling the emergency number, sharing our location or recording a video.

In the second section, called "Emergency Notice" enables us to share our position with emergency contacts that we ourselves consider. A) Yes, our phone will automatically share the information with those contacts in case an emergency alert is activated.

Detection and alerts: stay safe in a crisis and also behind the wheel
The second category of settings is very interesting: consists of a series of alerts and detections that will help you in dangerous situations. In this section there are two settings, the detection of car accidents and crisis alerts.

The first feature will make your phone vibrate and ring, before asking if you need help. In the event that you do not answer your mobile, he himself will call 112 to facilitate your location to the emergency service. Thus, if you are the victim of an accident on the road, you will have help without the need for the user to intervene.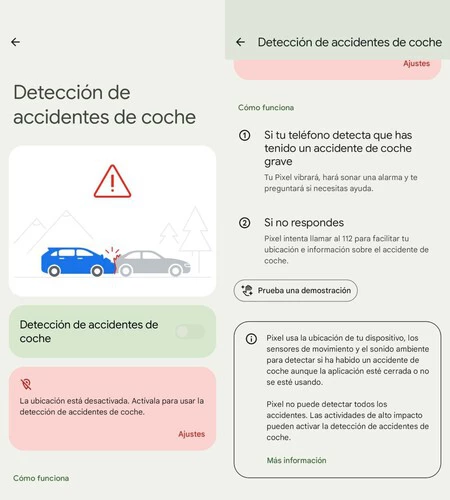 The second corresponds with Crisis alerts such as natural disasters or public emergencies near you. The phone will alert you with notifications of public emergencies such as natural disasters, thus making the user have the information as soon as possible.

Contacts and information: the basis for them to help you
The third category that we find in the configuration is none other than "Contacts and information". Here we have three options that we can adjust.

The first is none other than the addition of contacts that you consider appropriate for emergencies, on this screen you can attach them to help you. If a person finds you in a difficult situation You can go to the contacts that you include in this section, so a stranger will know who to call. By pressing the "Add contact" button we will see all our saved numbers. It's as simple as click on one to add it.

The second case called "Medical information" It is used to give information to our mobile. We have aspects such as blood group, allergies, medication we take, our address or if we are organ donors. All this data will be useful in case we are not able to get out of a problem and the health authorities or third parties attend to us. This information is displayed by the phone without having to unlock it.

The last configuration is related to the last thing we mentioned, it's just about a switch for your personal mobile to allow access to emergency information that we have previously introduced. This way the emergency services will have information that can be crucial to help you.

With the adjustments we have made, we have extra help in emergencies, thanks to our mobile and Google. Do not forget to check that all the data is correctwe must be cautious in this aspect to provide the maximum and most accurate information to whoever can help us.

Configure your emergency application. We never know when it can be useful to us.
Since you know how to configure the application, do not delay in leave it ready so that your mobile is a life saver. We never know when it can be useful to us, although we hope we won't have to use it.

emergencies