December is synonymous with coming home, meetings with friends, Christmas and gifts. In the case of gifts, it is very common to set a minimum and maximum price limit to play on equal terms. If the maximum price is 50 euros and the person has Apple devices, we suggest nine gift options.


Apple AirTag Bluetooth Locator
We start with a safe bet for clueless people who have an iPhone. The Apple AirTag (35 euros) is a small device that can be located even from miles away thanks to its integration with the Search network. It has an autonomy close to a year and its battery is easily replaceable by the user. Set up quickly with a tap on your iPhone or iPad.
Leather Keychain for AirTag Nomad Leather Loop
An AirTag without an accessory loses a lot of potential, so Nomad's Leather Loop Keychain (11.99 euros) is a good option if you are looking for a stylish model. Is made of Horween vegetable tanned leather that with the passage of time acquires a better appearance.
Nomad Leather Loop Natural Leather AirTag Keychain
Anker 521 MagSafe External Battery
From the iPhone 12 it is possible to recharge the battery of Apple smartphones by MagSafe, a technology based on magnets with which accessories are attached to the back of the phones. In this way, external batteries such as the Anker 521 (39.99 euros) can be used. With a capacity of 5000 mAh, is capable of providing up to 17 hours of video playback.
Anker 521 Magnetic External Battery (PowerCore Magnetic 5K), Portable Wireless Powerbank with 5,000mAh and USB-C Charging Cable, Compatible with iPhone 13 Series/iPhone 12 Series
3 in 1 wireless charging station
The MagSafe Duo is one of Apple's most interesting accessories, especially to take on a trip because of how compact it becomes when folded. However, its price is quite high, but there are alternatives like this 3-in-1 wireless charging station (45.99 euros). You can recharge iPhone, Apple Watch and AirPods at the same time. It comes with RGB LED lights that can be turned off if it is going to be used at night, so they don't bother you.
BOCLOUD Wireless Charging Station 3 in 1, Magnetic Mag-Safe Charger [Plegable y Portátil] Charging Pad Compatible with i.Phone 14/13/12/11/XR/XS/8 Series,Samsung S22/21/20, iWatch, AirPods
External battery for iWALK Apple Watch
The Apple Watch is a device whose autonomy is around a day and a half, maybe a little less depending on use. If we go on a trip, an external battery like the iWALK (49.99 euros) will secures about 20 additional charges with its 9000 mAh. It also has a Lightning connection to recharge the iPhone in an emergency.
iWALK Portable Apple Watch Charger, 9000mAh Power Bank with Cable, Apple Watch and Phone Charger, Compatible with Apple Watch Series 6//5/4/3/2/SE, iPhone 14/13/12/11/XR/ 8/7/6/Plus
Urbanista Lisbon Bluetooth Headphones
The AirPods are out of the budget of 50 euros, and finding wireless Bluetooth headphones with noise cancellation for this price is not easy either. The Urbanista Lisbon (34.99 euros) are available in five striking colors, are elegant and compact. They stand out for their up to 27 hours of playback with the charging case (up to nine hours per charge), and they come with touch controls. They can be used with Siri on iPhone and Google Assistant on Android.
Urbanista Lisbon Wireless Earbuds, In-Ear Headphones with Touch Controls, 27 hrs Playtime, Charging Case, Voice Assistant, Vanilla Cream
OMOTON Bluetooth Keyboard and Mouse Bundle for iPad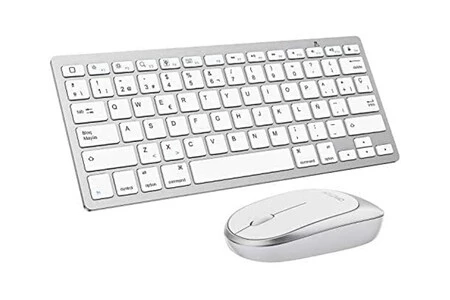 iPads become more versatile devices when used with accessories. If a keyboard and mouse are attached to them, the experience becomes a bit more similar to that of a laptop. This pack (31 euros) is made up of a keyboard with the Spanish QWERTY layout and a mouse with three DPI settings to adjust the speed with which we feel most comfortable.
OMOTON Wireless Keyboard and Mouse Pack, Compatible with iPad Air 10.9, iPad 7th/8th Generation 10.2, iPad 2018/2019/2021, iPad Air 4/3/2/1, iPad Pro 10.5/11/12.9, iPad Mini and iPhone , Silver
UAG Medium Sleeve for MacBook Pro
If you carry a 13-inch MacBook Pro with you all day, a resistant case like the one from UAG (32.99 euros) ensures that it does not get damaged during transport. It is made of wear-resistant materials and provides a good grip in the hand so that it does not slip easily. It has passed the tests of the military standard MIL STD 810G-516.6 and can also be used with 11-inch computers and tablets.
UAG Medium Sleeve for 13-inch MacBook Pro
Belkin BoostCharge MagSafe Wireless Charger for iPhone
If you have an iPhone 12, 13 or 14, MagSafe accessories can be good gifts, and the Belkin BoostCharge charger (36.44 euros) is no exception. You can recharge at 15Wlike the official Apple one, but this one has a braided USB-C cable and a removable stand that allows you to use the phone to view content while it recharges.
Belkin BoostCharge Portable Wireless Charging Pad with MagSafe (15W Fast Charging, Removable Vertical Stand for iPhone 12 and 13 Series, Power Adapter Not Included), Black
Some of the links in this article are affiliated and may bring a benefit to Applesfera.