Geekom has quickly established itself as one of the most innovative and revolutionary mini PC brands. With the official launch of the Geekom Mini IT11 Mini PC, the brand has lived up to its reputation as a true master of design, style, and performance.
The Mini IT11 i7 and Mini IT11 i5 are the most recent achievements to add to its success. These Strong Workhorse Mini PCs are ideal for a variety of tasks and are ideal for home and office use.
The most distinguishing feature of these mini PCs is their incredible flexibility, which includes user-upgradeable storage and more.
Introducing Geekom Mini IT11 i7
If you're searching for an affordable but high-performance mini PC, the Geekom Mini IT11 is an excellent option. The super stylish and lightweight mini PC has a high-end chassis as well as a powerful 11th Generation Intel processor, which makes basic tasks a breeze.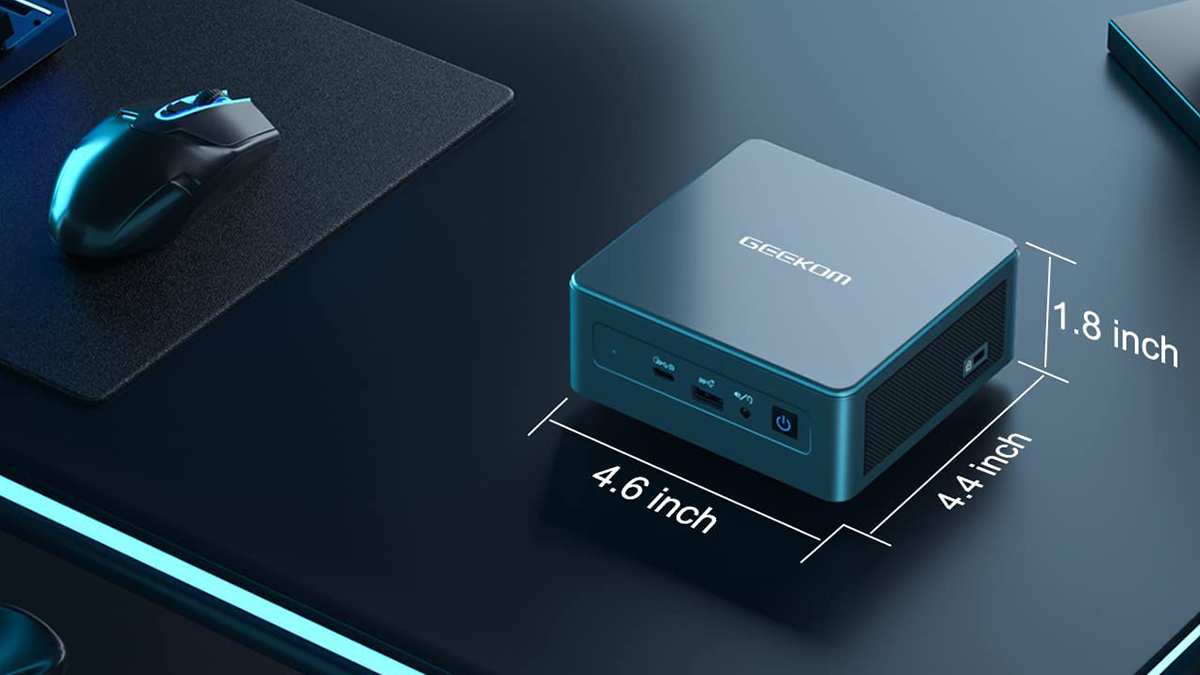 Even for light casual gaming, this mini PC is an ideal buy. Geekom Mini IT11 has everything a mini PC fan could ever want, from user-upgradeable storage and seamless connectivity ports to Windows 11 and a minimalist design. 
Guess what, you can even use this mini PC for normal editing, writing, and other standard PC tasks on a regular basis.
Geekom Mini IT11 i7 and Mini IT11 i5 Highlighting Features
Minimalist Design & Fully Matte Exterior
The Geekom Mini IT11 and Geekom Mini IT11 i5 both have a pretty good design with a sleek and modern core structure, not to mention it's lightweight. The mini PC's rounded corners and edges are quite comfortable and feel smooth. The mini PC also has two USB4 type C ports on the back and front.
Moreover, the Geekom Mini IT11 has a fully matte finish with an aluminum-like shell covering a metal frame. Above all, the Geekom Mini IT11 does not feel flimsy or cheap; rather, it feels more robust.
User Upgradeable Storage and RAM
As we can expect from a brand like Geekom, this mini PC has an incredible user upgradeable storage and RAM options, which you can utilize whenever required. There is a 16 GB DDR4 RAM expandable up to 64 GB and a 2.5 inch SATA HDD slot supporting up to 2TB. However, if you're someone who needs a bit of support for gaming, you must use this particular feature.
Exemplary Performance
Sluggish or exhausting performance is the last thing you want from a mini PC. Fortunately, the Geekom Mini IT11 comes with performance security. The Intel i7 and i5 processors and Windows 11 are designed to speed up any process. This mini PC also has a 12Mm smart cache and a 5.0 GHz Max Turbo Frequency, which contribute to its outstanding performance.
Exceptional Connectivity
With excellent connectivity options such as the Bluetooth Version: 5.2 and built-in wireless (Wi-Fi): Intel Wi-Fi 6, Geekom Mini IT11 makes connecting your PC to other devices easier than ever. Bluetooth 5.2 is an incredible thing for connecting this mini PC with all of your most important gadgets. The Wi-Fi feature is designed to offer 3 times more speed and 75% lower latency.
Geekom Mini IT11 Technical Specifications
RAM

: Dual-channel DDR4 SODIMM,16GB/32GB; expandable up to 64GB

Brand

: Geekom

CPU

: Intel Core i5 or Intel Core i7 (both 11th gen)

GPU

: Intel iRIS Xe

Connectivity

: Wi-Fi 6, Bluetooth

Ports

: 2 x USB4. 3 x USB-A, Headphone port, Kensington Lock, SD reader, Mini DisplayPort, Ethernet, HDMI

Storage

: 1 x SSD (2280 M.2 SATA/PCIe),512GB/1TB; expandable up to 2TB 1 x 2.5″ SATA HDD (7mm), expandable up to 2TB 
Geekom Mini IT11 i7 Pros
User upgradeable storage as well as RAM.

Seamless connectivity with Wi-Fi 6, Bluetooth 5.2.

Lightweight and portable.

High performing 11th-gen processor.
Cons
Not too good for heavy-duty gaming and editing.
Introducing Geekom Mini IT11 i5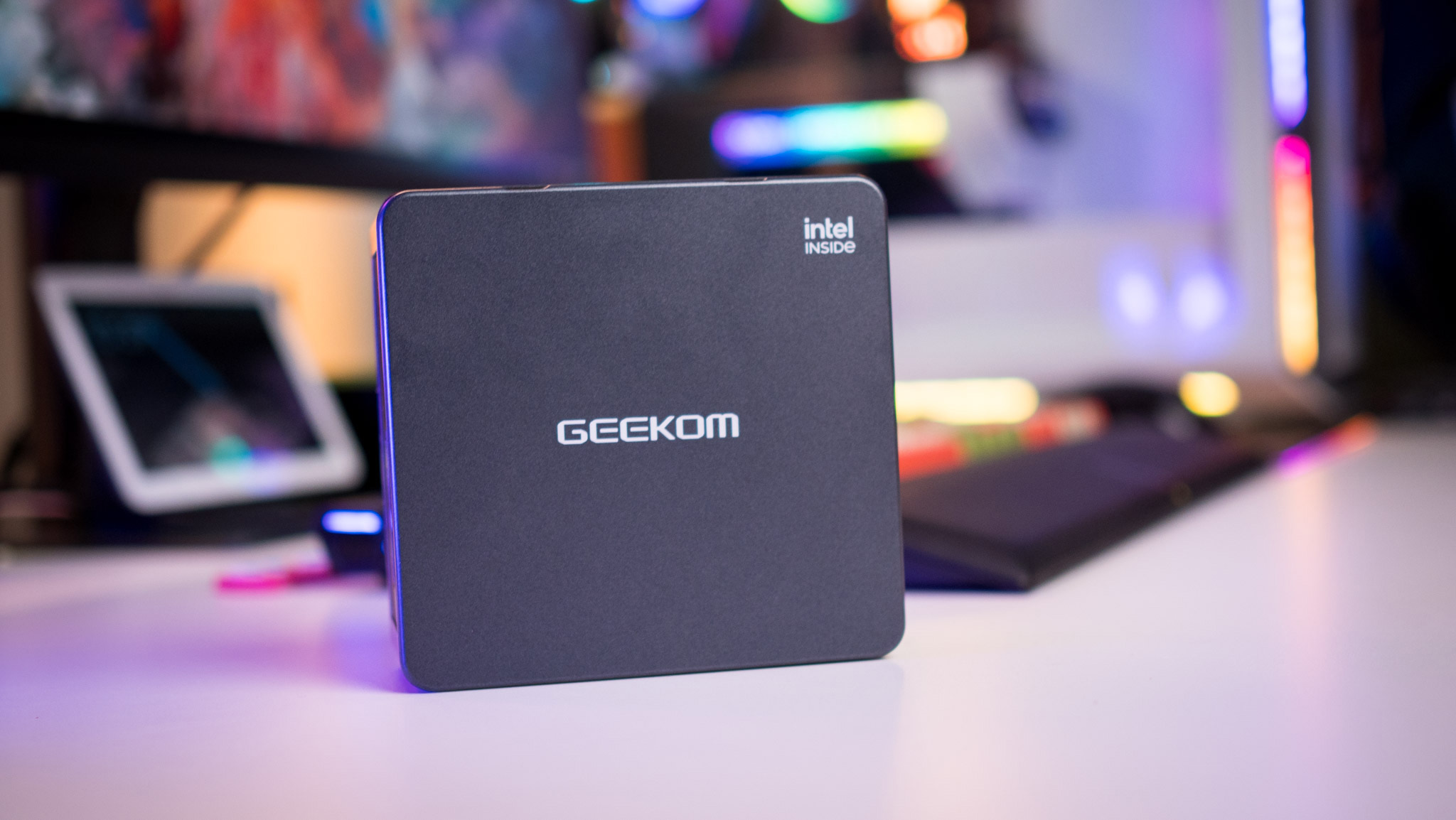 Geekom Mini IT11 i5 is a superior option available to those who are looking for a decent PC. Intel Iris Xe Graphics, larger capacity & storage expansion support, multi-tasking & multi-monitor support, and faster heat dissipation are all incredible features you get in this masterpiece.
With Geekom Mini IT11 i5 in your hands, you're ready to relish UHD Web surfing, video playback, TV, home theater, and games with your loved ones. All in all, it's a terrific mini PC with everything on point.
Multitasking & Multi-Monitor Support
Like just a typical personal computer, the GEEKOM Mini IT11 i5 PC runs the Ubuntu OS. As a result, the ability of multi monitor configuration could save you time as well as double your overall productivity.
Minimalist Design but seamless connectivity
This mini PC is equipped with 1 x HDMI 2.0 port as well as a 4.6 x 4.4 x 1.8 inch small body, which is an overall incredible thing for mini PC lovers. Apart from the design, it also features  1 x Mini DisplayPort, 2 x USB 4.0 ports, 3 x USB 3.2 ports, 1 x SD card reader, 1 x 1000Mbs LAN port, and a 1 x 3.5mm Audio jack. Of course, this mini PC is lightweight equipped with everything you need from a regular PC.
Quick Heat Dissipation
Geekom Mini IT11 i5 features a built-in excellent cooling fan that allows the most important components of this mini PC to cool down, providing smoother response time and reducing hardware loss.
Geekom Mini IT11 i5 Technical Specifications
Brand

: GEEKOM

Personal computer design type

: Mini PC

Operating System

: Windows 11 Pro

Memory Storage Capacity

: 512 GB

Screen Size

: 27 Inches

Ram Memory Installed Size

: 16 GB

CPU Model

: Intel Core i5

CPU Manufacturer

: Intel 

Wireless network technology

: Wi-Fi 
Geekom Mini IT11 i5 Pros
Intel Iris Xe Graphics 

Larger capacity & storage expansion support

Multi-tasking & Multi-monitor support

Faster heat dissipation
Geekom Mini IT11 i5 Pros
Could be costly for a few users.
Geekom Mini IT11 Special Offer
Product Model

: GEEKOM Mini IT11 i7 16+512

Store: GEEKOM Amazon
Event format

:
BD(Direct price reduction)
Discount

: $90 OFF

Original Price

:$599.99

Deal Price

: $509.99

Start Time

: 01/30/2023 12:00 AM PST

End Time

: 02/05/2023 11:45 PM PST

Product Link

:

https://www.amazon.com/dp/B0B3WZN1V1
Final Verdict On GEEKOM Mini IT11 Mini PC i7 and Mini IT11 i5
As far as the final decision is concerned, there should be no doubt in your mind that this Geekom Mini IT11 and Mini IT11 i5 are two beasts competing in their own league. Even though these are not the best mini PCs for heavy-duty gaming or editing, they are still a worthwhile option for basic computer tasks. The best part about these mini PCs is that they allow you to edit photos and videos without slowing down. The Intel processors are also there to support all the tasks and keep every process as smooth as you want.
All in all, the Geekom Mini IT11 i7 and Mini IT11 i5 are two of the best budget computers available at such a good price. If we had to give them a rating and a single word to describe its potential, we would have given them a 5 star rating and called them a workhorse. As we conclude this post, we hope you found the information useful.