With Microsoft 365 Copilot and Business Chat, the future of business is in the hands of artificial intelligence. While the features presented seem extremely powerful, they also raise important ethical and moral questions.
On March 15, 2023, Google hit hard by announcing the introduction of a slew of new features based on artificial intelligence for its Workspace products (Gmail, Docs, Sheets, Slides). Microsoft's response will not be long in coming: on March 16, 2023, the Redmond firm formalized Microsoft 365 Copilot, an AI assistant based on OpenAI's GPT-4 language model, integrated into the Office application suite. , including Word, Excel, PowerPoint, Outlook and Teams. The war at a distance between the two digital giants only seems to be beginning.
With Microsoft 365 Copilot, the American company promises a "whole new way of working". Satya Nadella, president and CEO of Microsoft, even mentions a "new wave of productivity growth". To do this, the company explains that AI will allow workers to focus on the 20% of tasks that really matter, leaving the remaining 80%, daunting but necessary, to Copilot.
How Microsoft 365 Copilot wants to increase productivity
In Outlook, the wizard will save valuable time by summarizing long discussion threads or quickly writing suggested answers. The work of reading and writing thus facilitated, the user will be able to concentrate on an activity which requires all his concentration and his available time.
Teams also take advantage of this automated help, capable of offering a summary of the main points discussed in the meeting. Copilot specifies who said what, on which elements the participants share the same point of view, and on the contrary where they do not agree. The AI ​​will also suggest actions to take, all in real time.
The assistant is also invited in the application Power Platform to automate repetitive tasks, create chatbots and go from an idea to a working application in record time.
An aid to creativity
Copilot saves us time, but can it help improve the quality of our work? The answer is positive according to Microsoft, which sees its AI as a creativity assistant. Are you prone to blank page anxiety? Word generates a first draft for you, which will serve as a basis for your work. You are free to modify and complete the text thus created manually, or to ask Copilot to take care of it for you by giving it additional instructions.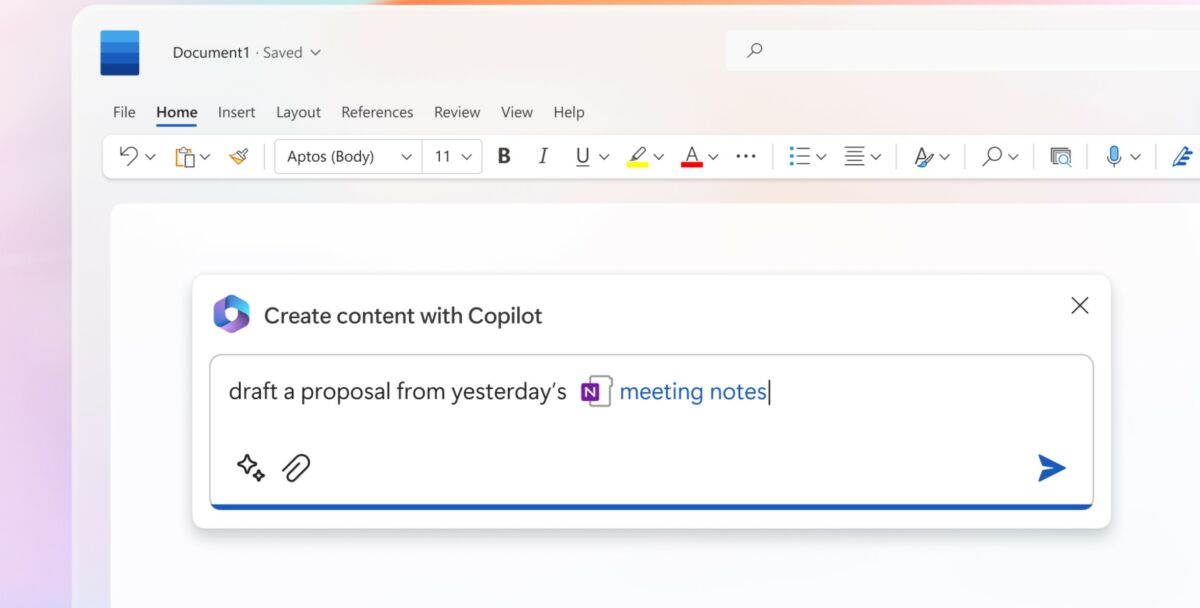 AI could also make Excel more attractive for those allergic to spreadsheets and data. You can ask it to analyze trends and create meaningful data visualizations to understand the meaning of hundreds or thousands of data in seconds.
PowerPoint is no slouch and will create full presentations from a single prompt. To do this, Copilot will be able to draw on its own knowledge and the resources it has access to, but also use one of your own documents. For example, we can imagine a scenario in which an employee must report on a meeting in which he participated: the AI ​​will generate a summary on Teams, which will be used to create a PowerPoint presentation.
Business Chat: the ultimate AI experience in business
The other great novelty announced is Business Chat. The idea is that companies are drowned in an ocean of data, which they have a hard time using properly. Accessible from Microsoft 365.com, Bing when logged in with your work account or the Teams app, Business Chat works from all company data and apps "to bring out the information and ideas you need"says Microsoft.
Your calendar, emails, chats, documents, meetings, and contacts are taken into account by the AI, which interprets them to respond to various requests. "You can give it natural language prompts like 'Tell my team how we updated the product strategy,' and it'll generate a status update based on meetings, emails, and threads. in the morning"illustrates the firm.
Progress in the field of AI is advancing at a crazy pace, and it is legitimate to raise concerns about potential abuses. Microsoft claims to be guided by responsible AI principles, but the timing is cruel: the juggernaut has just formalized the dismissal of its team responsible for ethics relating to artificial intelligence.
The deployment of Microsoft 365 Copilot is scheduled for the coming months.
Source: Microsoft