When it comes to enjoying a refreshing beverage or a perfectly chilled bottle of wine, having the right storage solution is crucial. Traditional refrigerators often fail to provide the optimal conditions for preserving the taste and quality of your favorite drinks. This is where the Kismile 24 Inch Dual Zone Beverage Refrigerator Wine Cooler comes into play. In this review, we will delve into the features and benefits of this impressive appliance, highlighting why it is the perfect addition to any home.
Design and Build Quality
The Kismile 24 Inch Dual Zone Beverage Refrigerator Wine Cooler boasts a sleek and modern design that seamlessly blends with any kitchen or entertainment area. Its stainless steel exterior exudes elegance and durability, ensuring it stands the test of time. The cooler's dimensions of 23.4 x 22.6 x 34.3 inches make it a perfect fit for both compact spaces and larger rooms.
The build quality of this appliance is exceptional. The sturdy construction guarantees that it can withstand the demands of daily use, while the double-layered glass door with a UV-resistant coating ensures that your beverages are protected from harmful light rays. Additionally, the door is equipped with a built-in lock, providing an added layer of security.
Dual Zone Cooling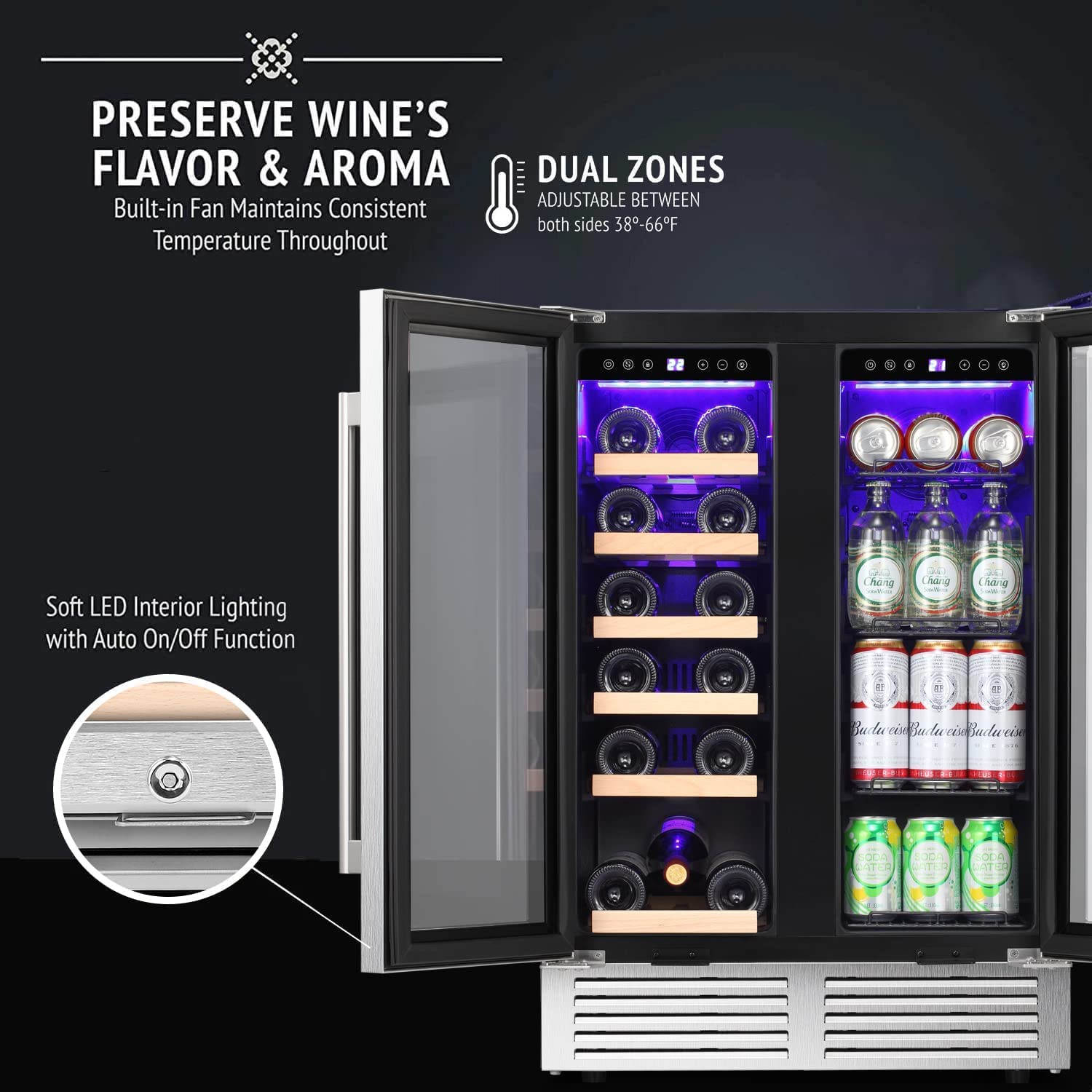 One of the standout features of the Kismile 24 Inch Dual Zone Beverage Refrigerator Wine Cooler is its dual-zone cooling capability. This means that you can store different types of beverages, such as wine and beer, at their ideal temperatures simultaneously. The left zone can be set between 41-68°F, perfect for chilling your favorite wines, while the right zone can be adjusted between 36-50°F, ideal for keeping your beers and other beverages ice-cold.
The dual-zone cooling system is controlled by an intuitive touch panel located on the cooler's exterior. The digital display allows you to easily monitor and adjust the temperature settings to suit your preferences. The cooler also features a memory function that automatically restores the temperature settings after a power outage, ensuring your beverages are always stored at the perfect temperature.
Ample Storage Space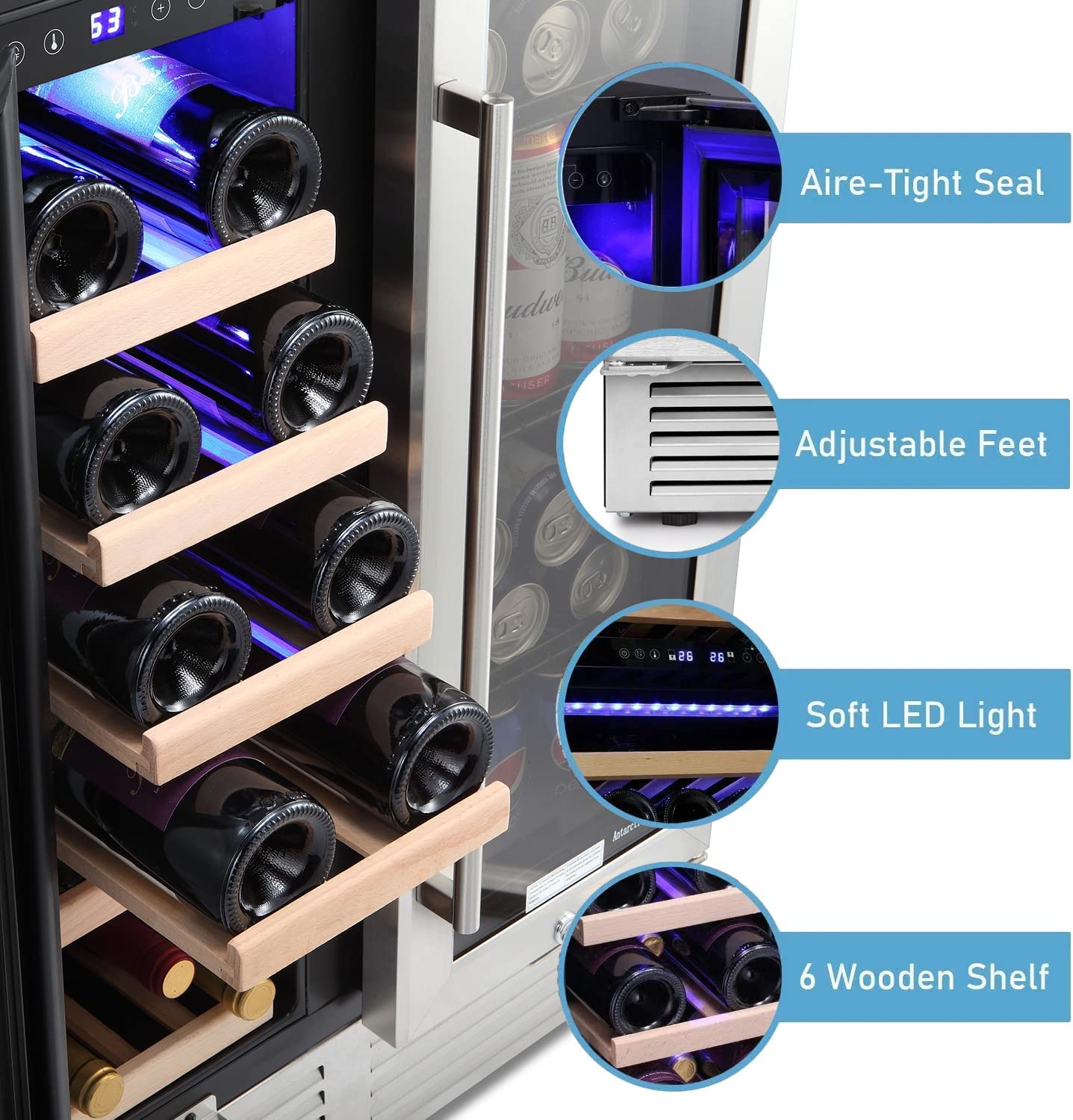 With a capacity of 66 cans or 18 bottles, the Kismile 24 Inch Dual Zone Beverage Refrigerator Wine Cooler provides ample storage space for all your favorite beverages. The cooler features six removable wire shelves, allowing you to customize the interior layout to accommodate bottles of varying sizes. The shelves are also designed to minimize vibration, ensuring that your wines remain undisturbed and free from sediment.
Quiet and Energy Efficient
One common concern with beverage refrigerators is the noise they generate. Fortunately, the Kismile 24-inch Dual Zone Beverage Refrigerator Wine Cooler operates quietly, thanks to its advanced cooling system. This allows you to enjoy your favorite drinks without any distracting background noise. Additionally, the cooler is energy efficient, consuming only 0.95 kWh per day. This not only helps you save on energy costs but also reduces your carbon footprint.
Easy Installation and Maintenance
Setting up the Kismile 24 Inch Dual Zone Beverage Refrigerator Wine Cooler is a breeze. The cooler comes with clear and concise instructions, making the installation process straightforward. The adjustable feet ensure that the cooler remains stable on any surface, even if it is slightly uneven.
Conclusion
In conclusion, the Kismile 24 Inch Dual Zone Beverage Refrigerator Wine Cooler is a top-notch appliance that surpasses expectations. Its sleek design, dual-zone cooling, ample storage space, and quiet operation make it the perfect addition to any home. With its impressive features and exceptional build quality, this cooler ensures that your beverages are stored at their optimal temperatures, allowing you to enjoy them to the fullest. Say goodbye to mediocre drink storage solutions and welcome the Kismile 24 Inch Dual Zone Beverage Refrigerator Wine Cooler into your home today.
We are pleased to offer a discount code, KSGEA, for our Beverage Refrigerator Wine Cooler. This code can be applied during checkout to receive a reduced price on your purchase. Don't miss out on this opportunity to enjoy chilled beverages and properly store your favorite wines. Take advantage of our discount code, "KSGEA", and enhance your home with this high-quality appliance.