Those who play on mobile know how essential a controller can be to counter the limits of a simple touch surface. One of the most recommendable, the Razer Kishi for Android, adapts to a large number of smartphones, and right now you can find it for 39 euros on Amazon instead of 109 euros on the official website.
Gamers know it: playing an FPS on the touch surface of a smartphone is not the most practical solution. In general, mobile games have developed greatly over the years, and the appearance of game streaming services on smartphones has changed our habits. Gamepads have therefore quickly become essential in order to be able to play more effectively on our smartphones. The Razer Kishi is one of these very practical accessories: reserved for Android smartphones, it not only allows you to play titles from the Play Store, but it also gives access to the Xbox Game Pass catalog. Currently, you can also find it for less than 40 euros.
Highlights of the Razer Kishi
Good organization of buttons
Compatibility with many devices
A built-in charging port
Instead of 109.99 euros on the brand's official website, the Razer Kishi controller for Android (Xbox) is now offered at only 39.99 euros on Amazon.
---
If the offer mentioned in this article is no longer available after that, please take a look below to find other promotions for the Razer Kishi 2020 (Android). The table updates automatically.
Where to buy The

Razer Kishi 2020 (Android) at the best price?
A controller easy to install on your smartphone
The Razer Kishi is a controller in the form of a pad, which stretches to accommodate an Android smartphone. The latter can thus connect to the controller via a USB-C port. An installation that is obviously reminiscent of a Nintendo Switch. On this controller, we will find, as on an Xbox, two joysticks, a directional cross and the four traditional buttons A, X, Y and B. Triggers and action buttons complete the whole thing.
The installation of the smartphone in the pad is done simply by sliding it into the slots provided for this purpose. Each of the two pads of the controller will therefore grip one of the ends of the smartphone, and an elastic band ensures that everything stays in place. Regarding compatible smartphones, all those respecting a height of 145.3 to 163.7 mm, a width of 68.2 to 78.1 mm and a thickness of 8.8 mm will be suitable. However, and it's a shame, you will have to remove your shell before installing your smartphone. Also note that the plastics used for the controller are not of high quality.
Mobile games and cloud gaming
Once your smartphone is properly installed in the Razer Kishi, you can play your favorite mobile games, but also access different cloud gaming services, such as GeForce Now and especially the Xbox Game Pass. A Razer application also makes several titles available. You should also know that this model is entirely plug-and-play, and will only work with gamepad compatible games. Finally, in operation, you will be able to take advantage of a very minimal latency thanks to the use of the USB port of the smartphone. A quality that allows you to distance Bluetooth controllers, for example. We will thus be entitled to an excellent reactivity in game on demanding titles.
To find out even more, do not hesitate to read our complete test of the Razer Kishi.
8 /10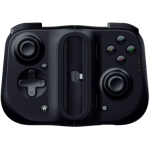 If you want to discover other solutions for playing on your smartphone, we invite you now to consult our guide to the best game controllers for playing on Android and iPhone.
---
The Watt Else newsletter is THE unmissable Numerama event dedicated to the mobility of the future. Register here!