After several rather disappointing months, PS5 and PS4 players subscribing to Sony's online service will find three interesting games in December 2022. The Japanese manufacturer is offering this time to fight the gods in Divine Knockout: Founder's Edition, which is released directly on PlayStation Plus, save the galaxy in Mass Effect Legendary Edition, and explore a post-apocalyptic world in Biomutant.
Thus, players with a PS+ Premium subscription, a PS+ Extra subscription or a PS+ Essential subscription will be able to add all these games to their library without spending a euro.
If you're a PlayStation Plus subscriber, you can download all free games for free, like always. Note that you keep them in your library as long as you remain a member and you cannot retrieve titles from previous months.
Free games on PlayStation in December 2022
Here are the three games that will be offered from December 6, 2022 (until January 2):
Divine Knockout: Founder's Edition (PS4, PS5)

Mass Effect Legendary Edition (PS4)

Biomutant (PS4, PS5)
A rather interesting batch, in any case more than last month. Let's take a closer look at these monthly games!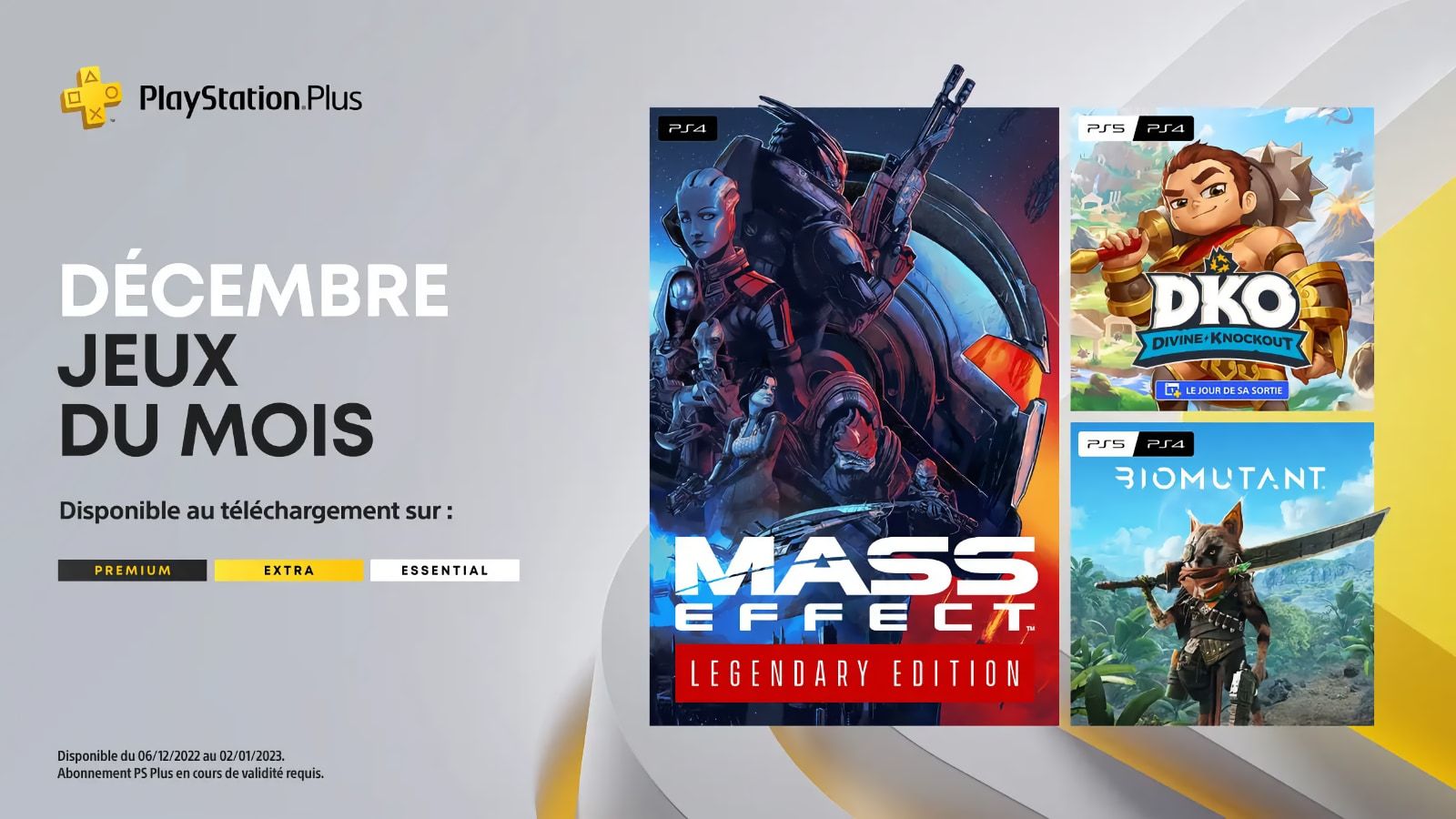 Divine Knockout: Founder's Edition | PS4, PS5
Available exclusively on PlayStation Plus, this platform and combat game offers a rather original approach. To defeat them, you will first have to hurt your opponents to make them vulnerable, then kick them out of the arena in a third-person perspective. For this, you can choose from 10 playable gods: Hercules will throw rocks with his bare hands, while Thor can spin Mjölnir. Each combat arena offers its own characteristics from which specific mechanics derive.
Enjoy different game types in 3v3 Arcade mode with friends, or compete against other players in ruthless 1v1 or 2v2 duels. DKO supports cross-play and cross-progression, and the Founder's Edition unlocks bonus and in-game content, as well as a themed skin for use in Smite.
Mass Effect Legendary Edition | PS4
Should we present the legend of Commander Shepard? Rediscover the legendary trilogy with Mass Effect Legendary Edition! This fully remastered version enhanced in 4K Ultra HD includes all core single player content and over 40 DLCs from Mass Effect, Mass Effect 2 and Mass Effect 3, plus weapons, armor and promo packs.
It's probably THE game of the month, with its incredibly rich and detailed universe in which your decisions will have drastic consequences on the course of the adventure. Be careful though, the first Mass Effect, although improved, still contains its flaws of yesteryear such as sometimes frustrating gameplay, somewhat long loading times and a painful inventory. But, for an "old" game, Mass Effect remains a MUST.
Biomutant | PS4, PS5
Latest title, Biomutant which offers a mix of close combat, shooter and open world mutant abilities. Offering a post-apocalyptic fable on the theme of kung fu, it is rather successful.
An epidemic rages all around you and the Tree of Life withers. The tribes are divided. Explore a world in turmoil and influence its fate: will you become its saviour, or precipitate it towards an even darker fate?
Reprogram your genetic structure to change your appearance and playstyle, and combine different parts to create your own weapons, revolvers or rifles, so as to slash, crush or puncture your enemies. A game that also allows you to test 4K HDR on PS5…
What is PS Plus?
PlayStation Plus is the subscription service available to players on PS4 and PS5. Through three subscription levels, you can enjoy free games every month, hundreds of PlayStation titles, a list of retro games from PS1 to PS3, and even streaming to play on a remote screen such as an iPad, a Mac or a TV.
What are the 3 PS Plus offers?
The new PlayStation Plus is broken down as follows: Essential (€8.99/month), Extra (€13.99/month) and Premium (€16.99/month). The first offers the same benefits as the old PS Plus (online play, cloud saving, 3 or 4 free games every month, exclusive discounts via PlayStation Store). The second also benefits from a catalog of around 400 PS4 titles | PS5. And the third adds the classics (PSP, PS1, PS2, PS3), the reading of a selection of games remotely thanks to streaming and exclusive demos to test a handful of blockbusters.
Remember that subscribers with a PlayStation 5 can even take advantage of many free additional games via the PS Plus collection which brings together classics like God of War, Uncharted 4, Resident Evil, The Last of Us, etc.