⏰ 51 mins ago
Julian Russo

React
In 2014, Apple made a gigantic acquisition, that of Beats by Dre, the famous brand of speakers, headphones and earphones of rapper Dr Dre and Jimmy Lovine. However, the buyout didn't go as planned due to Dr Dre bragging in a video that was posted on social media ahead of the announcement. official takeover.
Tim Cook fined Dr Dre and Jimmy Lovine $200 million


One of the memorable takeovers in Apple's history is undoubtedly Beats by Drethe Cupertino company bought the two entities Beats Electronics and Beats Music in 2014, which added Beats products to its catalog as well as launching AppleMusic which was based on the Beats Music service.
When Jimmy Lovine learned that Apple was interested in taking over Beats, the businessman and music producer quickly entered into negotiations one-on-one with Tim Cook. Initially, Apple did not want to buy Beats Electronics and Beats Music, the CEO wanted to save money and avoid the acquisition sum exceeding 2 billion dollars. Nevertheless, after long discussions spread over several days, Jimmy Lovine managed to to convince Cook to buy Beats Electronics and Beats Music.
When Tim Cook expressed his agreement, Jimmy Lovine quickly approached the management team to announce the good news:
As attorneys worked out the final details, Lovine summoned the Beats management team to his home near Beverly Hills. He told everyone they were close to finalizing a massive deal. The only thing that could spoil it would be if news of the deal leaked. Whatever you do, don't talk about it. Don't show any sign of money coming in, don't buy furs, no cars… Don't move!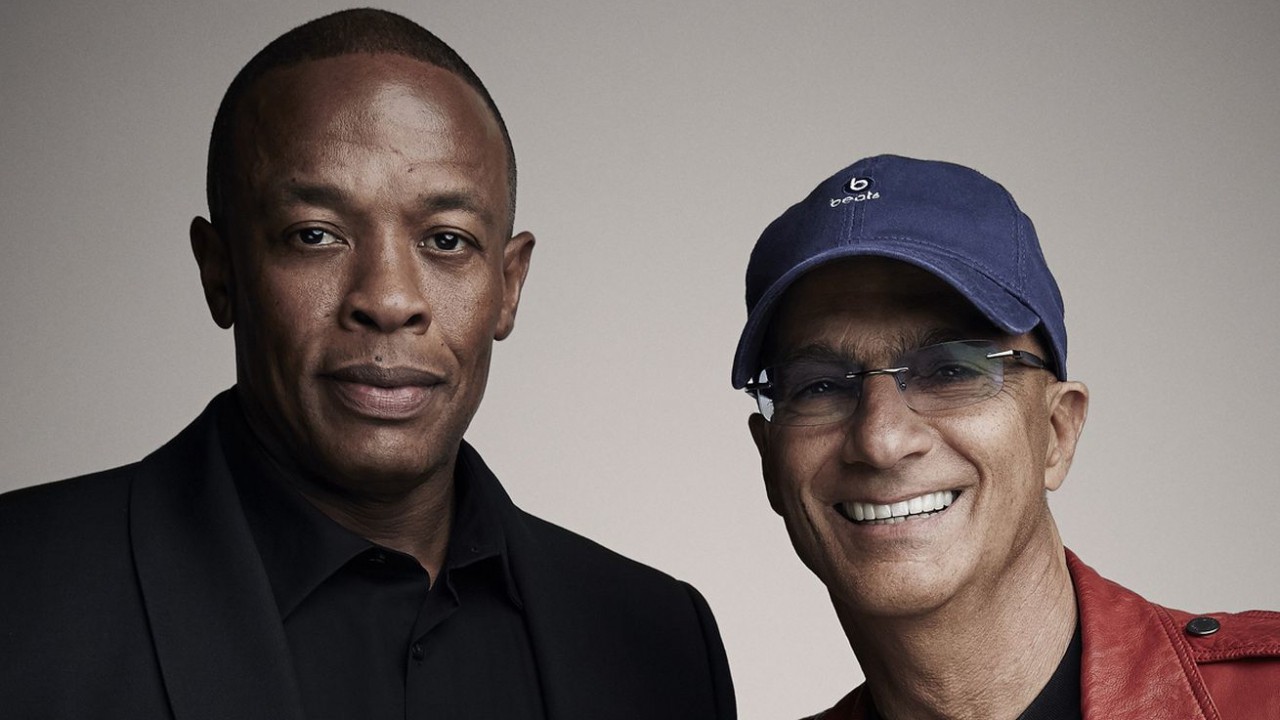 Jimmy Lovine had a huge trust towards his management team, he really believed that the information would remain confidential until the official announcement on Apple's News Room. Unfortunately, Lovine hadn't anticipated Dr. Dre's behavior, as soon as the rapper learned of the buyout amount ($3.2 billion), he couldn't keep the information to himself.
Within hours of being notified of the news, Dr Dre took out his smartphone and checked in stating that he was now the first billionaire rapper in the world and that it was time to update the Forbes ranking.
Very quickly, Lovine received a call from Puff Daddy at 2 a.m., he explained to his producer friend that Dr Dre had just disclose the confidential agreement that Jimmy Lovine was about to conclude with Tim Cook:
At 2 a.m., Lovine received a call from Puff Daddy, who shouted that Dre and Tyrese, a rapper, were talking about the deal in a Facebook video.
Immediately after watching the video on Facebook, Jimmy Lovine was seized with a panic attackhe feared that Tim Cook would reconsider his decision to buy Beats by Dre, because the deal of confidentiality was no longer respected. The next day, Lovine and Dr Dre were urgently summoned to Apple headquarters, the two men had to give explanations about this leak of information which literally came to break Apple's culture of secrecy.
When Cook caught wind of the video, he summoned Lovine and Dre to Cupertino. He invited them to a conference room for a private conversation. Lovine was anxious and afraid Cook would walk away from the deal. Instead of the anger and name-calling that would have flowed out of Jobs at such a moment, Cook showed composure. He told music executives he was disappointed and wished Dre's social media outing hadn't happened, but the video hadn't shaken his belief that the buying Beats was a good thing for Apple.
Tim Cook took advantage of this mistake
Faced with this monumental failure which spoiled the announcement effect, Tim Cook took advantage of this error by Dr Dre to lower the redemption price by Beats by Dre. Apple's CEO demanded that the amount be reduced by $200 million, given the damage that had been caused on social networks.
Unsurprisingly, the two men accepted Apple's proposal to avoid losing a $2 billion buyout. Finally, Apple acquired Beats by Dre on May 28, 2014 for the sum of $3 billiona total of 2.2 billion euros.
This decision by Tim Cook will have been strategic and well calculated, because in just 3 years after the acquisition, Apple has succeeded in multiplying by five the value of Beats Electronics!
The video that cost Dr Dre and Jimmy Lovine $200 million
Source from the book After Steve: How Apple Became a Trillion-Dollar Company and Lost Its Soul