Samsung formalizes its new affordable Galaxy A range. It consists of four models: the Galaxy A54 5G, the Galaxy A34 5G and the Galaxy A14 4G and 5G. Common point of its four phones: the design is finally homogeneous. And it is harmonized with the premiums, the Galaxy S23, S23+ and S23 Ultra. They are available now in France for prices ranging from 219 euros to 549 euros.
As expected, Samsung today presented the new models of its Galaxy A range. There are four of them: the Galaxy A54 5Gwhich is positioned as a very light Galaxy S23+, the Galaxy A34 5Gperhaps the most ambitious of the bunch, as well as the Galaxy A14 4G and 5G. These last two are almost twins with the only differences being the SoC, connectivity and a secondary photo sensor. In this article, we briefly present them to you. Be aware, however, that you can already find our handling of all models while waiting for complete tests.
Read also – The Redmi Note 12 are coming soon to France, here is their technical sheet
Before getting to the heart of the matter, we have a first general remark on these new Galaxy A. And it concerns the design: all the models look alike. The Korean firm has decided to visually harmonize these phones by taking over the ergonomics of the Galaxy S23. Finally there is family spirit in Samsung's affordable range. And that's really fun. Naturally, this also means that smartphones will lose their identity. It will be more difficult to tell them apart. We can not have everything. Note also among the common points of this year the presence of a SD card reader to expand the memory and a battery of 5000mAh.
Galaxy A54
Galaxy A34
Galaxy A14 5G
Galaxy A14
Screen
Super-AMOLED
6.4 inches
FHD+
120Hz
Super-AMOLED
6.6 inches
FHD+
120Hz
6.6 inch TFT
FHD+
90Hz
6.6 inch TFT
FHD+
60Hz
Processor
Exynos 1380
MediaTek Dimensity 1080
MediaTek Dimensity 700 5G
MediaTek Helio G80
RAM
8 GB
6 GB
6 GB
6 GB
BONE
Android 13 + One UI 5.1
Android 13 + One UI 5.1
Android 13 + One UI 5.1
Android 13 + One UI 5.1
Storage
128/256 GB
128/256 GB
64/128 GB
64 GB
microSD
Yes
Yes
Yes
Yes
Main sensor
50MP wide angle
12 MP ultra wide angle
5MP macro
48 MP wide angle
8 MP ultra wide angle
5MP macro
50MP wide angle
2 MP portrait
2 MP macro
50MP wide angle
5 MP ultra wide angle
2 MP macro
selfie sensor
32MP
13MP
13MP
13MP
Battery
5000mAh
25 Watt wired charging
5000mAh
25 Watt wired charging
5000mAh
15 Watt wired charging
5000mAh
15 Watt wired charging
Biometrics
In-display fingerprint scanner
In-display fingerprint scanner
Edge fingerprint scanner
Edge fingerprint scanner
Water resistance
IP67
IP67
No
No
Price
499 euros (128 GB)
549 euros (256GB)
399 euros (128 GB)
469 euros (256GB)
249 euros (64 GB)
299 euros (128 GB)
219 euros
The Galaxy A34 5G is the good surprise at Samsung
What is Samsung's proposition on more affordable segments in 2023? It therefore consists, for the moment, of four models. Let's start with the ambitious Galaxy A54 5G. He is the only sibling to benefit from a SoC developed by Samsung: Exynos 1380, successor to the Exynos 1280 of the Galaxy A53 and A33. It should offer enough power to be comparable to the Galaxy S21. Among these strengths, you will find a 32-megapixel selfie sensor, a main sensor 50 megapixelsa screen 120Hz Super AMOLED 6.4 inches, 8 GB RAM and its high quality chassis certified IP67.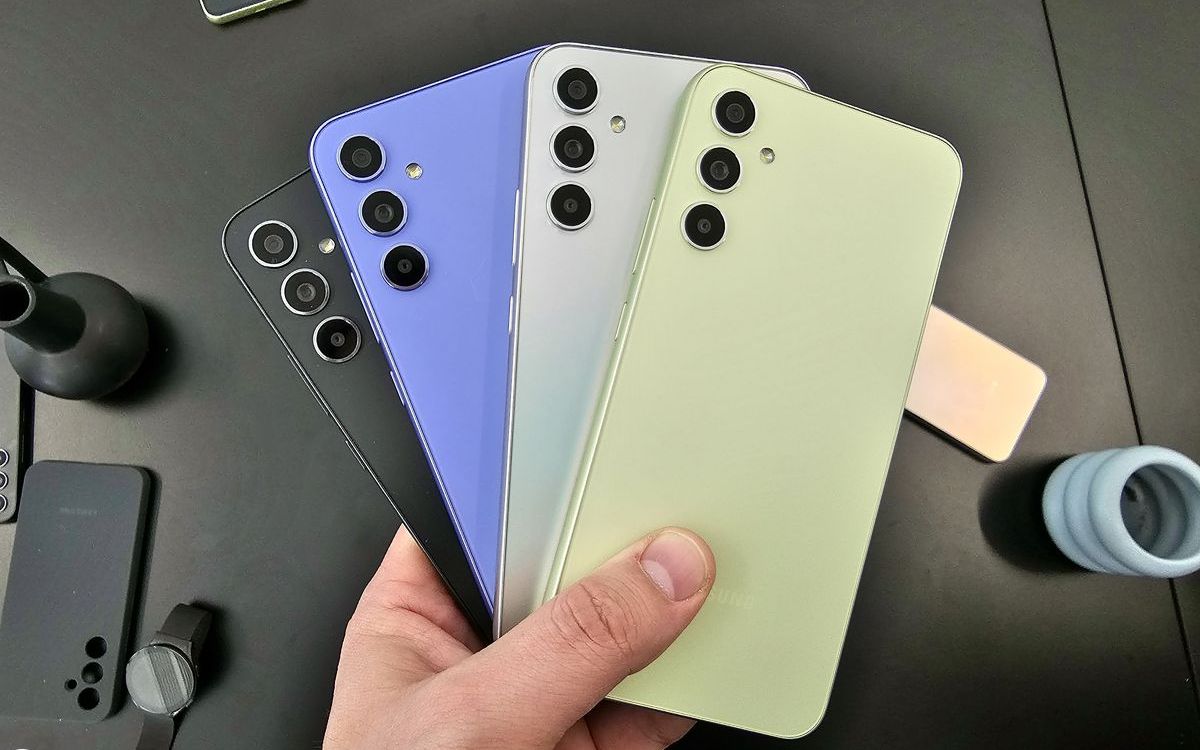 The Galaxy A34 5G aims to be the perfect competitor to Xiaomi's Redmi Note. Big screen 120Hz Super AMOLED 6.6 inches. Main photo sensor 48 megapixels. Fingerprint reader under the screen (like the Galaxy A54). Waterproof shell (IP67). These are the strengths. According to the opinion of the editorial staff, it could be the good surprise of the Galaxy A range this year. Note that it works with the MediaTek Dimension 1080, which you also find in the Realme 10 Pro+. It is supported by 6 GB of RAM.
There's no Qualcomm processor in the 2023 Galaxy A's
The Galaxy A14 5G and A14 4G also run on MediaTek SoCs: the Size 700 And Helio G80, respectively. These are fairly standard choices. Many affordable phones already use them. They are accompanied, in both cases, by a screen 90Hz LCD 6.6 inches, a 50 megapixel main photo sensor, a 13 megapixel selfie sensor and 6 GB RAM. A fingerprint reader is present on the edge. No sealing here. Find opposite a summary table of all the technical specifications of the four models. You will notice thatthere is not a single Qualcomm SoC in the Galaxy A This year…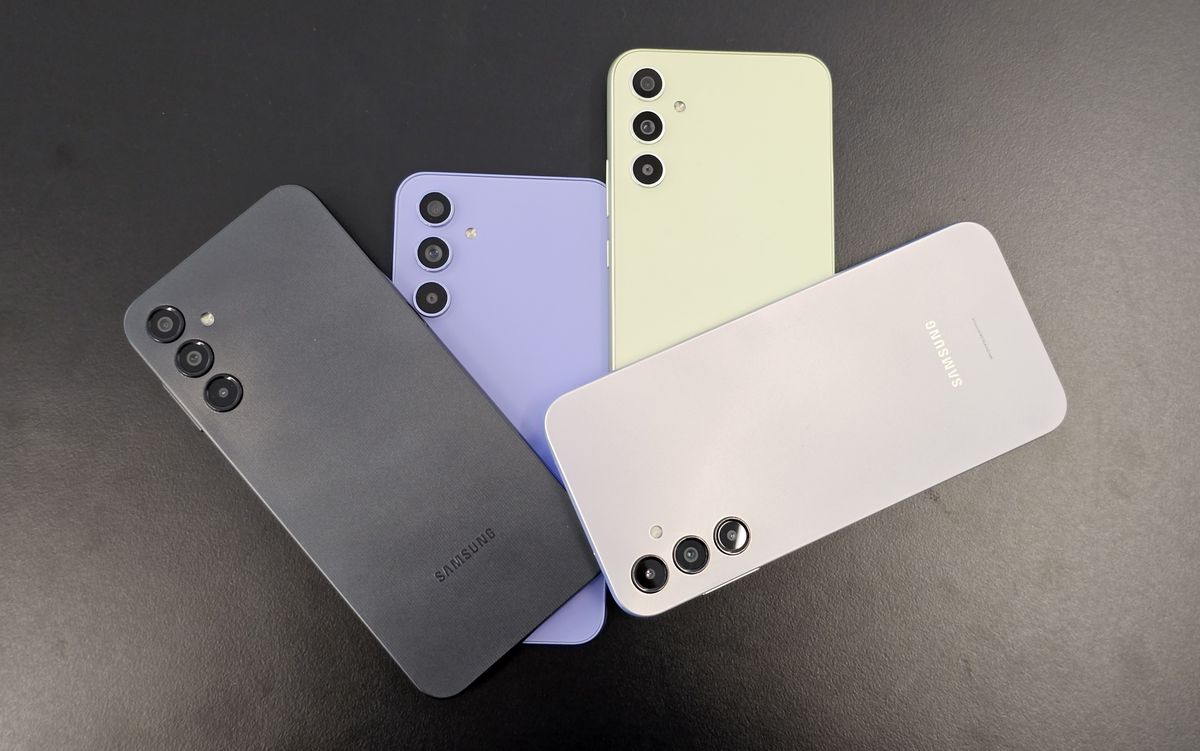 On the price side, Samsung applies inflation to the Galaxy A of 2023 compared to the 2022 models. The Galaxy A 14 4G is sold 219 euros. The Galaxy A14 5G is available from 249 euros. The Galaxy A34 5G is marketed from 399 euros. Finally, the ambitious Galaxy A54 is sold from 549 euros. Only the Galaxy A14 4G is only offered in one version. All other phones come in two configurations: 64/128 GB for the A14 5G and 128/256 GB for its two bigger brothers.