Movistar has integrated into its UHD set-top box a series of functions focused on the most soccer fans in the house who want to keep up to date with everything that happens around the World Cup in Qatar 2022 beyond watching the free matches that are broadcast both from RTVE and the pay ones from the different thematic channels of the operator.
It is a new temporary section to which we have direct access from the main menu of the Movistar Plus+ service, but also from a specific application with information about the World Cup that is only available to owners of a UHD decoder with the capacity to run this type of application.
Application 'The infinite stadium'
If what we want is to know the Qatar 2022 World Cup schedulewhen the games are played, who plays with whom, the groups and game times we can do it directly using the dedicated app that Movistar has enabled for this purpose.

Is named 'The infinite stadium' and to access it we only have to have a UHD set-top boxenter the general menu of the team and once there in the theme carousel click on "APPS".

The Movistar Plus+ application menu will open and in the first place it should appear 'The infinite stadium'which we enter by pressing the "OK" button on the remote. Once inside the available options and handling are very simple.

We simply move through the calendar selecting the date we want to consult and we will be shown the information on the games played that day, the hoursthe teams that play and the channel where it is broadcast (for example, if it is a match of the Spanish National Team or that is broadcast by RTVE for free, we will see the 'La 1' icon).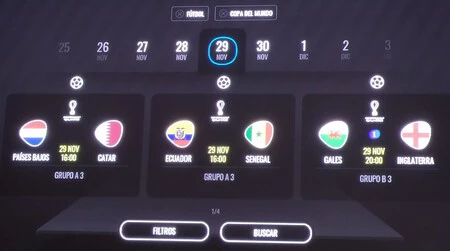 We can also filter what kind of events we want to consult (allows us to watch basketball games) and adjust the search by channel that is going to broadcast the game.

Section 'World Cup Qatar'
If we want more complete access to all the World Cup information, we can find it by entering the 'World Cup Qatar' section that the operator has enabled from the main menu of the system and that appears on the last channels seen just before 'cinema'.

Clicking on this tab opens a new menu with all the World Cup information, with access to match summariestables with the provisional classification, comments, exclusive content and if we have contracted the football package we can also see the matches broadcast with all the additional information.

Navigation is simple, but there are many more options to see than in the previous caseso if we are only looking for a quick look at the calendar with the matches, I recommend you do it better from the 'The infinite stadium' application mentioned above.