Is Tesla working on wireless home charging technology for its electric cars? A photo published at the Investor Day conference tends to confirm this.
As you may know, Elon Musk held a new Investor Day conference on March 1, 2023. The opportunity for the billionaire to unveil the brand's strategy for the years to come, the famous Master Plan Part 3and announce the construction of an additional Gigafactory in Mexico.
During the event, many Tesla executives took to the stage to present the projects of each division of the company. Colin Campbell, head of powertrain engineering, for example, announced a major change to the brand's next drive unit: it will be based on a magnet motor that does not use rare earths.
Separately, we also learned from an executive that Tesla plans to offer two-way charging within two years. In the process, Elon Musk, however, tempered the words of his employee.
An interesting focus on Tesla's charging offers
Of course, during the four-hour conference, we also had the right to focus on the development of Tesla's charging infrastructure. Rebecca Tinucci, at the head of this division, notably unveiled the particularly low deployment costs of Superchargers in the United States ($40,000 in the State of New York against an average of $170,000 among competitors).
But what we remember from his speech is this last-minute surprise: "And one more thing. Yes, we need to evolve our infrastructure, and yes, we want to power it with renewable sources. We want to make sure we continue to focus on amazing charging experiences," she declares.
To illustrate her point, the manager broadcasts an image on which we can see the famous Tesla Diner project, this fast charging area which will bring together Supercharger stations, open-air cinema and catering offers.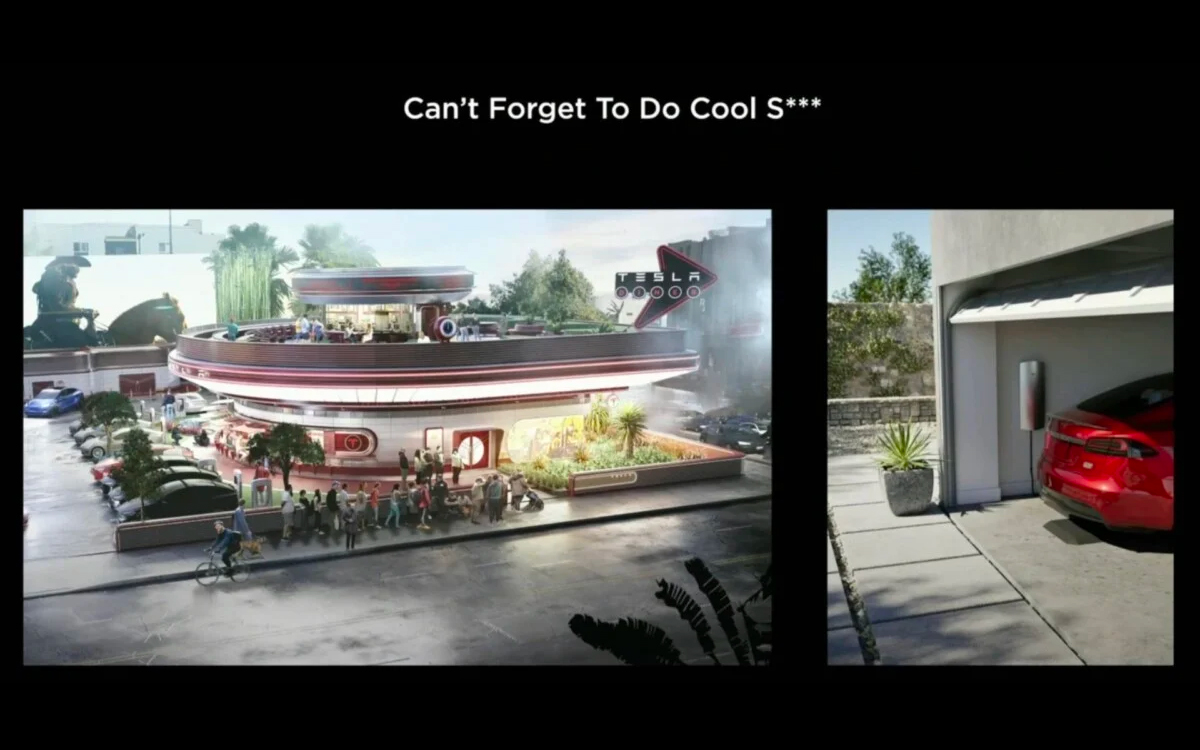 Wireless fast charging at home in preparation?
But what intrigues us above all is the second part of the photo. You can see what appears to be a brand new wireless home charging station! Indeed, the plaque on the ground, located just under the Tesla, indicates that it could be an inductive charging system.
You will agree that Tesla did not release this image by chance, so there is a good chance that the manufacturer will reveal more information about this promising technology later. In recent years, several car manufacturers have looked into wireless charging of electric cars, without ever really arriving at an effective solution.
The fault in particular of a lack of power compared to its wired equivalent, but also to higher installation costs (since the terminal must be installed directly in the ground and not on a wall).