Many Android users do not hesitate to criticize the new features that Apple adds to its iPhones, however, these same people are often the first to install an "equivalent" of Apple's new features on their Android smartphone. Good news for this category of people, they can now benefit from a copy of the Dynamic Island available for a few days on the iPhone 14 Pro!
A developer offers a Dynamic Island on Android
Since the announcement of the iPhone 14 Pro and Pro Max, the Dynamic Island has been talked about a lot, it must be said that offering a software extension to the pill-shaped hole at the top of the screen is a wonderful idea. Apple customers were quickly won over by this novelty and will be even more so in the coming months when a ton of third-party applications will support Dynamic Island!
On the side of Android users, some paid no attention to it, pointing to the useless aspect of the novelty, but others immediately wanted the same thing on their smartphone. Faced with this blatant demand, a developer took the decision to release the application "dynamicSpot"a new app that is available on the Play Store.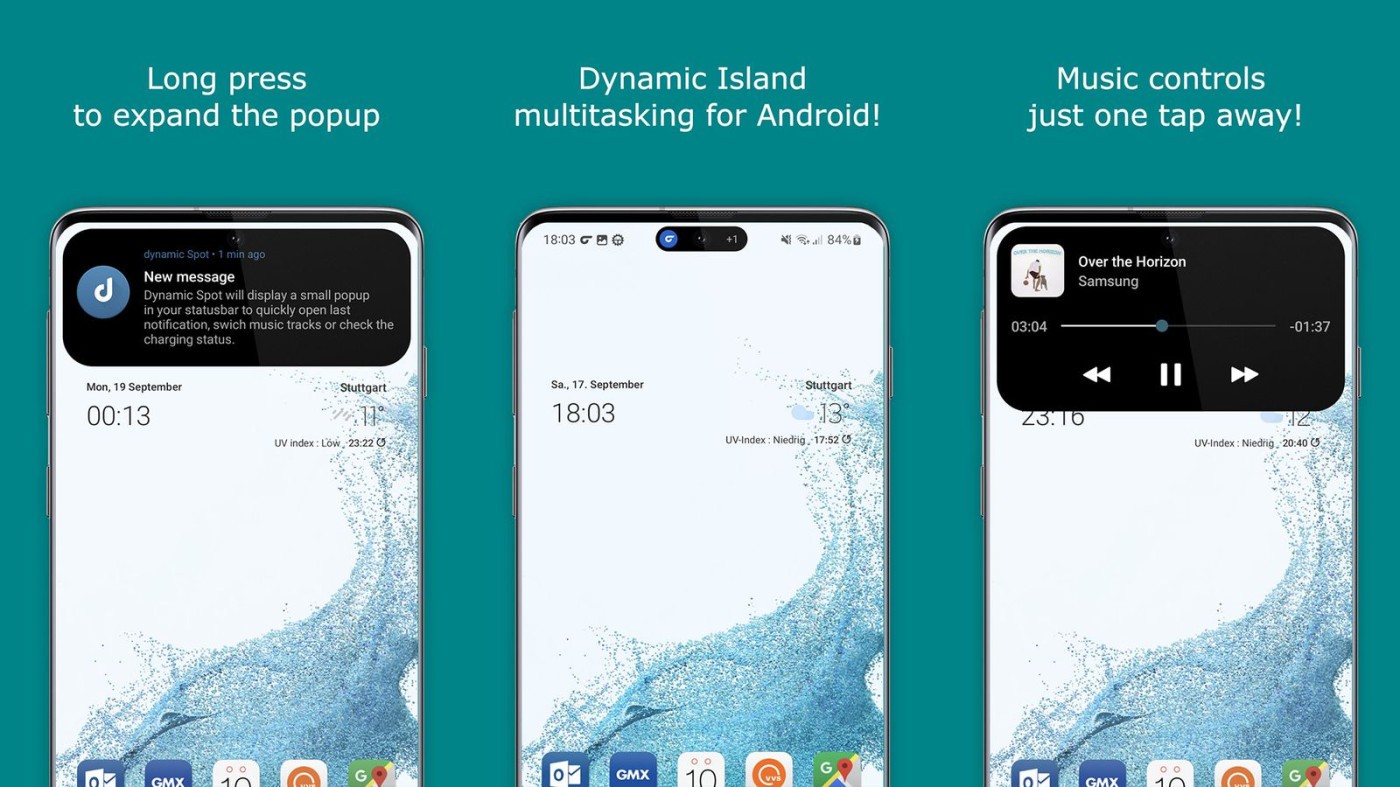 Users can access various activities at the top of their smartphone screen. According to the app description, dynamicSpot now supports timers, battery status, music playback control, and other features are under development. Additionally, dynamicSpot provides customization options that Apple's Dynamic Island does not. Note that the app is currently in stage of beta.
Here is the app description:

With dynamicSpot, you can easily get iPhone 14 Pro Dynamic Island functionality on your device! dynamicSpot gives you a mini Dynamic Island multitasking feature, making it easy to access recent notifications or phone status changes. Just tap the small black popup window to open the displayed app, long tap the popup window to enlarge it and view more details. iPhone's Dynamic Island is not customizable, but dynamicSpot is! You can change interaction settings, select when to show or hide the popup or which apps should appear.
The developer explained that it will do its best in the coming weeks to to improve its application which already has a large number of downloads on the play store.
The Dynamic Island could soon be taken over on competing Chinese smartphones, Realme would very interested in taking over the idea that Apple had on the iPhone 14 Pro.
In fact, Realme even asked its customers how they would see a Dynamic Island on the smartphones already available in the catalog.