AI was at the center of the announcements at Google I/O 2023. Unsurprisingly, the Mountain View firm intends to integrate it into the vast majority of its flagship services, starting with its search engine. A good way to catch up with the competition, Microsoft and Bing in the lead.
This Wednesday, May 10, 2023, Google invited the press and users from all over the world for its new Google I/0 2023. Although primarily dedicated to developers, this conference is also an opportunity for the American giant of unveil its latest advances and future products and services.
And as you know, Google like many other Tech players are engaged in a frantic AI race. And while Microsoft was the first to get the ball rolling by investing heavily in OpenAI and ChatGPT, Google quickly followed by introducing Bard, its own conversational AI.
And unsurprisingly, AI was at the center of Google's announcements during this event. The Mountain View firm is determined to integrate artificial intelligence into the majority of its services, whether it is the Workspace suite, but also Gmail, which will be able to write your emails automatically. Of course, the search engine will also benefit from the contributions of AI.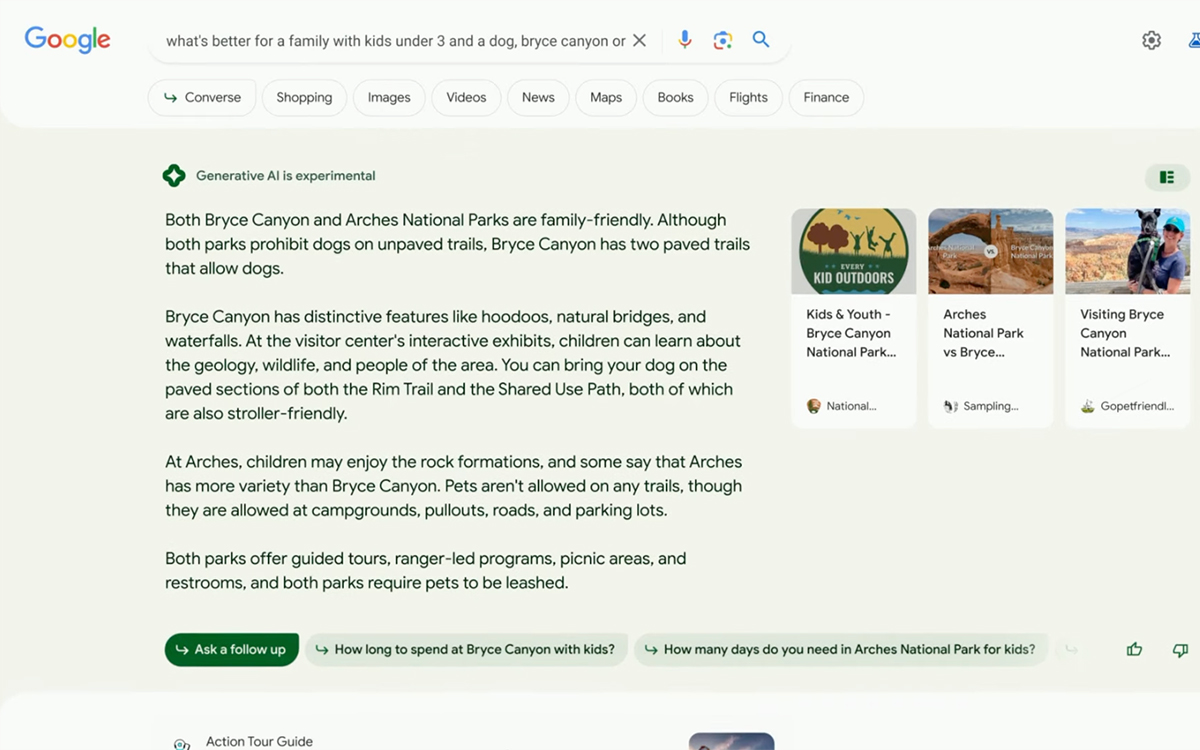 Google Search will taste the joys of AI
As Bing already suggests, Google Search will soon be equipped with generative AI elements. To put it simply, when a user performs a search, a frame on a green or blue background will appear. Here, we will find a complete answer to your query entirely shaped by AI. And if additional information is desired, links to websites relevant to your search will be displayed on the right.
If your request relates to a product such as an electric motorcycle, for example, the AI ​​will provide some advice on key points to take into account before purchasing, such as autonomy, suspensions or motorization. Suggestions from Google Shooping will also be highlighted.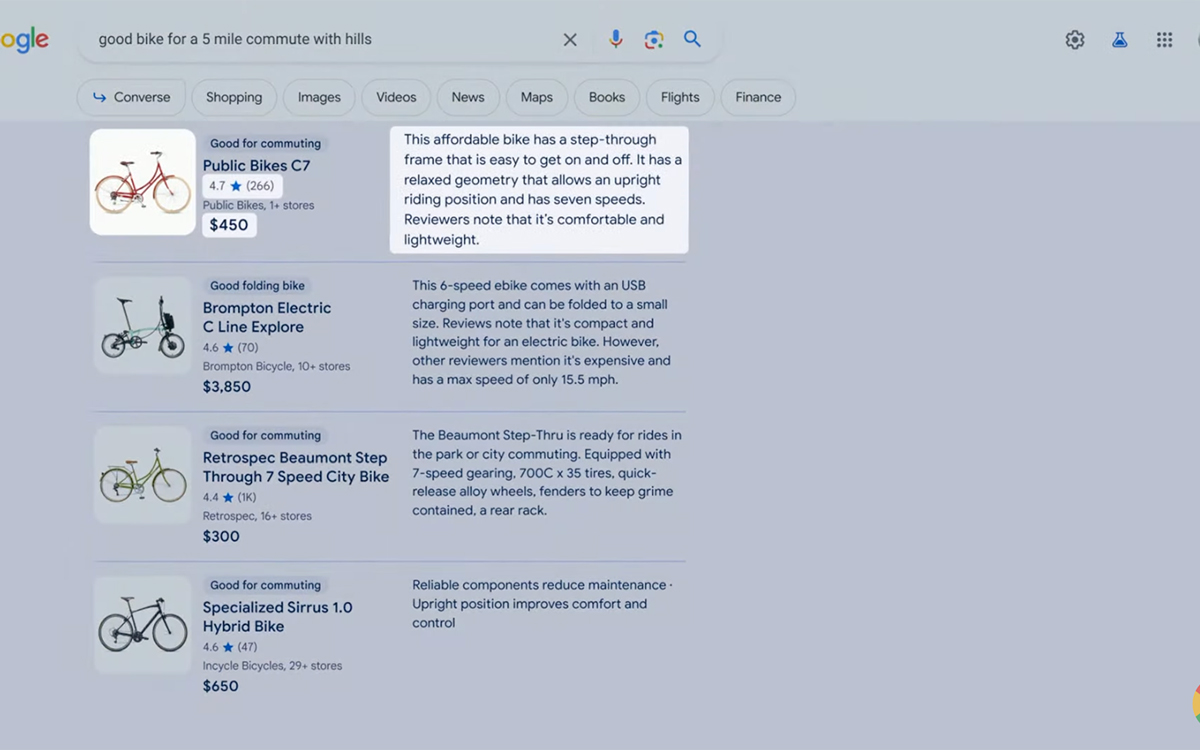 It will also be possible to extend the field of research to discover other sources or other points of view on your research from specialized sites, forums, studies available online, etc. Even better, the user will be able to start a conversation with the AI if they wish to have further information on a specific aspect of their request.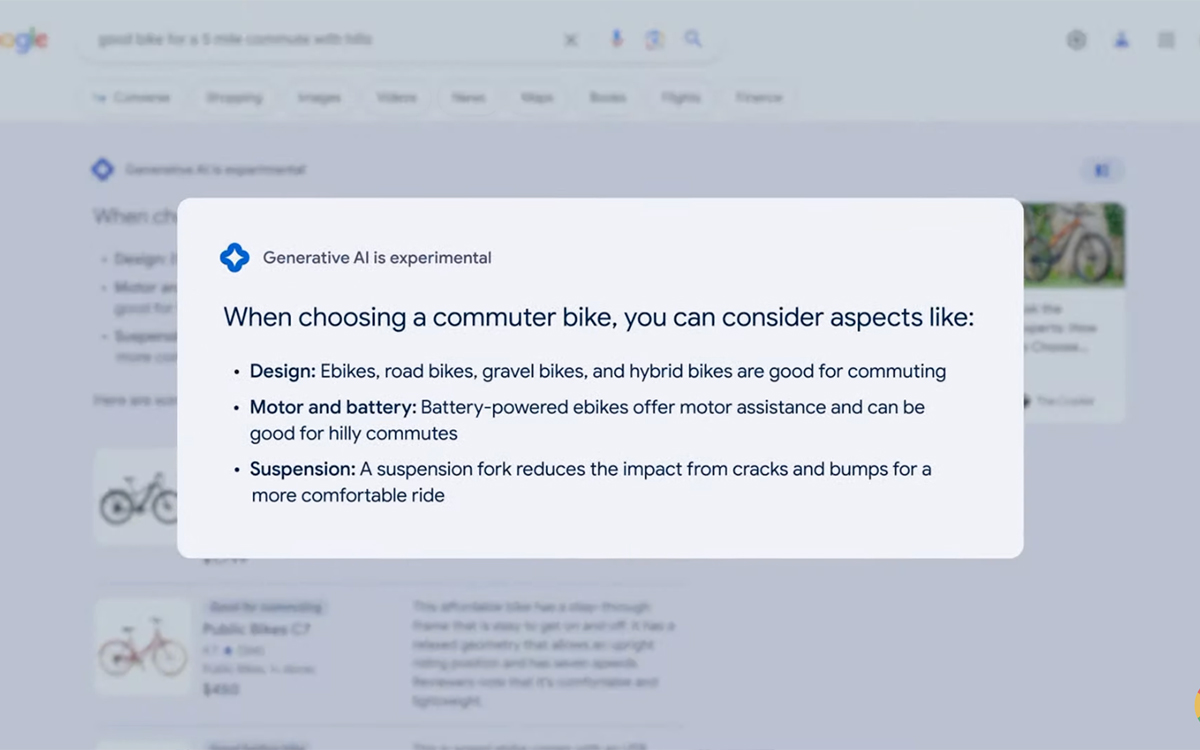 As Google summarizes, the idea is to make searching smarter and easier. According to the statements of the manufacturer, this generative AI is experimental. In other words, errors may appear at first. According to the American company, these AI-assisted search features will be available in Search in the next few weeks in the United States. No date has been given for other markets such as France.